A new design for the WWE United States Championship was unveiled on Monday Night RAW.
MVP and Bobby Lashley appeared on the July 6 episode of Monday Night RAW to show off the new design of the show's secondary title. Apollo Crews, the current United States Champion, was not present—out after being knocked out by Lashley last week—so MVP did the honor of unveiling the new title.
MVP will have a chance to become United States Champion when he takes on Apollo Crews on the Extreme Rules pay-per-view on July 19.
Take a look at the new United States Championship below.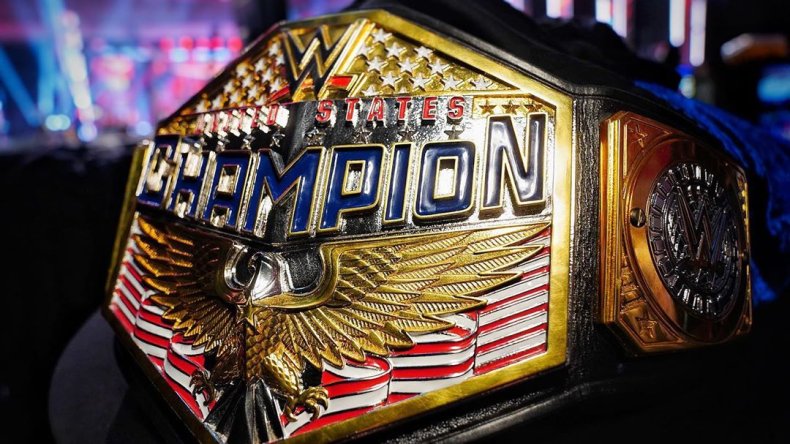 Here are some other looks at the new title from WWE:
Following the unveiling, Cedric Alexander and Ricochet interrupt the ceremony to take it to MVP and Bobby Lashley. Alexander and Ricochet, who consider Apollo Crews a friend, came out to defend the champ's honor and challenge MVP and Lashley to a tag team match.
While the duo of Alexander and Ricochet hoped to get revenge for Crews, the team couldn't overcome Lashley.
The US Championship has had a long career prior to it being brought into the WWE fold.
First established in 1975 as the NWA United States Heavyweight Championship, it would go by a few—slightly—different names through its run in the NWA and WCW. Title holders include wrestling legends such as Harley Race, Michael Hayes, Dusty Rhodes, Sting and more.
In 2003, the WWE would bring the United States Championship to its promotion as a SmackDown-exclusive title. Eddie Guerrero would win the championship first and many other wrestlers would hold the title including AJ Styles, Randy Orton, Chris Jericho and many more.
MVP is still the longest-reigning United States Champion in WWE history, holding the title for 343 days from 2007-2008, the first of his two reigns as US Champion. Apollo Crews, on the other hand, arrived on the WWE main roster back in 2016 after a couple of years on NXT.
He won the United States Championship from Andrade on a May episode of Monday Night RAW, his first title in the company.
The WWE also recently redesigned SmackDown's Intercontinental Championship. Sami Zayn, who was the champion at the time, revealed the new Intercontinental Championship design in November 2019.
What do you think of the new design of the United States Championship? Let us know in the comments section.
About the writer
Phillip Martinez is a game and culture reporter for Newsweek. Prior to joining Newsweek in 2018, he was a reporter and editor for iDigitalTimes and Player.One. A Bronx native, he graduated with his Bachelor's degree in Journalism from St. John's University in 2010. An avid Nintendo fan and wrestling mark, he's always looking to become a Pokémon Master while fantasy booking this year's WrestleMania. You can contact him at p.martinez@newsweek.com