Apple CEO Tim Cook Blasts Facebook Over Cambridge Analytica Scandal, Using Customers as Products
Apple CEO Tim Cook didn't mince words when discussing the controversy that has engulfed fellow tech giant Mark Zuckerberg, stating unequivocally that the data leak scandal that affected an estimated 50 million Facebook users would never have happened to Apple because the company doesn't treat its customers like "products."
"I think it's an invasion of privacy," Cook said during a Wednesday interview snippet with Kara Swisher and Chris Hayes, hosts of an upcoming MSNBC and Recode special on Apple. "Privacy to us is a human right. It's a civil liberty, and is something that is unique to America. This is like freedom of speech and freedom of the press, and privacy is right up there for us."
When asked what he would do if he were in Zuckerberg's position, the Apple CEO quickly answered: "What would I do? I wouldn't be in this situation."
"We could make a ton of money if we monetized our customers, if our customers were our product," Cook said. "We've elected not to do that."
Speaking passionately, Cook added that Apple "carefully reviews" each of the roughly 2.2 million apps that are sold in its app store. "We don't subscribe to the view that you have to let everyone in that wants to, or if you don't you don't believe in free speech," he said. "We don't believe that.... What you sell in that store says something about you."
His comments, which will air in full on April 6 as part of Revolution: Apple Changing the World, come as stock prices for Facebook plunge and major companies yank advertising from the social-networking site. A lawsuit and congressional inquiry are also pending regarding the work of Cambridge Analytica, the upstart analytics firm that covertly mined Facebook users' data and allegedly used the information in an attempt to influence political elections for clients, including Donald Trump's campaign. On Monday, the Federal Trade Commission announced it had opened a "nonpublic investigation" into the privacy and data practices of Facebook for the breach.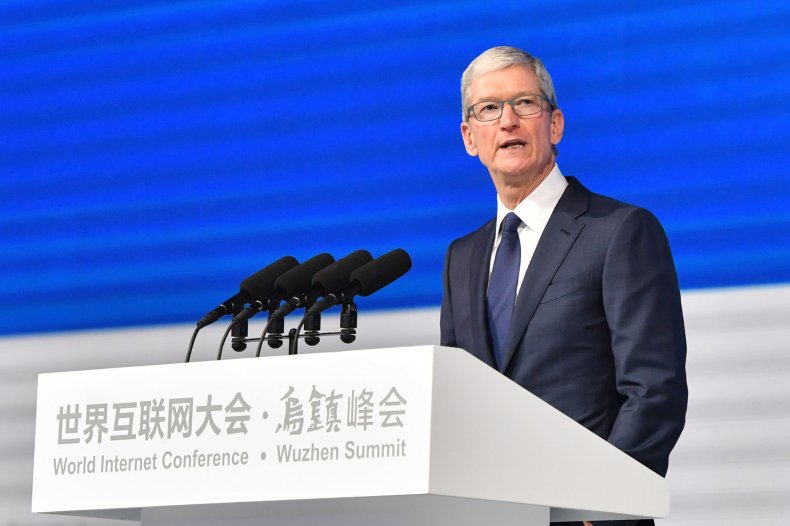 Typically camera-shy Zuckerberg stepped out from his carefully curated profile and granted an interview to CNN on March 21 about the matter. He apologized for the breach of both company trust and data.
"This was a major breach of trust, and I'm really sorry that this happened," he said. "You know we have a basic responsibility to protect people's data, and if we can't do that then we don't deserve to have the opportunity to serve people. So our responsibility now is to make sure that this doesn't happen again."
It remains to be seen whether the company's reputation will be able to rebound from the scandal. Michael Stefanone, a professor at the University of Buffalo who studies social media, told Newsweek that the company's recent actions have been a textbook case of "what not to do" when a scandal erupts.
"This is not a proactive approach to crisis management," Stefanone said. "Not surprisingly, Facebook's initial response was similar to other large corporations who have experienced massive data breaches—silence. This strategy can work because these corporations are basically unregulated, even though there may be short-term losses like with Facebook's valuation."
But, he cautioned, it's too soon to predict the long-term ramifications of a data breach.
"In terms of the broader movement to abandon Facebook, time will tell," Stefanone said