Apple Event Recap: iPhone 13, Apple Watch Series 7 and iPad Updates Revealed
Apple's live "California Streaming" presentation took place on Tuesday, September 14. Throughout the event, details were revealed for a new iPad, as well as the upcoming Apple Watch Series 7 and the highly-anticipated iPhone 13.
While the event's official page did not give us that much to go by, there were a number of leaks that provided us with a good idea of what to expect and most of them turned out to be entirely accurate.
The iPhone 13 line-up was, of course, the headline attraction of the livestream. During the event, it was announced that users will benefit from improved battery life, faster processing chips, better facial recognition software, and a 120hz display with the new mobile devices. According to the presentation, the iPhone 13 offers 2.5 extra hours' worth of battery life, compared to its 12th generation counterpart.
Another key update was the phone's dual-camera technology and updated cinematic mode for video recording. More details about this can be found in the relevant highlights section below.
The Apple event itself began at 1 p.m. ET on Tuesday, September 14. Like this year's E3 conference, it was completely virtual, and you could experience the whole thing from the comfort of your own home.
You can also catch all the highlights from the event with Newsweek's coverage below.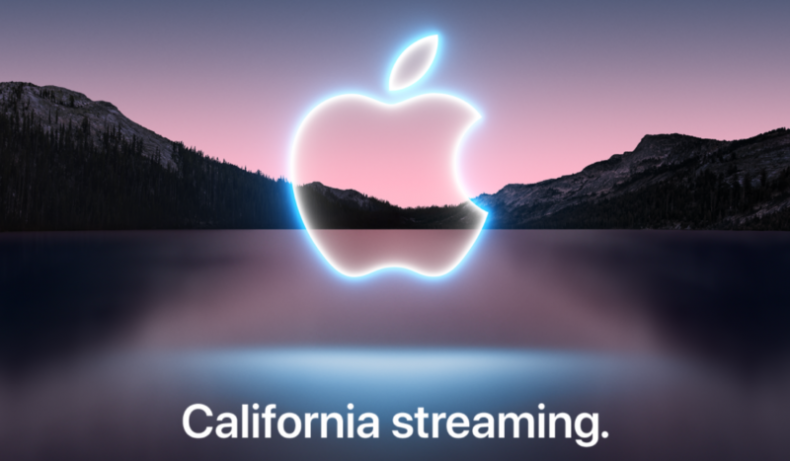 Right on cue, Tim Cook revealed the new iPhone 13 line-up
Most of the leaks pertaining to the mobile devices turned out to be entirely accurate. As predicted, they will have A15 processing chips (which make them considerably faster than previous models), longer battery life, 5G connectivity and better facial recognition software.
Just like the rumors indicated, the most significant improvements related to the iPhone 13 are with its dual camera. This will benefit from sensor stabilization, will be capable of capturing a higher percentage of light and will even support a new "cinematic mode". The latter facilitates rack focus cinematography and records video in Dolby Vision and high dynamic range (HDR).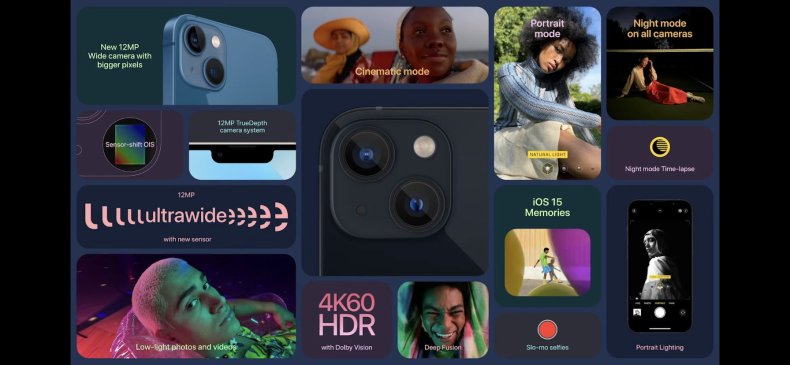 In terms of price, Apple has confirmed that the standard iPhone 13 will cost $799 and that the iPhone 13 mini will be priced at $699 (at select retailers). Meanwhile, the iPhone 13 Pro will cost $999 and the iPhone 13 Max will be priced at $1099.
The all-new Apple Watch Series 7 was revealed
As predicted, a new range of Apple Watch fitness devices were also announced.
The Apple Watch Series 7 boasts a more durable design, a larger screen space, a brighter display for when you need to check the time indoors and comes in five new aluminium colors.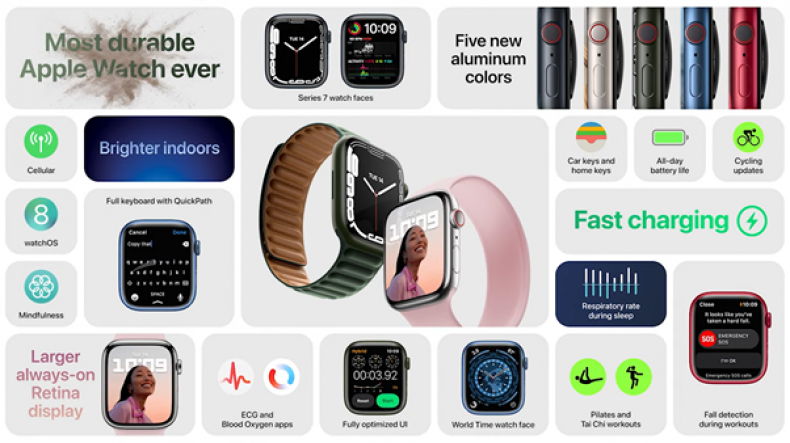 Apple Chief Operating Officer Jeff Williams also showcased a new app for cyclists that is supported by the new watches. This will recognize when you are riding, will stop recording whenever you take a break and will even prompt you to dial the emergency services if it detects that you have fallen from your bike.
New iPad revealed
While most insiders were predicting that this event would be almost entirely focussed on the iPhone 13, Tim Cook actually began by unveiling a brand new iPad instead.
Delving into the technical specs, Apple revealed that this new device will benefit from an A13 bionic chip, which facilitates a 20% faster performance speed. According to Apple, this makes it 6 times quicker than the bestselling Android tablet.
It will feature a 12MP ultra-wide camera on the front (with the center stage feature) and a true tone display. It is also compatible with the Apple pencil and will ship with iPadOS 15.
The new iPad is available to order now for $329 and will be released next week.
The event opens with an energetic California Soul cover
The event has kicked off with an energetic cover of Marlena Shaw's "California Soul", accompanied by dazzling panoramic shots of the California landscapes.
This is now being followed up with a sizzle reel for all the shows coming to Apple TV, including the second season of The Morning Show, Ted Lasso, Invasion, Swagger and the Tom Hanks-starring Finch.
10 minutes to go until the Apple event starts
According to the countdown on the Apple YouTube channel, there is just 10 minutes left to go until the "California Streaming" event officially starts. There is no indication of how long it will last, but previous Apple livestreams have all been between 1 and 2 hours.
With both the iPhone 13 and Apple Watch Series 7 rumored to be making an appearance, we expect that it will be on the longer side.
Twitter users share their hopes and concerns for the event
While a good deal of the tweets featuring the #AppleEvent hashtag are just experimenting with the new animation, some users are actually sharing their thoughts about the imminent event.
For instance, @ijustine is hoping that a pink iPhone design will be unveiled.
Meanwhile, @AdityaRajKaul is sceptical about the pricing of any new Apple products.
@TayNixster is excited about the prospect of a 120hz display, which is one of the new features rumored for the iPhone 13.
@AliveToBeDead shared a meme about the significance (or lack therefore) of being able to use old accessories with the iPhone 13.
The Apple account only has a single tweet
You may have noticed that Apple's official Twitter account is currently only displaying a single tweet, which is publicizing today's "California Streaming" event.
In addition to this, it might also seem strange that the account is not following anybody else on the platform, including the other Apple brands like iTunes.
This might lead you to believe that Apple is just not particularly active on social media, but that is not true. It has previously tweeted about product launches and other events in the past, but those tweets were all deleted after a period of time.
This is standard practice for the tech company and it is likely that today's post will not be kept up for much longer.
So if you were worried that there was maybe something wrong with your internet connection, rest assured that that is not the case. There is indeed only one tweet from Apple right now.
Here is what was announced at the last Apple event
The Apple Worldwide Developers Conference (AWDD) was streamed back in June 2021, but the last event for mainstream consumers actually took place in April.
This Spring presentation featured the announcement of the Air Tag tracker device, which can be used to help you find your keys and other personal items. It also included the reveal of an upgraded Apple TV set-top box, a redesigned look for the iMac computer, and a new line of iPad Pros that are powered by M1 processing chips.

Apple CEO Tim Cook joins in with the Twitter hype
Tim Cook is among those hyping up the event on social media.
A couple of hours ago the Apple CEO tweeted: "Good morning from somewhere a little different this time", before signing off with the fancy new hashtag.
The text is accompanied by an enigmatic photo of the Californian desert. There is just a little over an hour left to wait now before we find out what this could be teasing.
Twitter users are captivated by the new #AppleEvent animation
In anticipation of the livestream, a new animation has been added to the #AppleEvent hashtag on Twitter.
When you favourite a tweet that contains this hashtag, the usual heart symbol will briefly change into a glowing blue apple. This is the same icon that is being used to promote the "California Streaming" presentation.
Social media users appear to be having a lot of fun with the animation and, in that sense, it has certainly done its job by getting people talking. Whether this engagement will translate into more viewers for the livestream (or if everyone is just fascinated by the colourful animation) remains to be seen but it has successfully grabbed our attention.