Apple Watch Series 7: Technical Specs, Release Date and Price
The Apple Watch Series 7 was officially unveiled during Apple's "California Streaming" event on Tuesday, September 14.
Here are all the relevant details about the new fitness gadget, including its price, release date and technical specs.
Apple Watch Series 7 Release Date
Alongside the iPhone 13 line-up, the Apple Watch Series 7 was prominently featured in Apple's September livestream.
Here, we learned that the device will be launching sometime in Fall 2021. Although we do not have a more precise release date at the time of writing, it is worth noting that previous generations of the Apple Watch have come out in September.
Closer to the release date, you will be able to purchase the Series 7 from Apple's website.
Apple Watch Series 7 Price
The Apple Watch Series 7 comes in two sizes, with a small model (41mm) and a large model (45mm). These are obviously going to be priced at different levels.
In addition to this, you will also have a choice between a GPS version of the Apple Watch and a more advanced cellular version. The decision you make here will also factor into how much money you end up spending.
While we do not yet have a recommended manufacture's price for every iteration of the Series 7, we do know that the 41mm GPS model will start at $399, which is fairly typical.
For context, the starting price for the Apple Watch Series 6 was the exact same, but more expensive editions (like the stainless gold version) were later produced, reaching costs of up to $749.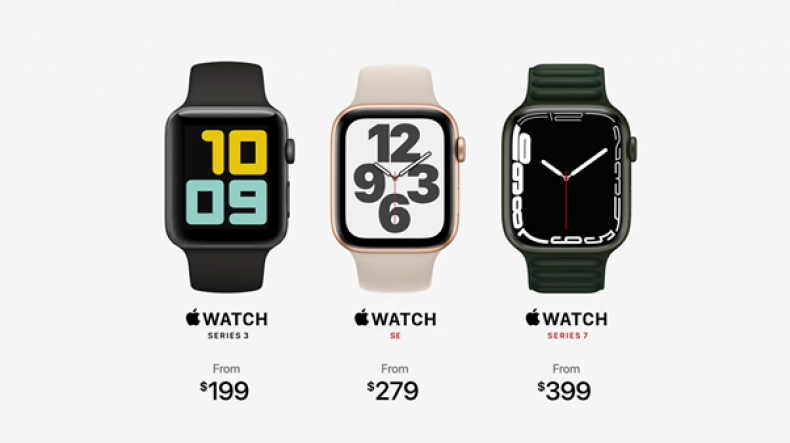 Apple Watch Series 7 Specs
During the Apple livestream, it was announced that the Series 7 will have the largest display of any Apple Watch. The screen area has been maximized (by reducing the borders to just 1.7mm), meaning that touchscreen buttons can be larger and easier to tap and that there is also increased room for more text.
Elsewhere, we also learned that the Series 7 display is 70% brighter than the previous model (making it easier to check the time indoors) that it has superior battery life and that it is the most durable Apple Watch to date.
Here are all of the confirmed technical specs for the Apple Watch Series 7.
Operating system: watchOS 8
Battery life: 18 hours
Fast charging: From 0-80% power in 45 minutes
Screen size: 41mm and 45mm
Dust resistant: IP6X certified
Water resistance: Up to 50m
Crack resistant front glass
Fall detection feature
Apple Watch Series 7 Color Options
Here are the color options for the Apple Watch Series 7.
Aluminium color options: Midnight, Starlight, Green, Blue and Product Red
Stainless steel color options: Silver, Graphite and Gold
Titanium color options: Natural and Space Black
For a more in-depth overview explaining how the Apple Watch Series 7 is different from its immediate predecessor, the Series 6, check out Newsweek's coverage here.