Apple revealed its iPhone 13 line-up towards the end of its "California Streaming" event on Tuesday, September 14. Here is everything you need to know about the new devices, including their release date, price and technical specs.
iPhone 13 Release Date
During Apple's presentation (which was held entirely virtually), it was revealed that the iPhone 13 would be available to pre-order from 8 a.m. ET on Friday, September 17.
The official release date is a week later on Friday, September 24.
iPhone 13 Price
There are four iterations of the iPhone 13, each with different specs and different prices.
The standard model starts at $799. The price for the iPhone mini starts at $699, the iPhone 13 Pro starts at $999 and the iPhone 13 Pro Max starts at $1,099.
The chart below, from Statista, breaks down the cost of Apple's current iPhone line-up in the United States.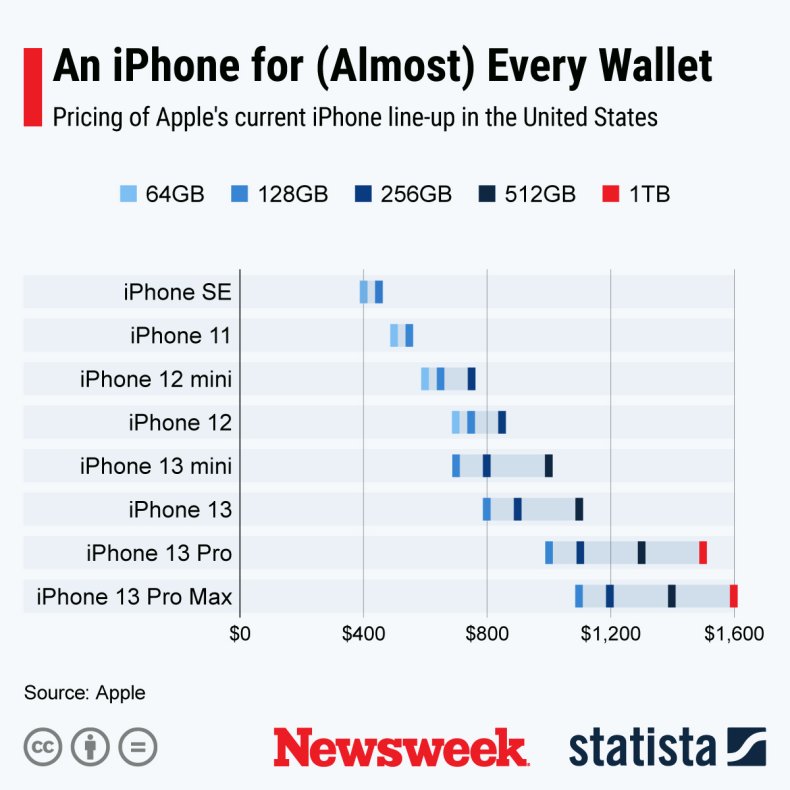 iPhone 13 Camera System
As various leaks indicated, the most substantial upgrades for the iPhone 13 are related to its camera. However, these upgrades are slightly different for each iteration of the device, with the Pro and Pro Max obviously being the most advanced.
iPhone 13 and iPhone 13 Mini Camera System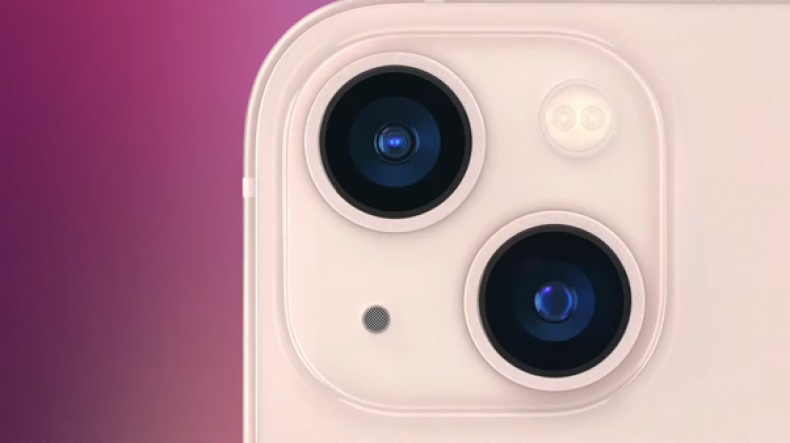 To begin with, let's take a look at what the standard and Mini versions of the iPhone 13 have to offer.
Both devices will feature a dual-lens camera system (the wide lens boasts a f/1.6 aperture while the ultra-wide has a f/2.4 aperture). In a nutshell, this will help you take better quality images in darker conditions, as the lenses are able to capture more light than their iPhone 12 equivalents.
The iPhone 13 and iPhone 13 Mini will also feature sensor stabilization technology, which was previously limited to just the Pro models. This feature will subtly counterbalance your movements when taking pictures, so that you are less likely to get blurry images.
In addition to the lenses, the new sensors are also capable of capturing 47 percent more light than the iPhone 12 sensors, resulting in less noisy photos.
A big focus of the Apple event was the introduction of a "cinematic mode" for when you are filming. This will facilitate rack focus cinematography (in which you shift between subjects in the middle of a shot) while recording in Dolby Vision and high-dynamic-range (HDR). The latter means the camera will optimize measures such as contrast and lighting to ensure that your video shots look as good as possible.
iPhone 13 Pro and iPhone 13 Pro Max Camera System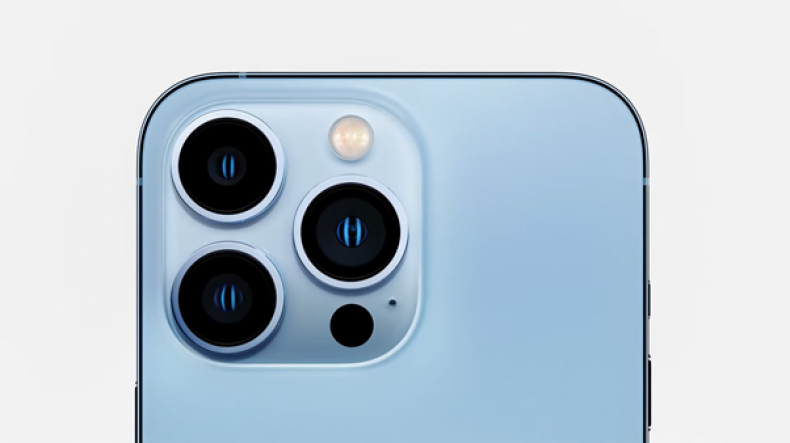 The iPhone 13 Pro and Pro Max benefit from all the same features as the standard model, but have a few extras.
The more expensive devices have a three-lens camera instead of the dual-lens. They are equipped with an f/1.5 wide lens, an f/1.8 ultra-wide lens and then a third f/2.8 telephoto lens.
Thanks to these larger apertures, the Pro and Pro Max models are capable of taking even better-quality images in low-light conditions. Given that ultra-wide lens allows for focus at 2 centimeters, the iPhone 13 Pro and Pro Max are also ideal for macro photography.
As for the improved telephoto lens, it will be capable of recording in cinematic mode and, for the first time, is compatible with Night Mode too.
iPhone 13 Specs
Below are the specifications for the various iPhone 13 devices. All information has been sourced from Apple's website and compiled into a table so you can more easily compare each version.
Among other things, you will notice that the latest iPhones have improved battery life, a faster processing chip, and (in the Pro and Pro Max) adaptive 120Hz refresh rate. The latter will allow for a smoother experience when scrolling through apps.
iPhone 13
iPhone 13 Mini
iPhone 13 Pro
iPhone 13 Pro Max
Starting price
$699.00
$799.00
$999.00
$1,099.00
Size (height x width X depth)
5.2 x 2.5 x 0.3 inches
5.8 x 2.8 x 0.3 inches
5.8 x 2.8 x 0.3 inches
5.8 x 2.8 x 0.3 inches
Weight
141 Grams/ 4.97 ounces
174 Grams/ 6.14 ounces
203 Grams/ 7.2 ounces
238 Grams/ 8.5 ounces
Screen size
5.4 inches
6.1 inches
6.1 inches
6.7 inches
Resolution
2340 x 1080
2532 x 1170
2532 x 1170
2778 x 1284
Processor
A15 Bionic Chip
A15 Bionic Chip
A15 Bionic Chip
A15 Bionic Chip
Operating system
iOS 15
iOS 15
iOS 15
iOS 15
Camera
Dual lens 12MP Camera System (Wide and ultrawide lenses)
Dual lens 12MP Camera System (Wide and ultrawide lenses)
Three lens 12MP Camera System (Telephoto, wide, ultra- wide)
Three lens 12MP Camera System (Telephoto, wide, ultra- wide)
Optical zoom
2x
2x
3x
3x
Digital zoom
5x
5x
15x
15x
Power and battery
Video playback: up to 17 hours
Video playback: up to 19 hours
Video playback: up to 22 hours
Video playback: up to 28 hours
Fast charge capable
Up to 50% charge in 30 minutes with 20W adapter or higher (available separately)
Up to 50% charge in 30 minutes with 20W adapter or higher (available separately)
Up to 50% charge in 30 minutes with 20W adapter or higher (available separately)
Up to 50% charge in 30 minutes with 20W adapter or higher (available separately)
Adaptive refresh
N/A
N/A
Refresh rates of up to 120Hz
Refresh rates of up to 120Hz
Finish / colors

Blue
Midnight
Pink
Product Red
Starlight

Blue
Midnight
Pink
Product Red
Starlight

Gold
Graphite
Sierra Blue
Silver

Gold
Graphite
Sierra Blue
Silver