Applebee's Attack Sees Worker Hit by Gunman Following Her Into Restaurant
A gunman attacked an Applebee's worker last week after she refused to give him money during a robbery incident in Memphis, Tennessee.
The Memphis Police Department said in a statement on Friday on Facebook that the worker was taking out the trash behind Applebee's on Union Avenue around 4 a.m. last Saturday when the gunman approached her, pointed a handgun at her and asked for money. However, the victim ran back into the restaurant and tried to lock herself in the office.
The suspect followed her, "forced his way into the office" and took the money before hitting the worker in the head with the gun. He then fled the scene from the back of the restaurant and his "last destination of travel is unknown."
A Memphis Police Department spokesperson told Newsweek Saturday that the victim did not need to be transferred to a hospital, without mentioning any further details.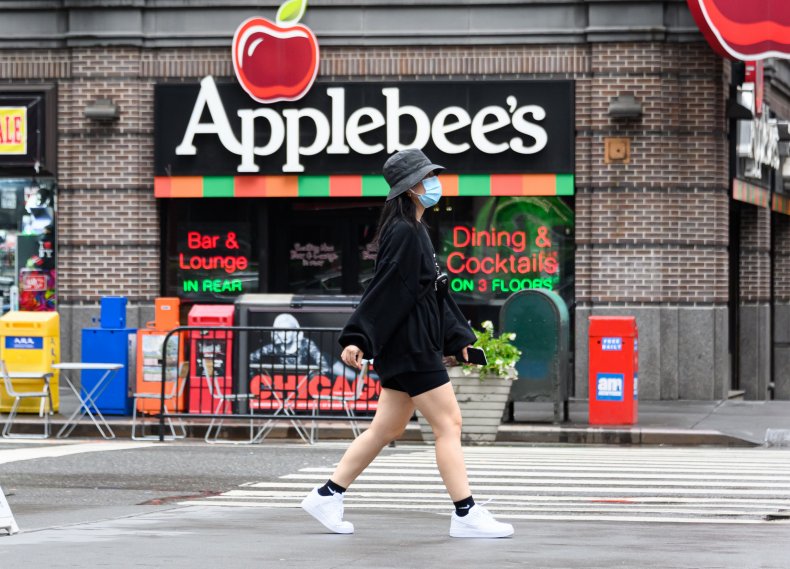 A surveillance video released by the police showed the man entering and leaving the restaurant. Meanwhile, no arrests have been made as of Saturday and an investigation is ongoing. Police described the suspect as a Black man wearing a dark-colored shirt tied around his head that covered his face, a black hoodie, a black jacket, and dark pants.
"The suspect...had both hands covered with black socks," the Memphis Police Department added.
Newsweek reached out to the Memphis Police Department for comment.
Similar restaurant attacks have been reported earlier this year, including a March incident where a 16-year-old McDonald's worker was fatally shot during a fight in the bathroom in Arizona. The teenager got involved in a confrontation with the man who shot him, according to police. The suspect, who police believe knew the victim, fled the scene.
Last week, a customer allegedly shot a Jack in the Box employee in Houston, Texas, following a dispute over additional sauce, which he was told comes with a surcharge.
In January, a McDonald's employee was shot by a woman after an alleged argument over a french fry discount. The woman, identified as Terika Clay, was arrested and charged with first-degree assault and criminal action.
In a separate incident, a man was left in a critical condition last week after he was shot near a McDonald's in Dekalb County, Georgia, following an argument that began inside the restaurant and then was taken outside.
"When they arrived, they located a male in his 40s in the parking lot with an apparent gunshot wound. He was transported to an area hospital in critical condition. The scene has been secured and detectives are en route to interview witnesses and collecting evidence," the Dekalb County Police Department told Newsweek at the time.