Arby's Worker Throws Hot Grease on Drive-Thru Customer: Police
Police in Hueytown, Alabama, say that an employee at an Arby's restaurant has been arrested after they allegedly threw hot grease on a customer in the drive-thru.
At 3:15 p.m. on Saturday, officers responded to a report of an altercation at the restaurant, according to a statement the Hueytown Police Department posted on its Facebook page.
"Upon arrival, officers determined that an employee threw hot grease on a customer in the drive-thru," the department wrote.
First responders provided medical treatment to the victim, who was then taken to a hospital "for further treatment of their burns." Police said there were no other reported injuries during the incident.
"The employee was taken into custody at the scene and the case remains under investigation," police stated.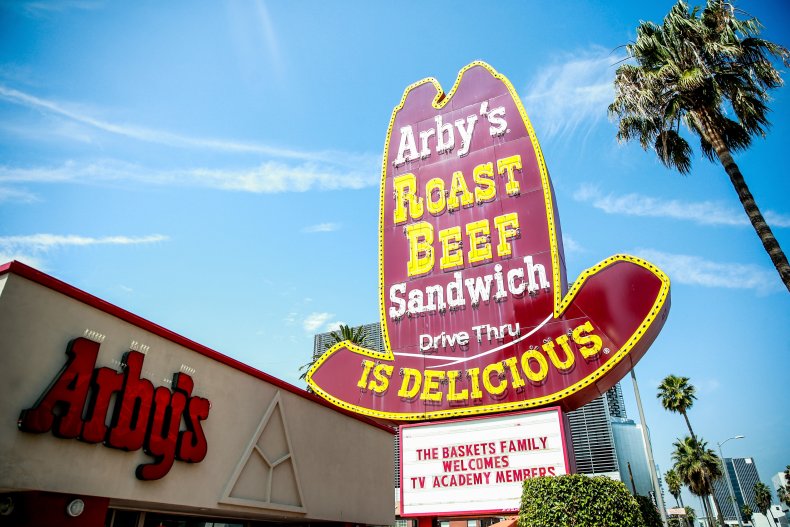 In an email to Newsweek, an Arby's spokesperson said Sunday that the the company is "aware of the incident in Hueytown, Alabama, and the team member's actions are not reflective of Arby's brand values. The team member was terminated immediately, and we are cooperating fully with local authorities."
Details about the incident are still scarce. Newsweek has reached out to the Hueytown Police Department for comment.
In October at a Wendy's in Tennessee, a restaurant manager was arrested after allegedly pouring hot oil over a customer, who complained that his food was cold. The victim suffered extensive burns to his left side and arm.
In another incident this weekend in Georgia, a man was left in critical condition after being shot near a McDonald's restaurant.
The DeKalb County Police Department told Newsweek Saturday that when officers arrived on the scene they found a male in his 40s in the parking lot with an apparent gunshot wound. He was transported to an area hospital in critical condition. Fox 5 Atlanta reported that police said the shooting occurred after an argument inside the restaurant moved outside.
In March, another McDonald's customer in Georgia was arrested after she allegedly attacked an employee after getting upset over her food order. At the time, the Dunwoody Police Department said the customer allegedly "assaulted an employee by pulling her hair and jumping over the counter," where the customer then began "throwing items."
"Officers responded and took the female in custody. She was then transported to DeKalb County Jail where her evening meal will be much different than the quarter pounder with cheese she ordered," the department said in a statement at the time.