Archie and Lilibet Getting Royal Titles 'Depends a Lot' on Harry's Memoir
Whether Prince Harry and Meghan Markle's children become a prince and a princess "depends a lot on what happens in the coming months, particularly with Harry's book and their TV show," according to a new biography.
Archie and Lilibet Mountbatten-Windsor would, according to convention, be in line to get royal titles as grandchildren of Britain's new monarch.
However, King Charles III could intervene to stop this, leaving the Sussex siblings as Master Archie and Miss Lilibet.
Newsweek understands no decision has been taken on the children's titles and the question—while it may be a burning one for the media and public—is not currently the focus for Buckingham Palace, which had been working long hours planning Queen Elizabeth II's funeral.
In the upcoming biography The New Royals, Vanity Fair royal correspondent Katie Nicholl writes: "Would Charles go as far as barring Archie and Lilibet from becoming a prince and a princess now that the Sussexes are no longer working royals?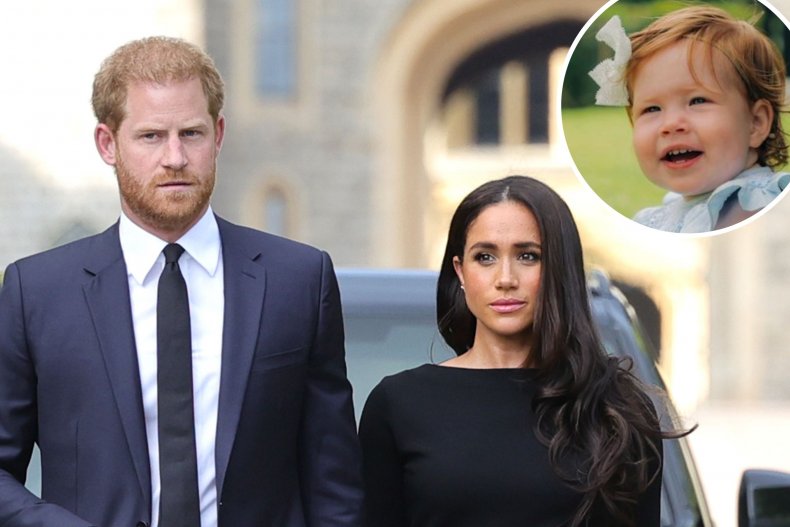 "According to a source close to the king, 'it depends a lot on what happens in the coming months, particularly with Harry's book and their TV show.'"
Archie and Lilibet's titles are governed by the "George V Convention," which is based around letters patent issued in 1917 in Britain that say the grandchildren of the monarch should all be styled as princes and princesses.
That means there was no right to those titles for the Sussex children during the queen's lifetime as she was their great-grandmother.
However, now that Charles is king the expectation would be that Harry and Meghan's son and daughter would be known as Prince Archie and Princess Lilibet.
Charles could potentially intervene to stop that transition and Meghan famously told Oprah Winfrey in an interview in March 2021 that there were conversations about blocking those titles.
Meghan told the CBS tell-all: "In those months when I was pregnant, all around this same time, so we have in tandem the conversation of 'he won't be given security, he's not going to be given a title' and also concerns and conversations about how dark his skin might be when he's born."
It is not known who was responsible for the comment about skin color, however, Newsweek understands the subtext of conversations about security and titles was Charles' long-standing desire to slim down the monarchy.
Meghan added: "But the idea of our son not being safe, and also the idea of the first member of color in this family not being titled in the same way that other grandchildren would be…
"You know, the other piece of that conversation is, there's a convention—I forget if it was George V or George VI convention—that when you're the grandchild of the monarch, so when Harry's dad becomes king, automatically Archie and our next baby would become prince or princess, or whatever they were going to be."
"I think even with that convention I'm talking about, while I was pregnant, they said they want to change the convention for Archie."
Much was said in British newspapers after the Oprah interview about how Meghan was wrong because the George V convention meant the titles were a foregone conclusion.
An article in the Daily Mail read: "Meghan Markle's bombshell suggestion that her son Archie was banned from being a prince amid concerns over how 'dark' he would be appear to be refuted by rules laid down by King George V."
It added: "Under the George V rules, Archie would still be entitled to be an HRH or a prince when his grandfather Charles, the Prince of Wales, accedes to the throne."
However, two weeks on from Elizabeth's death there is still no answer to the question of whether Archie and Lilibet will get titles or not.
So at the very least Meghan was right that the George V convention did not guarantee her children the right to titles and it remains an open question.
Nicholl wrote: "We know titles matter to Charles, and he reportedly wants to limit them to the top tier of royals."