Who Is Archie Panjabi Playing in 'Snowpiercer' Season 3?
The wait for Snowpiercer Season 3 is finally over. The brand-new series premieres tonight (Monday, January 24) on TNT and HBO Max, with fans outside the U.S. able to watch new episodes every Tuesday via Netflix.
Archie Panjabi has joined the cast of the hit dystopian series and her character is moments away from boarding the Snowpiercer, but who exactly is she playing?
Newsweek has everything you need to know about Archie Panajabi's role in Snowpiercer.
Who Is Archie Panjabi Playing in Snowpiercer Season 3?
In February 2021, TNT announced Archie Panjabi had joined the cast of Snowpiercer. She will take on the role of Asha, starring alongside Sean Bean, Jennifer Connelly, Daveed Diggs, Mickey Sumner, Alison Wright, and Rowan Blanchard.
At the moment, little is known about Panjabi's character but thankfully, Snowpiercer's executive producer Panjabi teased a few details to TV Line.
She revealed her character Asha believes herself to be the last person on Earth, who has "managed to survive under extreme conditions."
Panjabi added: "When she is discovered by someone from the train, her survival instincts kick in."
"I looked to my dog Mr. Q, a rescue dog for inspiration. He managed to survive on the streets for months before he was rescued. He eyed everything as a potential threat. It was all about survival."
Snowpiercer executive producer Becky Clements added the character of Asha makes the brand new series "super-exciting."
Fans had their first look at Asha in a series of official photos released by TNT in December 2021 and now, Panjabi has made her debut as Asha in the trailer ahead of tonight's premiere.
In the split second, she appears, Asha can be seen removing her mask and introducing herself as a "survivor" over the tannoy. She survived eight years on Earth alone, which is seriously surprising to the survivors on board the train.
At the end of Season 2, the Snowpiercer was split in half and at the beginning of Season 3, Layton (played by Daveed Diggs) and his inner circle of supporters in a small 10-car train are searching for Melanie (Jennifer Connelly) and a warm location to restart civilization.
In the trailer for Season 3, Asha can be heard saying to Layton "Eight of you against the great Mr. Wilfred?", suggesting a war could be on the cards between the two trains.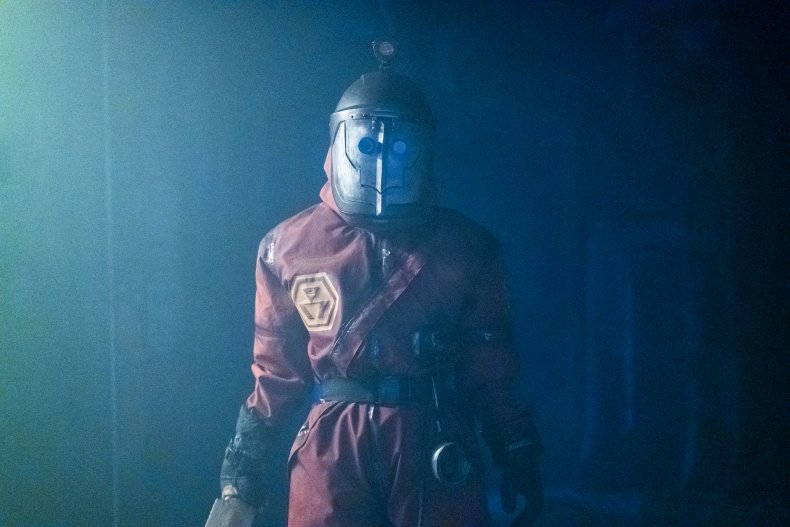 Who is Archie Panjabi?
Archie Panjabi is best known for playing Kalinda Sharma in CBS's The Good Wife.
For her performance, she won an Emmy for Outstanding Supporting Actress in a Drama Series, the first Asian actor to win a Primetime Emmy for acting.
She received two further Emmy nominations and a Golden Globe nomination for her performance.
Snowpiercer fans may also recognize Panjabi from her role as Pinky Bhamra in the cult classic, Bend It Like Beckham in 2002. Panjabi is also known for playing Professor Reed Smith in The Fall, starring opposite Gillian Anderson.
Her other well-known credits include Nas Kamal in Blindspot, Asra Nomani in A Mighty Heart, Yasmin Husseini in Yasmin.
Most recently, Panjabi starred in Run as Fiona and Dr. Patel in I Know This Much Is True. She also voiced the character Depa Billaba in Star Wars: The Bad Batch.
Snowpiercer Season 3 airs Monday's at 9 p.m. ET on TNT.