Are California Reservoirs Getting Too Much Water After Heavy Rainfall?
California's deluge of rainfall has caused many reservoirs to fill to the point of overflowing.
Some experts warn this could put too much stress on the levees near the reservoirs, potentially leading to flooding in nearby towns and water loss.
Last week, the Pajaro River levee ruptured in California, causing severe flooding in a nearby community.
Several California reservoirs have filled to the point of overflowing after a deluge of rainfall in the state, a cause for elation for many who have been experiencing drought in the area. But some experts say the precipitation may become too much of a good thing.
Two atmospheric rivers hit California earlier this month, following a particularly wet season that has flooded the state and eased a years-long drought. San Luis Obispo County's Whale Rock Reservoir, which hasn't been full since 2005, and California's second-largest reservoir, Lake Oroville, were among the bodies of water that were replenished by recent rains.
However, too much rain at once can stress levees along nearby rivers that attach to the reservoirs, a problem that worsens flooding and leads to water loss.
More Rain on the Way
Another rain system is expected to hit California next week, and AccuWeather meteorologist Paul Pastelok said the excess rain could cause flooding. "The reservoirs are getting over their historical averages and starting to fill up too fast," he told Newsweek.
What Happens When a Reservoir Overflows?
If the reservoirs overflow, water can spill into nearby rivers and rush down, potentially flooding small towns or campsites. Some of the water will be lost, a situation that isn't ideal in a drought.
"We don't want to lose the water we have," Pastelok said.
Another risk is that the levees that prevent overflow can falter under the pressure and break. A broken levee can release "massive amounts of water," according to Pastelok, further worsening floods and water loss.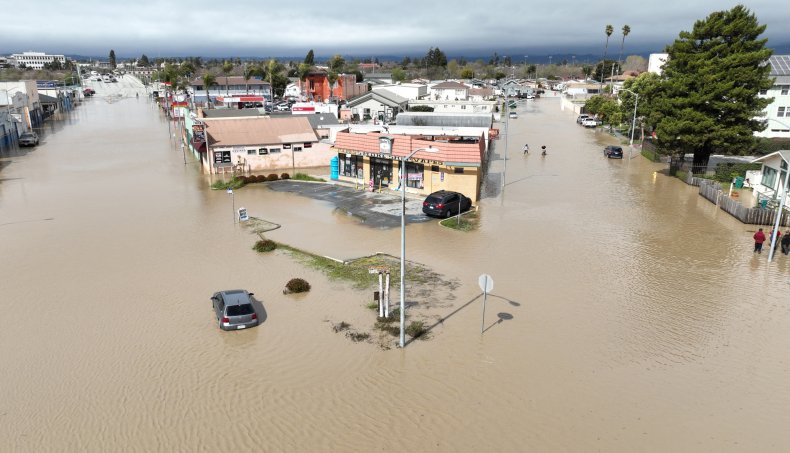 Levees have already experienced stress with the massive amounts of precipitation. Last week, the Pajaro River levee ruptured, causing severe flooding in Watsonville, California. Unrelenting rain stressed the levee to the point of failure and it broke. Residents in a nearby agricultural community evacuated, but CBS News reported that streets, cars, homes, businesses and schools were submerged.
Too much rain affected thousands in 2017 when an emergency spillway on the Oroville Dam started to break. The reservoir's levels were high because of recent rain, and if the spillway had fully broken, it would have released uncontrollable floodwater. Nearly 200,000 residents were evacuated, according to a report by NBC News.
The spillway held and was repaired, but University of California, Davis, professor Andrew Rypel told Newsweek that this was a prime example of what can happen with too much rain.
"It begins to test the safety of our dam infrastructure," he said.
Will More Levees Rupture?
More broken levees from too much rain are unlikely this season, according to U.S. Department of Agriculture meteorologist Brad Rippey. California's wet season typically ends in March. Although several reservoirs are overflowing, Rippey told Newsweek he believes the levees will hold.
"Ideally, all the reservoirs will fill up, and if there is some loss, it just comes downstream," he said.
The end of California's wet season is expected to bring a respite from the rain. Overwhelmed reservoirs will be relieved from taking on more water.
"Given the fact that we are coming up toward the end of the 2022-23 winter wet season and the fact that there's been three years of drought preceding it, I'm not anticipating any major crises related to reservoirs," Rippey said. "Worst-case scenario, the water managers will have to let water go to make room for what's coming down during the melt season."
Environmental Impacts
Although flooding and levee rupture are the main concerns from too much water going too quickly into reservoirs, the excess water also can negatively affect a reservoir's ecosystem by affecting food webs and fisheries.
Rypel said that low reservoir levels actually improve the foraging ability of fish such as bass.
"Low reservoir levels can also intensify nutrient cycling, resulting in induction of phytoplankton blooms," Rypel said. "Other work has shown that high reservoirs can stimulate recruitment—the number of babies born—for some fish species."