Are the Lakers Building a Superteam? L.A. Is an 'Appealing Place' for Free Agents Like LeBron and Paul George
The Los Angeles Lakers missed out on the playoffs just twice between 1976 and 2013 but they are now set to miss the postseason for the fifth consecutive year.
But while the Lakers will not be involved on the court after April 11, they will be extremely busy behind the scenes in what could arguably be the most important summer in the franchise's recent history.
In a few months, the Lakers can clear out salary space for two max-level contracts and they have set their sights firmly on LeBron James and Paul George.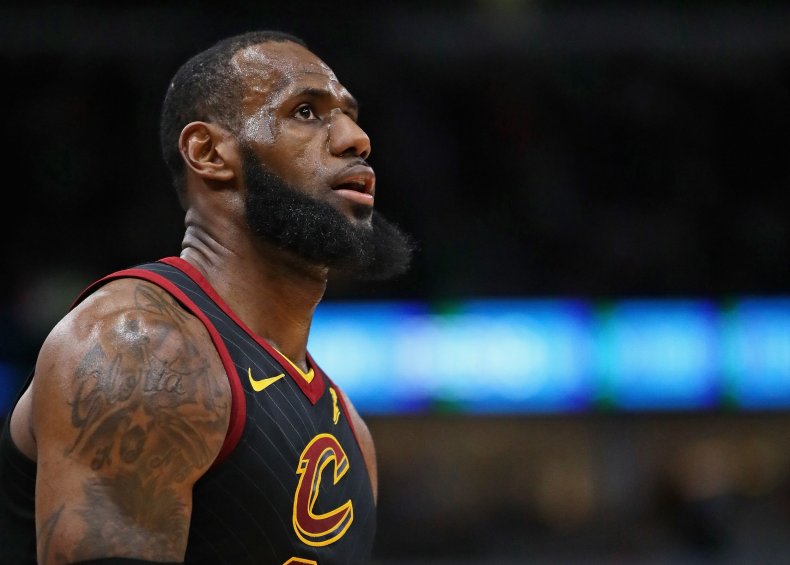 Newsweek subscription offers >
Speculations over the former's future has almost overshadowed his performances this season and it is one of the NBA's worst-kept secrets that Lakers' president Magic Johnson will leave no stone unturned in a bid to convince James to swap Cleveland for L.A.
Channing Frye did exactly that when he was traded to the 16-team NBA champions in February and he believes the Lakers will be spoilt for choice this summer.
In the eyes of the veteran forward, an exciting young core being built around the likes of Brandon Ingram, Lonzo Ball and Kyle Kuzma and the prospect of playing for one of the biggest franchises in the world make L.A. an "appealing" place to be.
"I think you're going to see a lot of guys this summer who want to play with Lonzo [Ball] and Kuz [Kyle Kuzma] and Brandon [Ingram] and guys that they have here and just build from that," Frye told the Whittier Daily News.
Newsweek subscription offers >
"This is a pretty appealing place. It doesn't hurt that it's the Lakers and that these young guys are some of the best young guys in the NBA."
Frye won the NBA title alongside James in 2016 and admitted he would be more than happy to help the Lakers secure the services of his former teammate.
"I'll make a call to Jesus if I have to," Frye said, "if that's going to help get a win."
The 34-year-old was traded to the Lakers along with Isaiah Thomas and the Cleveland Cavaliers' first round pick, while Jordan Clarkson and Larry Nance Jr went the other way and, like Thomas, he will be a free agent at the end of the season.
While Frye is keeping his options open and wants to see where he "could fit in for the future", he expects he and Thomas will act as promoters for the Lakers this summer.
"I think a lot of vets [veterans] are going to ask me how it is," Frye said. "They're going to ask I.T. [Isaiah Thomas] how it is."
On Wednesday, Thomas revealed he "would love" to remain with the Lakers next season.
"I like it here, I like the situation I'm in, the system, coaching staff," Thomas said, as reported by Tania Ganguli of the Los Angeles Times.
"Organization's been great to me. If things work out I would love to be here. You just never know."
Are the Lakers Building a Superteam? L.A. Is an 'Appealing Place' for Free Agents Like LeBron and Paul George | Sports