Are More Stimulus Checks Coming? Treasury Secretary Says He's Ready to Negotiate With 'No Conditions'
As Republicans and Democrats in Congress remain at an impasse over new coronavirus relief legislation—which could include another round of direct stimulus checks for Americans—Treasury Secretary Steven Mnuchin expressed optimism about a possible compromise.
In March, Congress passed the bipartisan $2.2 trillion CARES Act as states and municipalities across the country entered lockdowns to curb the spread of the novel coronavirus. That legislation included the approval of $1,200 direct payments to the majority of Americans, as well as $600 a week in extra federal unemployment insurance for jobless workers.
But that $600 benefit expired at the end of July, and most Americans have long since used up their stimulus checks. As millions of Americans remain jobless and many face the threat of eviction, Congress remains gridlocked over new legislation. While compromise has begun to appear less and less likely, Mnuchin suggested an agreement between Republicans and Democrats was still possible during a Monday morning interview with CNBC's Squawk Box.
"There is a compromise if the speaker [of the House] is willing to move forward. I am somewhat concerned that she's afraid any deal would be good for the president," Mnuchin said. He suggested that "politics" could be "getting in the way" of negotiations.
Later in the interview, Mnuchin reiterated his willingness to negotiate and find a consensus. "I've told the speaker I am available anytime to negotiation, no conditions," the treasury secretary said.
Newsweek reached out to House Speaker Nancy Pelosi, a California Democrat, for comment, but her office did not reply in time for publication. Pelosi has previously maintained that the Republicans are the ones who need to compromise.
In May, the Democratic-controlled House of Representatives passed the $3 trillion HEROES Act, which would have approved another round of $1,200 payments and extended the $600 unemployment benefit. But the Republican-controlled Senate and the White House largely dismissed the legislation, referring to it as a Democratic "wish list." Many raised concerns about the massive price tag after the government had already approved more than $2 trillion in spending under March's CARES legislation.
Then, in late July, GOP Senate Majority Leader Mitch McConnell released a Republican proposal in conjunction with the White House. That legislation, the HEALS Act, came in at around $1 trillion. Although it also included a second round of direct stimulus payments, it significantly reduced the amount of the unemployment benefit. Pelosi and other top Democrats have said Republicans and the president should meet them in the middle to pass a compromise bill totaling about $2 trillion.
Instead, Senate Republicans attempted to pass an even smaller "skinny" stimulus bill last week, with a relatively more modest price tag of $650 billion. But that bill was struck down by Democrats and GOP Senator Rand Paul of Kentucky last Thursday. The "skinny" proposal did not include additional direct stimulus payments, despite previous bipartisan support for another round of checks.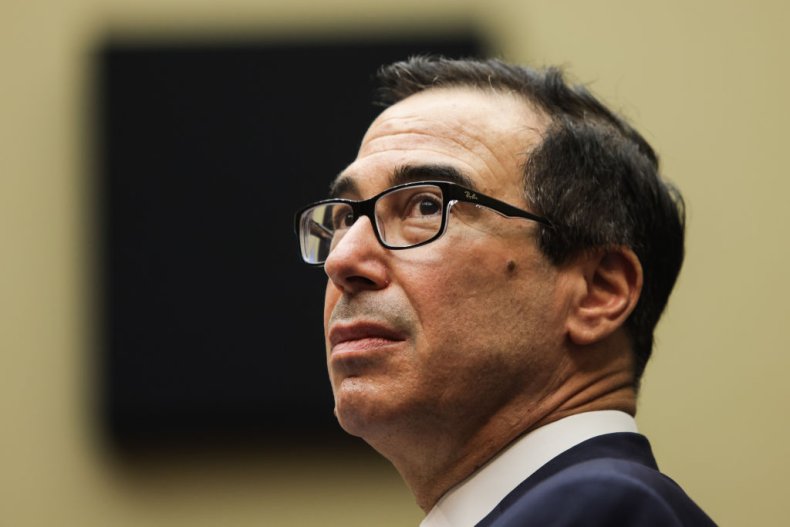 Whether further negotiations can break the current impasse remains to be seen. Democrats and Republicans have both accused each other of playing politics with the proposed relief packages. Meanwhile, several key GOP senators have expressed skepticism and opposition regarding new relief legislation, raising concerns about the ballooning national deficit and debt. But Mnuchin pushed back against those concerns in his Monday morning interview.
"Now is not the time to worry about shrinking the deficit or shrinking the Fed balance sheet," he said.