Are White Farmers Being Forced Off Their Land in South Africa?
Scaremongering is fueling fears among white farmers in South Africa that they will be kicked off their land without getting compensation, an expert in land ownership in the country has said.
Newly elected president Cyril Ramaphosa, told his country's parliament last month how the "original sin" of the dispossession of black land needed to be redressed through expropriation. A government committee will report back in August on amending Article 25 of the constitution dealing with the right to own property.
The white nationalist group AfriForum says there has been a spike in white farmers being attacked and murdered, as disputed statistics add to a febrile atmosphere with a racial dimension.
But Ben Cousins, research chair in Poverty, Land and Agrarian Studies at the University of the Western Cape, said farmers are panicking needlessly.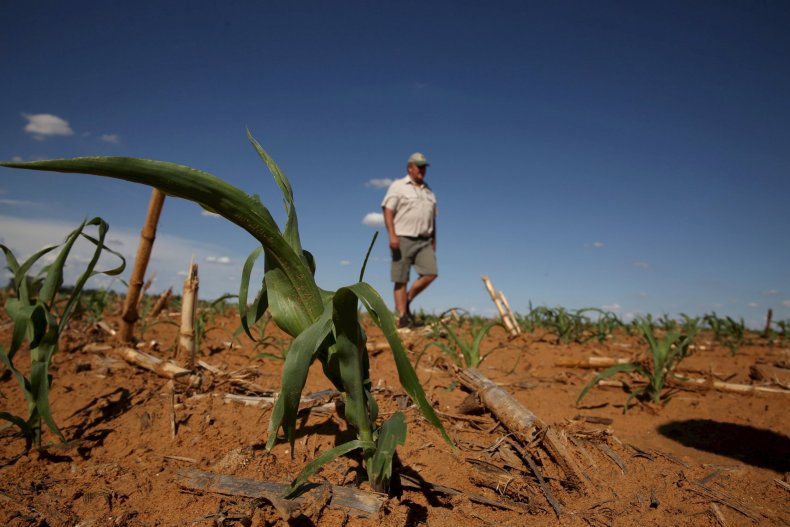 He said a change in the constitution allowing redistribution without compensation, is unlikely, and that in most cases, "compensation will be paid for land that is expropriated."
"Land and property rights inflames the emotions, what goes out the window is rational thinking. We are at a very important moment in South Africa where maybe the government under the new president will set out to really begin to implement land reforms."
Cousins said there may be some cases in which labor tenants working on the corner of a farm which may have no market value may get the land without compensation but this would only be a small number of cases.
"We all need to keep a cool head, and white farmers would be advised to think, What can we do contribute to this process?" he told Newsweek.
President Ramaphosa has said that expropriation can be done without hurting the country's security or economy.
Bennie Van Zyl, head of the Transvaal Agricultural Union of South Africa, said the president's announcement was simply a "populist move" to divert attention away from failure by the ruling African National Congress (ANC) to curb poverty and unemployment.
He said 90 percent of farms given to black farmers by means of restitution have gone out of production.
"Since 1994, the ANC have had this approach of handing land over to black people. We don't have a problem if they do it on an economic basis that is sustainable.
"My concern is that this government has socialism and communism in their mind, and they want to nationalize South Africa so they can manipulate the masses," he told Newsweek.
AfriForum has stepped up its campaign by lobbying foreign investors and governments to put pressure on South Africa to abolish the proposal, saying it is prepared to fight it at the United Nations if necessary.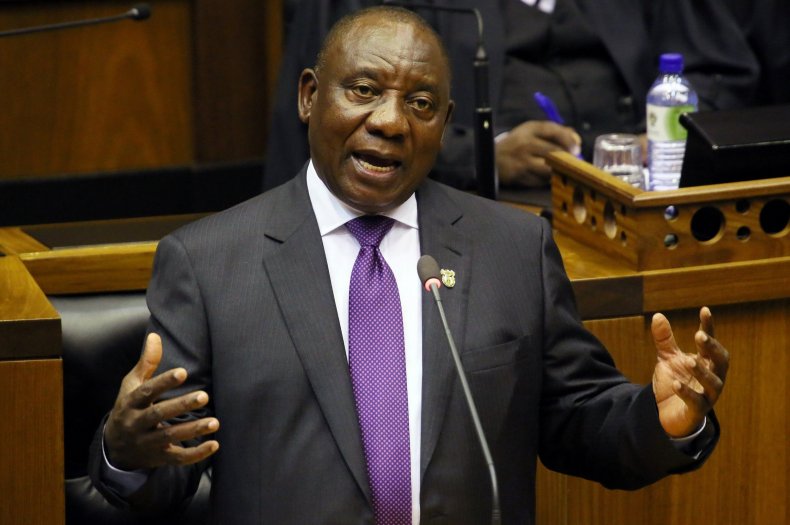 Vociferous calls by Julius Malema, who leads the Economic Freedom Fighters, for his supporters to invade land are adding to fears that white farmers in the country are under siege.
This has led Peter Dutton, the Australian home affairs minister, to call for Canberra, Australia's government seat, to grant visas to fleeing South African farmers who would be welcome in a "civilized country," a remark that was admonished by the South African government.
AfriForum says there has been an increase in attacks on white farmers, with 109 recorded so far in 2018 and 15 farm murders.
But fact-check website Africa Check says it is difficult to quantify the number of attacks.
Kate Wilkinson from Africa Check said: "It is undeniable to say that attacks on farms and small holdings in South Africa are happening, and in a number of cases, they are extremely violent. What is in dispute is that the calculation of the murder rate for farmers in South Africa.
"No organization, as far as I am aware, has released a racial breakdown of these statistics. If claims are going to be made about the number of white farmers being attacked, then they should be based on statistics that are freely available to be interrogated and they should be transparent about how they are collected and monitored.
"The police can't tell us how many of the victims are farmers, family members, workers, visitors—the definition can be all those people," she told Newsweek.