Life expectancy in the United States fell by one and a half years in 2020, the largest annual decline in life expectancy since World War II. Now, one and a half years into the COVID-19 pandemic, with over 626,000 American lives lost, we have an abundance of safe, accessible Covid vaccines, and the Pfizer-BioNTech vaccine just received full approval beyond emergency use by the U.S. Food and Drug Administration (FDA). Summer 2021 was supposed to be a return to normalcy, a "hot vax" summer of connection and prosperity. Instead, we saw a fourth wave of the COVID-19 pandemic and the return of Center for Disease Control (CDC) mask mandates, largely due to the over 90-million eligible Americans who remain unvaccinated in the setting of the highly infectious Delta variant.
As medical professionals, we've seen the cost of refusing the vaccine firsthand: Care for serious illness caused by SARS-COV-2 is invasive and traumatizing at best, both for you and for your family. Worldwide, for adults, there is a 30-40 percent chance of dying from COVID if you require intensive care.
If you chose not to get the vaccine, it's time for you to let your doctors know what ending well looks like for you.
For some of you, COVID-19 will be the deadliest virus you will face in your life. If you are holding off on getting vaccinated, there is one important thing that you should consider doing: complete an advance directive—a document explaining how you want medical decisions about you to be made if you cannot speak for yourself.
Share the document with your loved ones. Have conversations about what matters most to you, consider what kinds of treatment you are willing to undergo for a chance to get better, and talk through your wishes in different scenarios for quality of life.
This helps us, your doctors, provide the best possible care for you.
As scientists and physicians, we have learned so much since the beginning of the pandemic, though COVID-19 continues to humble us. There is no cure for COVID-19. If you become seriously ill from the virus, there are limited treatment options. Despite widely published safety and efficacy information about the vaccines, misinformation campaigns amplified by social media are running rampant—and proving deadly. There are increased reports of patients expressing regrets that they did not get vaccinated in their dying moments. This trend will only continue to increase, as COVID-19 deaths will almost exclusively be among the unvaccinated.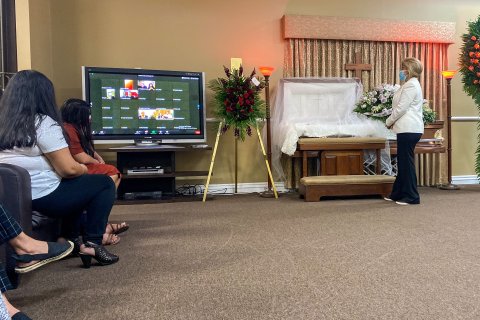 Without immunity, COVID can infect and kill anyone, whether you are five years old or 85 years old. Currently, 99 percent of deaths from COVID-19 in this country are among the unvaccinated, some of whom are young people who have refused the shot. In areas with low vaccination rates, hospital systems are already overwhelmed.
We are not out of the woods with this pandemic—in fact, many experts agree we are just at the beginning of a Delta variant wave in unvaccinated regions.
If you or a loved one choose to roll the dice with Delta by remaining unvaccinated, the best thing you can do right now is prepare an advance directive to make your wishes known in the event you are hospitalized.
In the U.S., only 56 percent of people have had a conversation with their loved ones about end-of-life wishes. Only 27 percent have documented their end-of-life wishes in the form of an advance directive, and less than 20 percent discussed those wishes with their healthcare provider. In the early days of the pandemic, one health system saw a 4.9-fold increase in online completion of advance directives. Given our experience with the pandemic, we can anticipate some of the choices you can expect to make.
In the absence of an advance directive, an established health care proxy or available next of kin, the default approach is aggressive, invasive treatment in the intensive care unit. This typically includes placing a thick, hard, plastic tube down your windpipe, inserting needles into your blood vessels, and using machines to maintain your regular bodily functions. If your heart stops beating, you will receive chest compressions where ribs often crack under the pressure, which is often very painful, and if you survive, it can be traumatic.
We are all entitled to choices. If you're not interested in vaccination to protect yourself from an infection—or to protect immunocompromised people, older adults and children who have not yet had the chance to receive a vaccine—then please take time to ponder your wishes should you become hospitalized.
As healthcare workers, we aim to support people in living happy, healthy, meaningful lives. Regardless of your vaccination status, we will treat you. We took an oath to heal our patients and relieve suffering any way possible, but we want to do so in a manner that is dignified.
What we really want is for you to buck the trend of the last year, survive this pandemic, and live well. But failing that, we want to know what we can do to make sure you end well.
Shoshana Ungerleider, M.D. is a practicing internal medicine physician in San Francisco, California, host of the TED Health Podcast and founder of endwellproject.org.
Jesse O'Shea M.D., MSc is an infectious disease specialist at Emory University in Atlanta, Georgia.
The views in this article are the writers' own.