Ariel Pink Mocked for Taking Part in Tucker Carlson Interview Amid Capitol Riot Backlash
In one of the more unexpected Fox News collaborations, musician Ariel Pink was interviewed by Tucker Carlson on Thursday, prompting a wave of memes and jokes on Twitter mocking the recording artist for getting canceled due to his support of Donald Trump.
The musician is a popular but divisive part of the Los Angeles experimental music scene and is known for tracks like "Put Your Number In My Phone" and "Round and Round."
However, the singer's—whose given name is Ariel Marcus Rosenberg—support of Trump has led to a decline in his success. Last week, he attend the Capitol riot (with fellow musician John Maus) and shortly afterward was dropped by his record label, Mexican Summer.
"Due to recent events, Mexican Summer and its staff have decided to end our working relationship with Ariel Rosenberg AKA Ariel Pink moving forward," the label said in a statement after the rally.
Responding to a Twitter user who drew attention to his attendance at the attack on the Capitol, Rosenberg said: "I was in dc to peacefully show my support for the president. i attended the rally on the white house lawn and went back to hotel and took a nap. case closed."
Pink's appearance on Carlson saw him speak about how his livelihood has been impacted by his public support of Trump.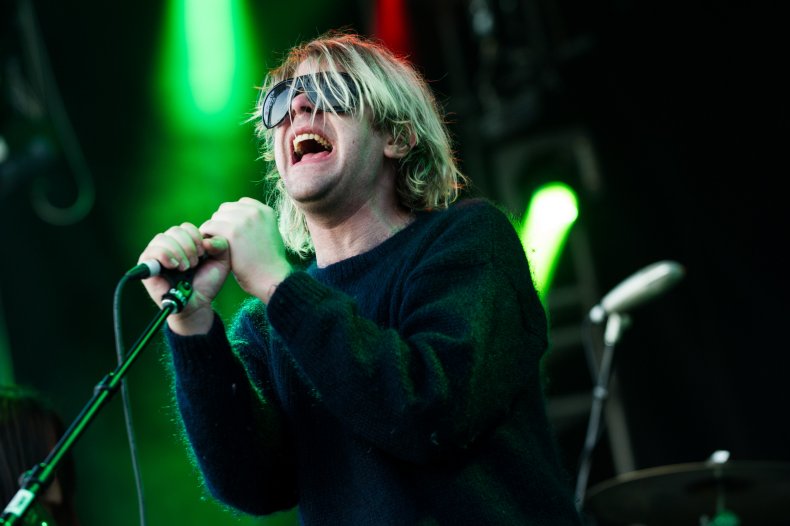 "I had no choice, there's nothing else for me to do," Pink said of his appearance on the controversial show. "I can't even afford my lawyer right now."
"I went to the White House to see our president, I went to the hotel, took a nap, end of story," he said. "I was there for a peaceful rally, that's all it was to me."
Five people died during or shortly after the violence, including a Capitol Police officer.
Carlson focused on the subject of cancel culture, asking: "You did the most transgressive thing, you came out as a public Trump supporter... when did you find out that your career had been destroyed?"
Pink responded to say he is "overwhelmed" and doesn't know what to do.
"My family's been getting death threats," he said. "The hate is overwhelming. People are so mean. I'm terrified."
"You've lived in this country all your life," Carlson asked Do you recognize it?"
Pink responded: "Not at all. I mean, I'm terrified. I mean, this is what I voted against. I didn't vote so much for Trump as against cancel culture and this environment that's been blazing for about four years and is about to ramp up and get even worse."
Earlier this week, it was reported that claims of abuse allegedly committed by Pink against his girlfriend had surfaced in a court case.
The Carlson interview has prompted a huge reaction from Twitter users who are not feeling sympathetic toward Pink.
"I definitely had Tucker Carlson pretending to know who Ariel Pink is on my 2021 bingo card," tweeted musician Pheobe Bridgers.
Another added: "MAGAs listening to Ariel Pink and John Maus on principle is one of the funniest politics things that has happened in a long time."
"TUCKER CARLSON IS INTERVIEWING ARIEL PINK THE SINGULARITY IS GLITCHING," joked another.
Podcaster PJ Vogt added: "The fact that MAGA people have to pretend to like Ariel Pink now is hilarious."