Republicans Blame 'Cancel Culture' for Backlash After U.S. Capitol Riot
Republicans who face criticism for supporting Donald Trump's claims of election fraud have blamed so-called cancel culture for the backlash against them since the storming of the U.S Capitol.
Several GOP representatives and senators have seen their comments in the build-up to the insurrection on January 6 scrutinized, with some facing calls to resign and having institutions and businesses cut ties with them.
Opponents of President Trump say his and his allies' rhetoric incited the crowd that breached the Capitol—leading to scenes of chaos in which five people died.
Some of his supporters have insisted that challenging the presidential election results was an exercise of their free speech.
Sen. Josh Hawley (R-MO), a high-profile Trump loyalist, bemoaned the cancellation of his book deal following the Capitol riot, suggesting the publisher did not like his "exercise of free speech."
In a statement, he vowed to sue and added: "I will fight this cancel culture with everything I have."
Rep. Elise Stefanik (R-NY) also claimed she had been "canceled" after Harvard cut ties with her.
"As a conservative Republican, it is a rite of passage and badge of honor to join the long line of leaders who have been boycotted, protested and canceled by colleges and universities across America," she said in a statement.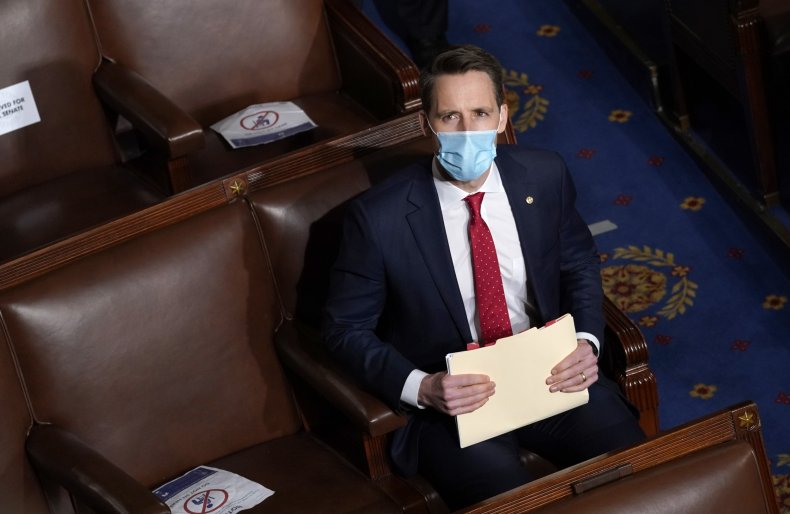 Stefanik had been a member of the senior advisory committee of the Institute of Politics at Harvard Kennedy School. She was asked to step down, then removed after she chose not to do so.
A Harvard statement said the decision was taken after Stefanik "made public assertions about voter fraud in November's presidential election that have no basis in evidence, and she has made public statements about court actions related to the election that are incorrect."
In regard to Republicans losing support from businesses and PACs, Rep. Matt Gaetz (R-FL) said the "political left" wanted to "deplatform, destroy, delegitimize anyone who advances the America First movement."
Speaking on Spicer & Co on Newsmax, Gaetz said "cancel culture" was "magnified when you see it coordinated with big corporations, big media and big tech."
Rep. Jim Jordan (R-OH) referred to the "cancel culture mob out there" when he criticized Democrats' push to oust the president.
President Trump's son Eric Trump also branded businesses' decisions to move away from the family empire as "cancel culture."
"We live in the age of cancel culture, but this isn't something that started this week. It is something that they have been doing to us and others for years," he told The Associated Press.
"If you disagree with them, if they don't like you, they try and cancel you."
Newsweek has contacted Hawley, Stefanik, Gaetz, Jordan and Eric Trump for comment.