Trump-Backed Republican Bragged About Committing Voter Fraud: Report
A Donald Trump-backed Republican candidate for Arizona attorney general allegedly advocated for voter fraud and supported former President Barack Obama in the past.
New reporting by the Phoenix New Times alleges that in 2007 Abraham Hamadeh admitted on online forums that he illegally voted at age 16 for then-Senator Barack Obama for president—in response to "Obama getting all of this crap simply cause hes black, he has an Arab name, hes the only senator who is black in the Senate, he is successful, and he is a Harvard Law graduate," one post read.
"No I cannot vote, I just submitted my mothers absentee ballot, she votes who I vote for, she voted for Ron Paul, and I'm saddened that I had to vote for Barack Obama, but it was the right thing I had to do," another post read.
It was one of reportedly 4,163 posts from Hamadeh on a message board called Ron Paul Forums, which focused on former congressman and three-time presidential candidate Ron Paul.
Hamadeh served 14 months in the U.S. Army Reserve and worked as prosecutor in the Maricopa County Attorney's Office. He is running on the issue of what he calls "election protection," to "rebuild the confidence of our elections by prosecuting election fraud to the fullest extent of the law."
The voter fraud allegations from Hamadeh's youth came after former President Trump endorsed Hamadeh partly due to his stance on elections fraud.
"Abraham Hamadeh is a fantastic candidate running for Arizona Attorney General," Trump said in his endorsement. "He is a veteran, a former prosecutor and, most importantly, he's tough and he's smart. Abe Hamadeh knows what happened in the 2020 Election, and will enforce voting laws so that our Elections are Free and Fair again."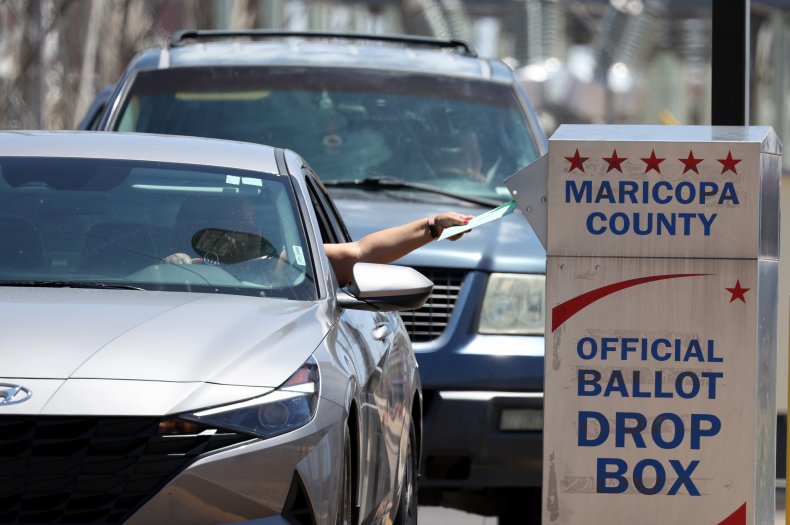 Hamadeh has also been endorsed by other prominent Republicans, including Ron Paul's son, Senator Rand Paul; Richard Grenell, Trump's former acting director of national intelligence; Robert O'Brien, Trump's former national security adviser; and Kash Patel, former Department of Defense chief of staff under Trump.
Aside from calling former Republican presidential candidate and longtime Arizona political mainstay John McCain a "radical fascist," Hamadeh's posts also delved into antisemitism, according to the Phoenix New Times.
"If you think Jews arent big in america (2%) how come 56% of them are CEO'S ... Jews are influential and for the most part rich," one post reportedly said. "its good were targetting Arabs now, next will target Jews."
Erica Knight, a spokesperson for the Hamadeh campaign, did not provide a full-fledged denial regarding the posts in question but told the Phoenix New Times that Hamadeh's comments came at a time in his life when he aspired to be a professional wrestler.
"We are entering a new era of political opposition where candidates who have lived through their adolescent years on the internet are being judged and criticized based on comments they made well before their minds were even fully developed," Knight said. "It is now our responsibility to be careful where we draw the line."
Hamadeh tweeted on August 24 that "the media hates minority Republicans." Newsweek reached out to the Hamadeh campaign for comment.
Kris Mayes, Hamadeh's Democratic opponent this November, told Newsweek via phone on Thursday that Arizona "has among the best-run elections in this country" yet her opponent has continually attacked election officials and discussed decertifying the results of the 2020 election, which she said is indicative of a candidate "wildly out of step with the people of Arizona and frankly dangerous to democracy."
Hamadeh's website features interview clips in which he makes reference to the film 2,000 Mules, saying that it revealed "real criminal and fraudulent activity surrounding the 2020 election."
"It is incredibly hypocritical for Abe Hamadeh to have spent the last year undermining trust in our elections when it would appear that he himself engaged in voter fraud at one time," Mayes said. "This is just conduct unbecoming of a top law enforcement officer in the state of Arizona. We cannot have an attorney general who not only espoused antisemitic beliefs but also may have committed voter fraud.
"I think the voters of Arizona are going to reject someone who has these antisemitic views, and also appears to be a complete hypocrite on the issue of voter fraud," Mayes added.
Another Arizona election denier backed by Trump, Mark Finchem, won his secretary of state primary.