Mark Finchem, QAnon-Linked Election Denier, Wins Secretary of State Primary
A QAnon-linked Arizona lawmaker and 2020 election denier, Mark Finchem, has won the Republican primary nomination for secretary of state.
Finchem, who is backed by former President Donald Trump, secured 41 percent of the vote, according to the Associated Press. His closest rival, businessman Beau Lane, received 24.5 percent.
After the race was called for him, with almost 75 percent of ballots counted, Finchem tweeted: "16.5 percent is a mandate. Thank you to all you for the support. The people of Arizona have spoken.
"They want secure elections and someone to stop the fraud. We won every county with both the mailed-in ballots and the election day vote. On to the general."
He will face either Adrian Fontes or state Rep. Reginald Bolding, who are vying to represent the Democrats in November's election.
Finchem's victory brings him closer to being able to oversee elections in Arizona, a state that swung from Trump to President Joe Biden in 2020.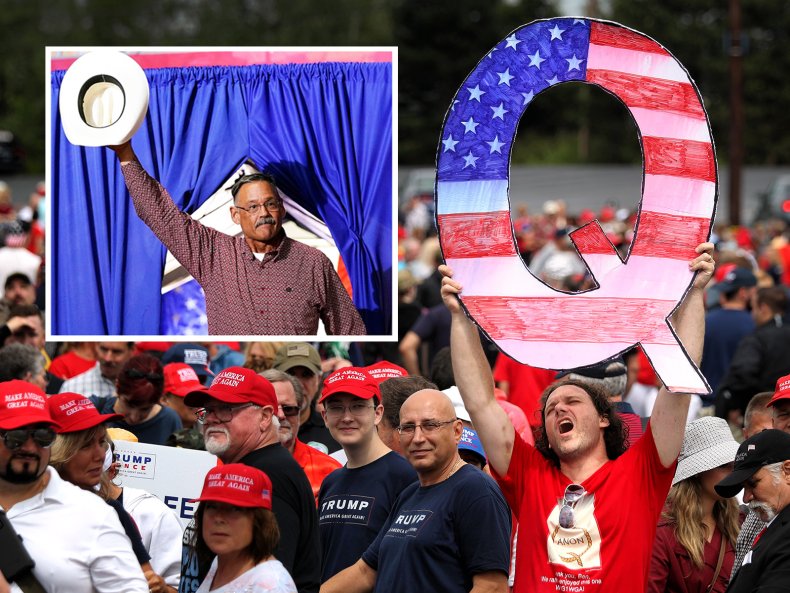 The Arizona state representative has repeatedly parroted Trump's claims of election fraud and supported a review of Maricopa County's 2020 presidential election results. Those results would ultimately confirm Biden's victory.
During the primary campaign, Finchem announced in an August 2 Telegram post that he would seek to alter voting rules in Arizona should he win in November.
The post read: "I will stop the ballot fraud, will fight for transparent elections, positive ID for all voters and secure our elections.
"I will make audits normal and regular so that the cheaters can't steal our elections anymore."
Finchem has also appeared alongside followers of the QAnon conspiracy theory in order to share his views on the 2020 election.
He was one of several Arizona GOP lawmakers who attended the For God & Country: Patriot Double Down QAnon convention in Las Vegas in October last year.
The Arizona lawmaker has also appeared on QAnon-supporter media, speaking on the RedPill78 podcast hosted by Zak Paine in May 2021.
Followers of the QAnon conspiracy theory believe a global cabal of satanic pedophiles are secretly running world events and that its members include Democratic politicians, celebrities and influential business owners.
Finchem is one of several 2020 election deniers who have won GOP primaries to stand as secretary of state.
Kristina Karamo, who also attended the QAnon convention in Nevada, secured the Republican nomination for Michigan secretary of state earlier this year.
Newsweek has contacted Finchem for comment.
Finchem attended the pro-Trump demonstration in Washington on January 6, 2021, but said he had missed the crowd that later stormed the Capitol. He had been late for the rally, he said, and "walked at the rear of the crowd that made its way down Pennsylvania Avenue."
The Arizona lawmaker also identified himself as a member of the Oath Keepers in a 2014 questionnaire. Finchem filled out the information when he sought his candidacy for the Arizona House of Representatives.
The Southern Poverty Law Center has described the Oath Keepers as one of the "largest far-right anti-government groups" in the U.S.
It said that on January 6, "members of the group, including its leader, Stewart Rhodes, were arrested and accused of conspiring to oppose the presidential transfer of power by force."
Update 08/03/22, 11:55 a.m. ET: This article was updated to add Finchem's tweet.