Arizona Audit Halts Plan to Knock on Voters' Doors Amid Fears of 'Intimidating Effect'
The Arizona Senate said Friday that they would drop a plan to knock on doors asking residents about their voting history as part of an audit of Maricopa County's 2020 election results, amid fears that it would have an "intimidating effect" on voters.
Senate President Karen Fann announced the decision in a letter Friday, after the U.S. Department of Justice (DOJ) expressed concerns two days earlier that canvassing door to door could violate federal laws aimed at preventing voter intimidation.
The DOJ's concern came after the Arizona Senate and Cyber Ninjas, a Florida-based firm it hired to manage the county's audit, said it planned to "identify voter registrations that did not make sense, and then knock on doors to confirm if valid voters actually lived at the state address." The auditors also said they planned to ask voters about their voting history to determine "whether the individual voted in the [November] election," according to NPR.
In response, the DOJ sent a letter to Fann on Wednesday stating that such efforts raise could unfairly target minority communities and have a negative effect on voters.
"Such investigative efforts can have a significant intimidating effect on qualified voters that can deter them from seeking to vote in the future," wrote Pamela S. Karlan, principal deputy assistant attorney general in the department's Civil Rights Division.
The DOJ then asked the Arizona Senate to detail what steps they would take to ensure those federal voting laws aren't violated, NPR reported. In a reply on Friday, Fann wrote that the Senate would instead "indefinitely defer" that portion of the audit.
However, the letter noted that the Senate could eventually initiate door-to-door canvassing later on in the audit process, but said voters and precincts would not be chosen based on race, ethnicity, sex, party affiliation or any other legally protected status, the Arizona Republic reported.
Fann also said if that were to happen, canvassers would not ask voters which candidate they supported, and would ensure that contacted voters would not be forced to respond to inquiries.
"If canvassing is necessary to complete the audit, we believe these protocols, which will be reinforced by thorough training programs, would permit the Senate to discharge its legislative oversight and investigation functions without compromising the rights or privacy of any voter," the letter added.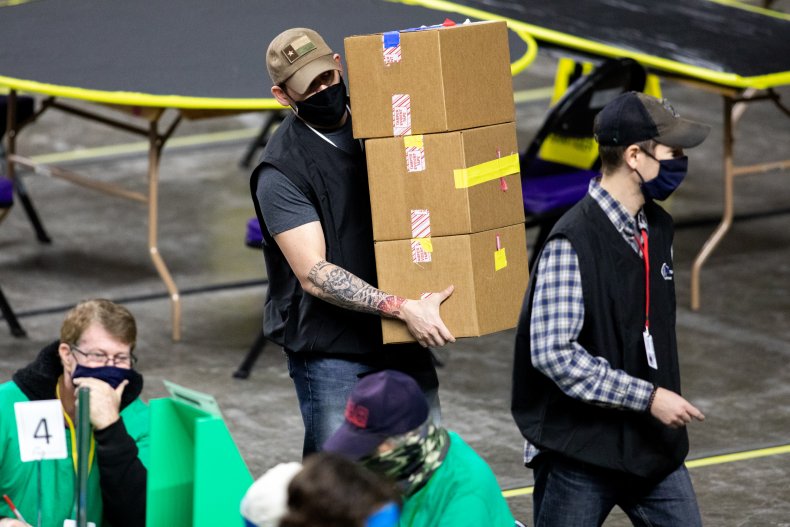 The Friday decision comes as the GOP-led Senate and Cyber Ninjas continue to conduct an audit of some 2.1 million votes in Maricopa County, amid unsubstantiated claims that the election contained voter fraud.
The decision to recount the ballots came after 29 Republican state legislators urged Congress to reject Arizona's electoral college votes—which President Joe Biden won by over 45,000 votes—"until a full forensic audit can be conducted."
The recount began two weeks ago and is expected to be completed by May 14. Last month, former President Donald Trump praised the state's legislative body for initiating the audit and suggested that other states could face a similar recount.
"Let's see what they find. I wouldn't be surprised if they found thousands and thousands and thousands of votes, so we're going to watch that very closely," Trump said.
Newsweek contacted Fann for additional comment, but did not hear back in time for publication.