Arizona Election Witness Confesses to Being Trump Campaign Lawyer's Business Partner in Court
A witness in a case brought forward by Donald Trump's campaign over election results in Arizona has admitted to being the business partner of the lawyer arguing the president's case.
Zack Alcyone admitted to being the associate of the Trump campaign's legal representative, Kory Langhofer, during a hearing in Maricopa County on Thursday, specialist legal news website Law and Crime reported.
The pair are listed as co-founders of Phoenix-based software company Signafide on the firm's website.
Adam Klasfeld, a reporter for the Law and Crime website following the Maricopa County case, flagged up the revelation in a series of posts on Twitter documenting proceedings.
The development came as the court weighed allegations made by Trump's campaign, and backed by the Arizona Republican Party and Republican National Committee, that poll workers in Maricopa County routinely disregarded procedures designed to give voters a chance to correct ballot mistakes during the November 3 election.
The lawsuit brought forward claims tabulation machines dismissed some ballots due to splotches of ink on voting slips and that poll workers either pressed or told voters to press a green button on such devices to override the error, resulting in a number of ballot selections being disregarded.
Trump's legal team initially said there could potentially be thousands of votes for the president within the ballots in question, but later backtracked and suggested that number would be lower.
Almost immediately after proceedings began on Thursday, Langhofer insisted the campaign's legal team were "not alleging fraud" or suggesting "that anyone is stealing the election," local news website Arizona Central reported.
Instead, Langhofer insisted the plaintiffs were simply raising concerns about a "limited number of cases" in Maricopa County involving what he said were "good faith errors."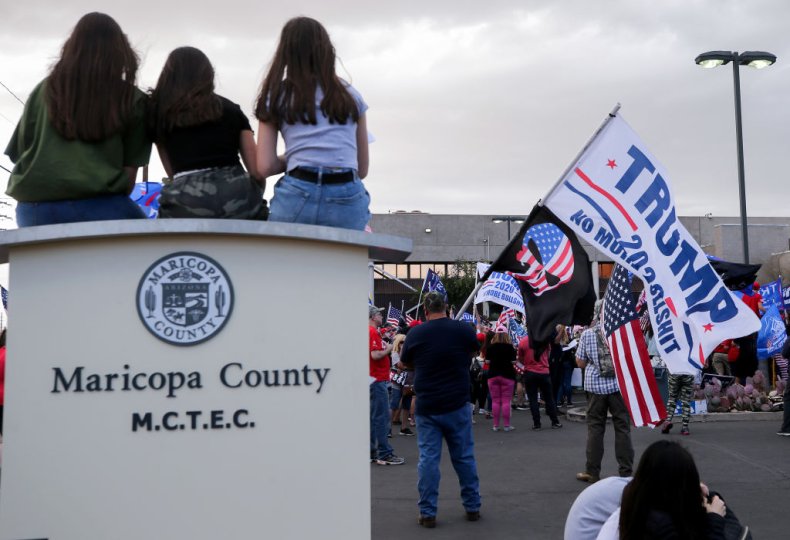 The legal team defending Maricopa County's election officials have disputed the campaign's claims during proceedings and argued that the Trump campaign is, in effect, seeking a recount.
A recount isn't permitted in Arizona under the state's election laws unless the margin between competing candidates is 200 votes or less, or one-tenth of one percent of all votes cast, whichever is the smaller number.
Addressing the court on Thursday, Scott Jarrett, director of Election Day and emergency voting for Maricopa County, said he was not aware of any instances in which poll workers inappropriately pressed the override button on November 3, the Associated Press reported.
The legal back-and-forth came as several news outlets on Thursday moved to project a win for President-elect Joe Biden in Arizona, signalling a historic shift in a state long considered a Republican stronghold.
The New York Times, CNN, ABC News, CBS News, Reuters and NBC News called the race for Biden, who scooped 49.4 percent of the vote in the state compared with the 49.1 percent won by Trump, a difference of more than 11,000 votes.
Biden's win marks him out as the first Democrat to win the Grand Canyon State since Bill Clinton carried it in the 1996 election and only the second from his party to win there since World War Two.
Maricopa County, a fast-growing corner of the state which is home to Phoenix and around 60 percent of its entire population, was key to Biden's victory.
His appeal was boosted in part by a shifting demographic that has seen an increase in Latino voters.
Biden's victory in Arizona meanwhile secured him another 11 Electoral College votes, boosting his overall total to 290, well over the 270 he needed to take the White House.
Trump is yet to concede defeat, however, and has repeatedly made unsubstantiated claims the election was marred by widespread fraud.
The Republican president's campaign has filed lawsuits challenging the vote counts in a number of states, but some of the cases have already been thrown out by judges.