Nearly Half of Inmates at Arizona State Prison Have Coronavirus
Nearly half of the inmates at a state prison in Arizona have tested positive for the novel coronavirus, officials have confirmed.
The Arizona Department of Corrections (ADC) announced on Tuesday that a total of 517 inmates at the ASPC-Tucson Whetstone Unit in Tucson have COVID-19. The Whetstone unit currently houses 1,066 inmates.
The ADC said all inmates who have tested positive are being housed together in a separate unit away from the other prisoners while they receive medical care.
The inmates will also be provided with meals and all their required medication and medical services in their housing units.
The department said it has taken "significant actions" to help stop the spread of COVID-19 in the facilities since the start of the outbreak.
These include providing staff who are dealing with inmates diagnosed with the virus with full PPE, including N-95 masks, gowns, gloves, and face shields.
On July 2, inmates were also provided with face coverings. All the prison's complex staff have been required to wear cloth face coverings since June 15.
"Rigorous cleaning throughout the unit was already in place and has been heightened as a result of the test results," the ADC said in a statement.
According to the ADC, more than 7,100 inmates in the state have been tested for COVID-19, with 890 confirmed to have it—a total of 2.27 percent of the prison population.
There have been six confirmed COVID-19 deaths in Arizona prisons, with a further 15 deaths determined as being "directly or indirectly" the result of COVID-19.
A total of 401 inmates have managed to recover from the virus in Arizona.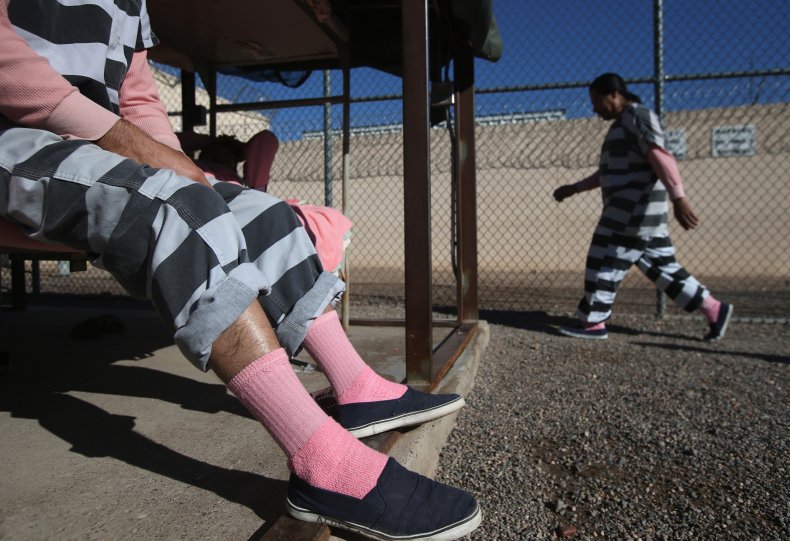 According to The Marshall Project at least 78,526 people in state and federal prisons had tested positive for COVID-19 as of July 28, with 766 deaths.
A poll conducted by the Beacon Research and Shaw & Company Research revealed that two-thirds of Americans are in favor of moving non-violent prisoners out of jails to help shield them from the virus.
When broken down, more people were in favor of moving inmates over the age of 60 as they are at a higher risk from COVID-19.
The poll showed 59 percent of Republicans were in favor of moving older prisoners into home detention, compared with 78 percent of Democrats and 65 percent of independents.
"Public health and public safety don't have a political party, and that's exactly why a majority of Americans from the left, right and center support these reforms," Holly Harris, executive director of Justice Action Network, told Newsweek.
"They understand that addressing the COVID-19 crisis in our justice system is a matter of life-and-death for thousands of incarcerated people, corrections staff, their families, and their surrounding communities."
This graph, provided by Statista, shows the countries with the most confirmed cases of COVID-19 as of August 3.