Arizona Republican Compares Trump Election Dispute With Japanese Soldiers Fighting After WW2 Ended
Arizona congressman Paul Gosar has signalled that the fight against the election result, which he has repeatedly claimed was stolen, would continue in some form and that voter numbers were on the side of incumbent President Donald Trump.
Gosar was among the most outspoken GOP critics of the result and has continued to claim, without evidence, that the projected win for President-elect Joe Biden had been marred by election fraud.
In a tweet on Monday, Gosar continued on this theme, writing: "The America First agenda is just in its infancy. There are 75 million of us," referring to the number of people who voted for Trump, although official figures so far put it at closer to 74 million. This is still a record haul for a defeated candidate, the most for an incumbent, and the second highest ever—behind Biden.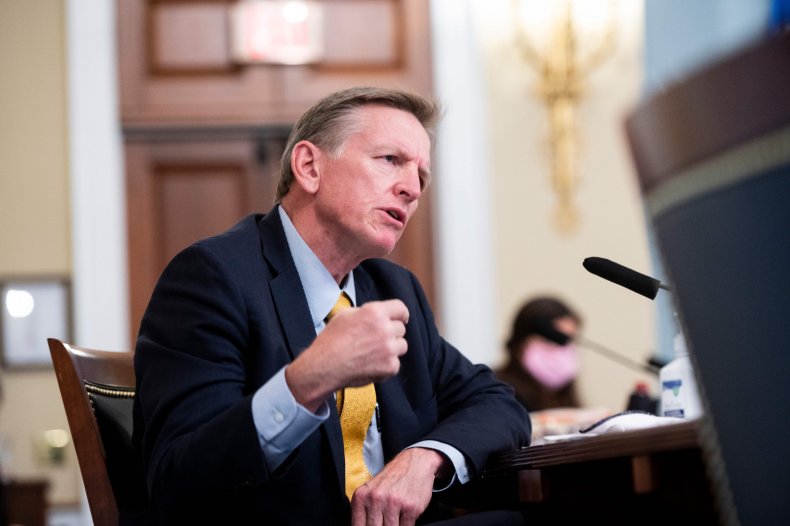 "Also. Did you know some Japanese soldiers kept fighting for decades after the war?" he added, tweeting an image of the Wikipedia entry of Teruo Nakamura, a Taiwanese-Japanese soldier who fought for the Imperial Japanese Army during World War Two, who did not surrender until nearly three decades after hostilities had ended.
Gosar's tweet, which tagged chairwoman of the Arizona GOP, Kelli Ward, and the national organizer of the Stop the Steal group, was shared widely, sparking a thread in which a degree of sarcasm was expressed.
Political podcaster Brian Tyler Cohen responded on Twitter, writing: "The Japanese were on the side of the fascists in WWII but cool comparison."
Attorney and author Rabia Chaudry tweeted to her 161,000 followers: "May the fruits of your labor be exactly the same."
Trevor Valle replied to Gosar's tweet: "Good job ideologically aligning yourself with a stereotypical hyper-fanatical empire who was allied with the fascist Axis Powers, responsible for the death of nearly 300,000 Americans, and millions of others."
Gosar and his fellow Arizona Rep. Andy Biggs, have been outspoken supporters of Trump's claims of election fraud. The pair had pushed for a complete audit of the count in the state's most populous county, Maricopa County, which went to a Democrat presidential candidate for the first time in over 70 years. Results, certified by the county's elected leaders, showed Biden won the county by more than 45,000 votes
In a video from the Arizona Republican Party, which has pushed debunked fraud claims in other states, Gosar alleged that at one point that Wisconsin had a pre-dawn "pause" that led to a flood of votes for Biden, asking, "why ... did these swing states decide to stop the count?"
"In Wisconsin, just before 4 a.m., over 100,000 votes are dumped and almost every single one of them was for Vice President Joe Biden," he said in a claim rejected by the state's election officials.
His stance was criticized in an op-ed by Laurie Roberts for The Arizona Republic, in which the columnist wrote: "I want to see what's going on inside the heads of the Republican leaders in this state and in this country who cannot accept that their candidate lost."
However, Gosar has said separately that the election results would have to be accepted unless substantial evidence is found soon.
On Monday, the Republican said: "We're getting down to crunch time and now it really has to make a big difference in regards to was there an algorithm problem? If there wasn't, then probably the results will stand as is," radio station KJZZ reported.
The graphic below, produced by Statista shows the amount spent in election campaigns this century.