An Arizona election official has filed a lawsuit against former Republican candidate Kari Lake over "defamatory allegations" made against him as Lake continues to fight her 2022 election loss.
Maricopa County Recorder Stephen Richer was among a handful of officials sued by Lake in the fall, following the November midterm election in which Lake lost to Democratic Arizona Governor Katie Hobbs by 17,000 votes. Lake has maintained that the election was stolen from her due to voter fraud and has refused to concede, although her legal fights to overturn the election results have repeatedly lost in court.
In an opinion piece published by The Arizona Republic on Thursday, Richer, a Republican, wrote that he is suing Lake over spreading "falsehoods about our elections and about me specifically," adding, that her "defamatory allegations have unleashed violent vitriol and other dire consequences."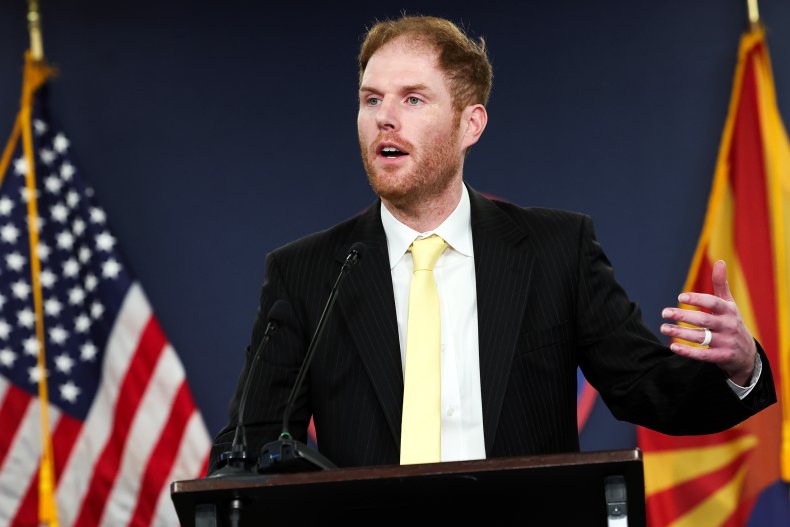 "Following her loss in the November 2022 election, Lake alleged that I intentionally printed 19-inch images on 20-inch ballots for the purposes of sabotaging the election," Richer wrote. "If that wasn't enough, she also asserted that I inserted more than 300,000 invalid ballots into the county's vote count to 'steal' the election from her. Both allegations are completely false."
The lawsuit, which was filed in Maricopa County Superior Court on Thursday, claims that Richer and his family members "have been the targets of threats of violence, and even death, and have had their lives turned upside down" as a result of Lake's falsehoods and attacks. Lake's campaign, Kari Lake for Arizona, and her political action committee, Save Arizona Fund, are also listed as defendants in the suit.
"I filed this lawsuit to make sure that Lake, her campaign and her PAC are held accountable for their utter disregard for the truth and the grave harm they have caused," Richer wrote in his op-ed for the Republic.
Newsweek has emailed Lake's press team seeking comment on the lawsuit.
Lake, who was backed by former President Donald Trump, has alleged in court that Maricopa County officials purposely disenfranchised in-person Republican voters on Election Day and improperly verified thousands of ballot signatures. Both arguments, among other cases filed by Lake, have been dismissed in court.
The rising Republican star promised voters this month, however, that she is "still fighting" in her election case. Lake has also teased that she is considering running for U.S. Senate in 2024 to challenge for Arizona Senator Kyrsten Sinema's seat.
"I'm going to use my voice, I'm going to fight in the courts, I'm going to lawfare these bastards to death," Lake said at a political rally for Trump this week. "And we're going to make America great again."