Kari Lake Fails Again in Legal Battle of Election Loss to Katie Hobbs
The Arizona Court of Appeals affirmed a prior ruling on Thursday that declared Governor Katie Hobbs as governor of Arizona, serving Kari Lake another loss in her election lawsuit.
Lake, the former Arizona GOP gubernatorial candidate who ran against Hobbs in November's election, filed a lawsuit in December challenging the results of the midterm in which she lost to Hobbs by just over 17,000 votes.
The suit alleges that election officials intentionally triggered malfunctions with voting machines on Election Day to disenfranchise same-day Republican voters. Lake's arguments were ultimately dismissed by Maricopa County Judge Peter Thompson, who ruled the lawsuit failed to provide "clear and convincing" evidence of intentional misconduct.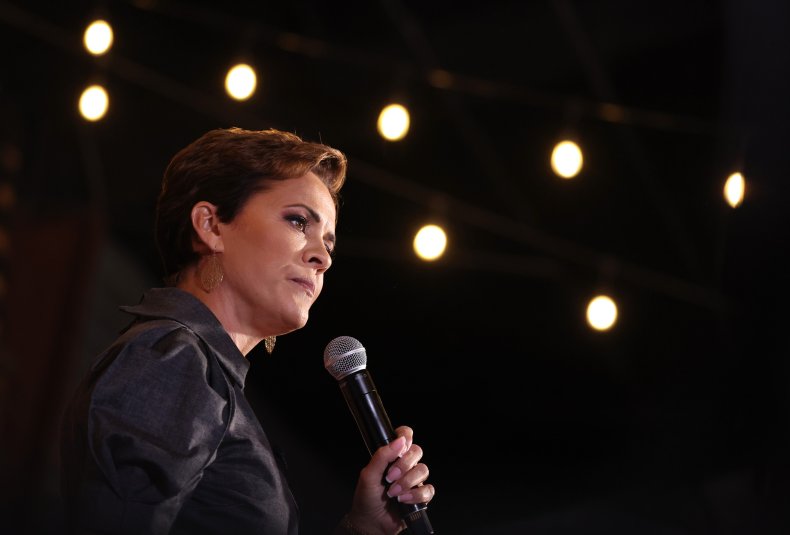 Lake appealed Thompson's decision to the Arizona Court of Appeals and the state Supreme Court, although Arizona's high court denied her petition and asked the appeals court to first hear the case.
In its opinion published on Thursday, the Court of Appeals said Lake's claim that the printer issues kept same-day voters from casting ballots "was, quite simply, sheer speculation," adding there was no evidence that voters who experienced these issues were unable to cast their ballots.
Lake had also alleged that a misstep in Maricopa County's chain of custody for early voting may have permitted ballots to be "wrongfully inserted" before counting began. The Court of Appeals, however, said that Thompson's ruling had "reasonably credited testimony from Maricopa County elections officials over testimony from Lake's witness" in relation to these claims.
"For the foregoing reasons, we affirm the superior court's ruling confirming Hobbs' election as governor," read the court's conclusion. The appeals court also denied Hobbs' request for attorney's fees, affirming Thompson's prior decision, as well.
When asked for comment, Ross Tremble, Lake's communications director, pointed Newsweek to a tweet from Lake on Thursday evening, which says that she plans to take her lawsuit to the Arizona Supreme Court.
"BREAKING: I told you we would take this case all the way to the Arizona Supreme Court, and that's exactly what we are going to do," Lake's statement read. "Buckle up, America!"
Lake has repeatedly vowed to not concede in her race with Hobbs, including at an event in Bettendorf, Iowa, last week, where she told the audience that her father used to tell her to "stay in the fight, but if you lose, you lose with dignity."
"I didn't lose, so I'm not doing that," she told the crowd.
The candidate endorsed by former President Donald Trump has also said she is "entertaining" a potential Senate run in 2024 against independent Senator Kyrsten Sinema and Democrat Ruben Gallego.
Despite polling that shows a potential race between the three could go in Lake's favor, the Republican said earlier this month that her legal battle remains her priority.