Arizona reported its highest single-day increase in cases of the novel coronavirus to date on Sunday, joining a handful of U.S. states where diagnosis numbers and related hospitalizations peaked over the weekend.
Upwards of 3,850 people tested positive for the respiratory illness in Arizona between Saturday and Sunday, according to the Arizona Department of Health Services (ADHS). The state's overall case count now totals at least 73,908 diagnoses, more than double the number reported two weeks ago. Sunday's daily increase in cases surpassed Arizona's previous record of 3,530 new infections, reported by the ADHS on June 19.
Arizona health officials also reported the state's highest incidence of hospitalizations related to the novel virus on Sunday, with 2,691 current admissions. Almost half of those patients were admitted to Arizona medical centers over the last 14 days, amid a steady upturn in COVID-19 hospitalizations throughout June. Statewide intensive care units reached 87 percent capacity on Sunday, while 85 percent of general hospital beds were occupied.
ADHS confirmed nine additional deaths from the novel virus on Sunday, bringing Arizona's total fatality toll to 1,588 since the onset of the outbreak. Recovery information was not available.
Responding to rising cases and hospitalizations in Arizona, Governor Doug Ducey directed medical facilities to postpone all scheduled elective surgeries on Thursday to create more availability for potential COVID-19 patients. Ducey also encouraged state residents to resume social distancing and emphasized the importance of wearing face masks in public areas where adequate physical distancing is not possible.
More than one month after lifting the state's stay-at-home order on May 15, the governor urged Arizona's population to "limit" time spent outside of their residences in Thursday's statement.
"Arizonans and businesses across the state have worked for months to protect others and contain the spread of COVID-19 — and we can't let up now," Ducey said in the statement. "When you're away from home, don't forget to limit social gatherings, stay six feet from others, wash your hands and wear a mask. These simple steps can make a big difference."
Ducey reiterated his calls for residents to remain home and wear face masks when traveling elsewhere in messages shared to Twitter on Friday. "You are safer at home this weekend," he wrote. "If you do go out, wear a mask."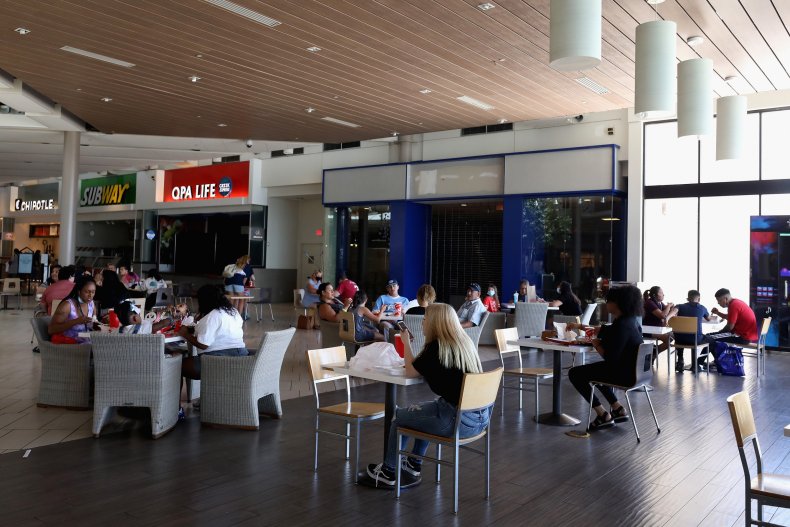 The governor's support for using face masks as means to curb virus transmission became noticeably stronger in recent days. During a news conference on June 13, as Arizona began to see an uptick in virus cases and hospitalized patients, Ducey said that while he encouraged people to wear face coverings, he would not issue an order to enforce the practice.
"There's not a cure for this virus, and there's not a vaccine for this virus," he said at the time. "So this virus is something we need to learn to live with, and we need to make sure that we are protecting the most vulnerable in our society."
Newsweek reached out to ADHS for comments regarding Arizona's latest virus update, but did not receive a reply in time for publication.