Arizona Sheriff Tests Positive for COVID-19 During White House Visit
An Arizona sheriff who previously said he won't be enforcing the state's stay-at-home order has revealed he tested positive for COVID-19 just prior to meeting President Donald Trump.
Pinal County Sheriff Mark Lamb revealed that he tested positive for the virus after being screened during his visit to the White House on Tuesday as protocol.
In a statement posted onto Facebook, Lamb said he likely became infected after attending a campaign event on Saturday.
"Unfortunately, as a law enforcement official and elected leader, we do not have the luxury of staying home. This line of work is inherently dangerous, and that is a risk we take when we sign up for the job," Lamb said. "Today, that risk is the COVID-19 virus."
Lamb said he was still asymptomatic when he was tested for COVID-19 at the White House.
"I will be self-quarantining for the next 14 days minimum. I alerted the Pinal County Public Health Department immediately after my positive test, and they are working to track all those I came in contact with following the Saturday event," Lamb added.
It is unclear if Lamb wore a mask or followed social distancing protocols at the event where he believes he came into contact with an infected person.
The Pinal County Sheriff's Office has been contacted for further comment.
Earlier this year, Lamb said he would not be enforcing Arizona Gov. Doug Ducey's stay-at-home order, believing it to be unconstitutional and that attempts to stop the spread of the virus had already gone on too long.
"The numbers don't justify the actions anymore," he told the Arizona Republic. "Three hundred deaths is not a significant enough number to continue to ruin the economy."
Lamb's positive test for COVID-19 arrives as Arizona sees record numbers of confirmed cases, one month after the state began reopening.
On Tuesday the state reported 2,392 new cases of COVID-19, a record single-day high since the outbreak began. The following day, there were 1,827 new cases.
In response, Ducey announced plans to amplify contact tracing and increase public awareness of distancing and face-covering guidelines in order to contain the spread.
"We remain one hundred percent focused on protecting public health and saving lives," Ducey said.
"We need to redouble our efforts and we need everyone to do their part. We will continue to closely track the data, work with officials around the state and make this our highest priority."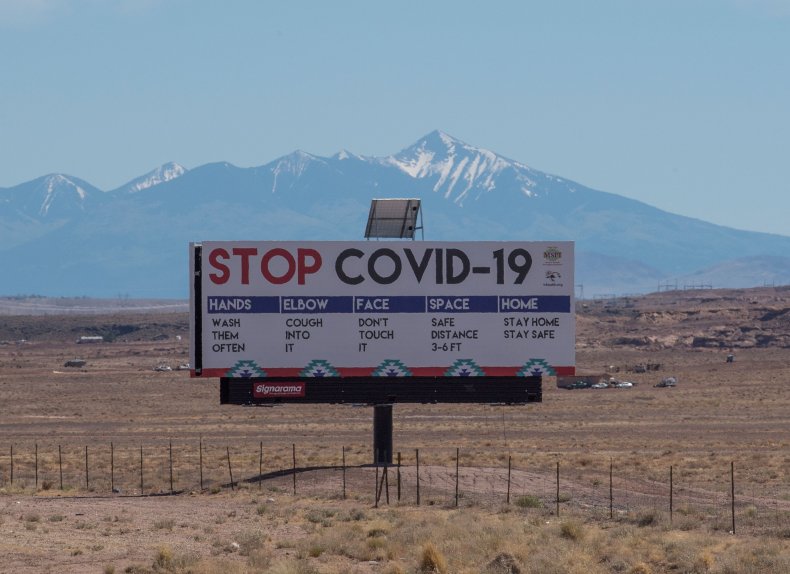 Congressman Greg Stanton described Arizona as the "new national hotspot for COVID-19" following the spike in cases.
"Per capita, Arizona's infection rate is now more than three times higher than New York state. It's spreading like wildfire," Stanton tweeted.
There are more than 39,200 confirmed cases of COVID-19 in Arizona, with at least 1,200 deaths according to Johns Hopkins University. In total, 592,191 people have recovered from the virus across the U.S.
This chart, provided by Statista, shows the U.S. states with the most COVID-19 cases.