Arizona's Former GOP AG Says Kyrsten Sinema and Joe Manchin Should Abolish Filibuster or Resign
Former Arizona Attorney General Grant Woods urged Senator Kyrsten Sinema (D-Ariz.) and Senator Joe Manchin (D-W. Va.) to agree to kill the filibuster or resign from office on Friday.
Sinema and Manchin have both faced heavy criticism for the opposition to eliminate or change the rule, which effectively requires most bills to have the support of 60 senators in a chamber that is currently split 50-50. Republicans used the rule for the first time in the Senate's current session last week to block the formation of a bipartisan commission to investigate the violent January 6 storming of the U.S. Capitol.
Woods, who served as Arizona's Republican attorney general from 1991 to 1999, was a prominent backer of Sinema's 2018 Senate campaign after switching parties during the same year. He now says that both Sinema and Manchin no longer belong in office if they remain unwilling to kill the filibuster in order to pass Democratic voting rights legislation.
"I do think that Sen. Sinema and every senator should support ending the filibuster for the voting rights bill," Woods told HuffPost on Friday. "To keep the Jim Crow filibuster while losing some of these basic voting rights that are central to our democracy is preposterous."
"Sen. Sinema should know that, so should Sen. Manchin," he continued. "At the end of the day, I'm very hopeful that they'll come around and do the right thing. But if they don't, then I don't think they belong in the Senate anymore."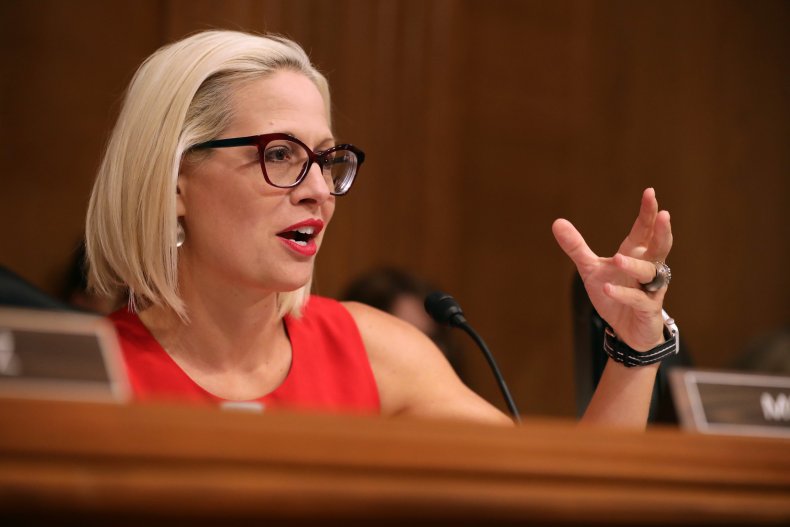 Woods expressed a similar sentiment in a tweet from the previous day, writing that "if you don't vote to protect voting rights and save our democracy by breaking the Jim Crow filibuster, it should be your last vote as a United States Senator." Although Sinema and Manchin were not explicitly mentioned in the tweet, Woods added that there were "no exceptions."
Republicans have been aggressively pursuing restrictive voting rights at the state level in the wake of former President Donald Trump's 2020 election loss and the false claims of massive voter fraud that followed. Democrats and progressives have argued that the GOP bills aim to increase voter suppression while lobbying for new federal laws that they say will protect voting rights.
The Senate is expected to take up the wide-ranging For the People Act later this month but the bill is unlikely to become law with the filibuster in place. The John Lewis Voting Rights Act, which would restore parts of the Voting Rights Act that the Supreme Court gutted in 2013, is also expected to face substantial hurdles due to a lack of Republican support.
President Joe Biden suggested that Sinema and Manchin were at least partially responsible for the impasse during a speech in Tulsa on Tuesday, citing "two senators who vote more with my Republican friends" while speaking about the difficulties of passing voting rights bills despite Democrats controlling the White House and both houses of Congress.
The White House has since walked back the remark and Manchin insisted that Biden's quote was "taken totally out of context" during an interview with CNN's Manu Raju on Thursday. Manchin also called for a second vote on the January 6 commission, while refusing to answer whether his position on the filibuster meant that eliminating it was "off the table."
Sinema appeared unlikely to change her position on the filibuster during a joint press conference with Republican Senator John Cornyn of Texas, arguing that the rule is "a tool that protects the democracy of our nation."
Newsweek reached out to the offices of Sinema and Manchin for comment.