Arkansas Governor Hutchinson Regrets Signing Mask Ban Into Law as State Sees Delta Surge
Arkansas Governor Asa Hutchinson said he regrets signing a bill into law that bans state and local government authorities from implementing mask mandates amid a surge in COVID-19 cases in the state.
He said during a media briefing on Tuesday that he signed the bill because cases were at a "very low point."
"I knew that it would be overridden by the legislature if I didn't sign it," he said. "I had already eliminated our statewide mask mandate."
Hutchinson, a Republican, said now that cases are increasing in Arkansas, he wishes the ban "had not become law." He said that there are only two ways to change the law—either the state legislature could amend it, or it could be ruled unconstitutional in the courts. He said he would prefer for the legislature to change the law to limit confusion.
"If it's up to the courts, and the courts strike down that law as unconstitutional, that could mean we could have counties and cities all doing their thing," he said. "That would be confusing. It would be bad for business. It would be bad for the public understanding and our concentration on vaccinations."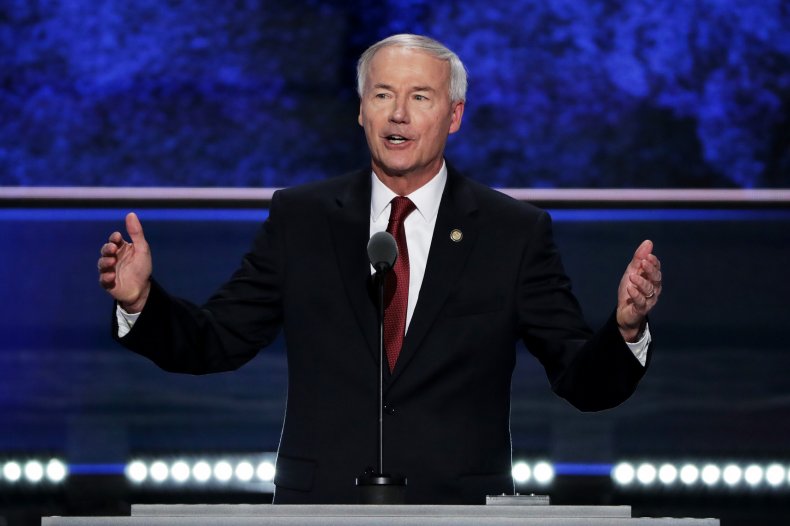 He also called on students who are able to get vaccinated to do so.
"They need to get vaccinated, he said. "Parents can make the choice, the students could make the choice to get vaccinated."
Newsweek reached out to Hutchinson's office for further comment but did not hear back before publication.
The remarks come as COVID-19 cases increase in the state due to the highly transmissible Delta variant. The state had a 7-day average of 1,911 new cases on Sunday, compared to only 475 new cases a month earlier on July 1. Arkansas has among the lowest vaccination rates in the country. Just under 37 percent of residents are fully vaccinated against the virus, according to data from Johns Hopkins University.
Cases are increasing in every state due to the Delta variant. More than 135,000 new cases were reported across the country on Monday, compared to 20,436 new cases on July 2.
Hutchinson has previously shown support for the COVID-19 vaccine. In July, he called out "resistance and obstinance" among conservatives.
"There shouldn't be a partisan divide, first of all. But, clearly, conservative is more hesitant about government authority. That's just the nature of it. And so, I think in the Southern states and some rural states, you have that more conservative approach, skepticism about government," he said on CNN.
He had said that everyone, regardless of political party, suffers "the same consequence if the Delta variant hits us and we're not vaccinated."
Some conservatives in his state have pushed back against his advocacy for vaccinations.
"As I go into these town hall meetings, someone said, 'Don't call it a vaccine, call it a bioweapon.' And they talk about mind control," Hutchinson said. "Well, those are obviously erroneous. Other members of the community correct that."