Arkansas Governor Asa Hutchinson, a Republican, addressed continued skepticism about the COVID-19 vaccines among conservatives—asserting that this "resistance and obstinance" needs to be addressed.
Polling from ABC News and The Washington Post released last weekend showed that about 20 percent of Americans say they will not get vaccinated against the novel virus. The percentage is substantially higher among those identifying as Republicans (close to 40 percent) and white conservatives (more than a third).
During a Sunday interview with ABC News' This Week, Hutchinson was asked about this skepticism among Republicans and conservatives.
"There shouldn't be a partisan divide first of all. But, clearly, conservative is more hesitant about government authority. That's just the nature of it. And so, I think in the Southern states and some rural states, you have that more conservative approach, skepticism about government," the Republican governor responded.
Hutchinson argued that "skepticism and mistrust" could be overcome with "truth." He said that society needs to "overcome resistance and obstinance with saying it's important for our community, and it's important for the health of our state and nation."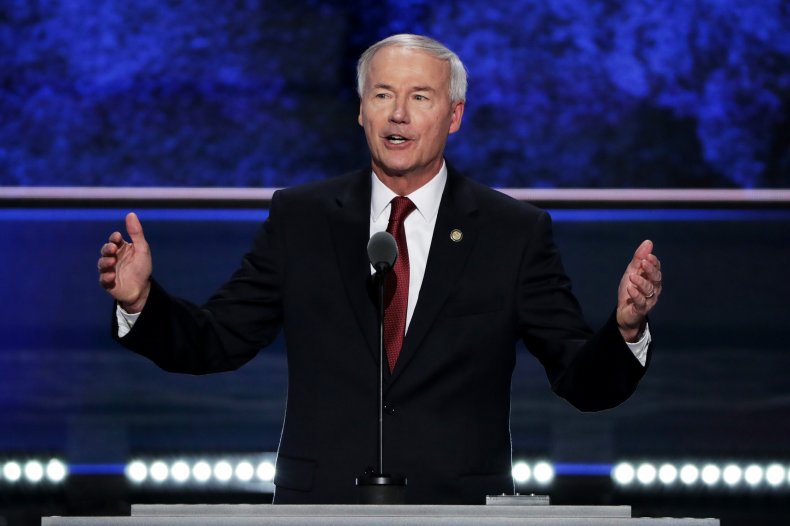 "I think that's simply the nature of different views of government. We've got to overcome that mistrust because it—Republicans, Democrats, we all suffer the same consequence if the Delta variant hits us and we're not vaccinated," Hutchinson added.
The GOP governor defended President Joe Biden during the interview as well. The president faced backlash from conservatives last week after they mischaracterized remarks he made about encouraging the public to get vaccinated.
"We need to go community by community, neighborhood by neighborhood, and oftentimes door to door, literally knocking on doors, to get help to the remaining people protected from the virus," Biden said.
Some conservatives claimed that the president was advocating for federal agents to knock on doors and force people to get vaccinated. In reality, Biden was talking about sending people to provide information about the vaccines in hopes of addressing some of the skepticism, as well as providing vaccinations to those who accept them.
Hutchinson noted that his state was already working in a similar way to encourage more vaccinations.
"Long before President Biden said that, we have community organizations that's helping us. We have churches that are going into homes. We have people that go in to those that are bedridden so that they can have access to the vaccine," the Arkansas governor explained.
"There's nothing dramatic about what the president said in itself. No one wants an agent knocking on a door. But we do want those that do not have access otherwise to make sure they know about it and having the information," he added.
Although Republicans—and particularly white conservatives—remain hesitant and skeptical about the COVID-19 vaccines, conservative leaders have repeatedly urged the public to get the jab. Former President Donald Trump has said publicly on multiple occasions that the vaccine is safe and effective, touting its rapid development as a signature achievement of his administration.
Similarly, Senate Minority Leader Mitch McConnell, a Kentucky Republican, and many other top Republicans have urged all Americans to get the readily available and lifesaving jabs. Prominent Evangelical Christian leader Franklin Graham, CEO of the Billy Graham Evangelistic Association and of Samaritan's Purse, has done multiple interviews to assure skeptical conservatives that the vaccines are safe, saying they are "going to save life."
Newsweek reached out to Hutchinson's press office for further comment.