'Bioweapons' and 'Mind Control': Arkansas Governor Faces Pushback on COVID Vaccines
Arkansas Governor Asa Hutchinson has faced backlash from some of his state's residents over COVID-19 vaccines, often with people using bizarre terminology. Hutchinson has been one of the major Republican leaders to have publicly pivoted toward advocating vaccines and calling out the unvaccinated in recent weeks.
Speaking with Jake Tapper during an appearance on CNN's State of the Union on Sunday, Hutchinson detailed some of the often outlandish responses he has gotten from constituents while doing town hall visits. These visits were intended to urge residents of Arkansas, particularly conservatives, to get vaccinated for COVID-19, which the state is struggling with.
"As I go into these town hall meetings, someone said, 'Don't call it a vaccine, call it a bioweapon.' And they talk about mind control," Hutchinson described. "Well, those are obviously erroneous. Other members of the community correct that."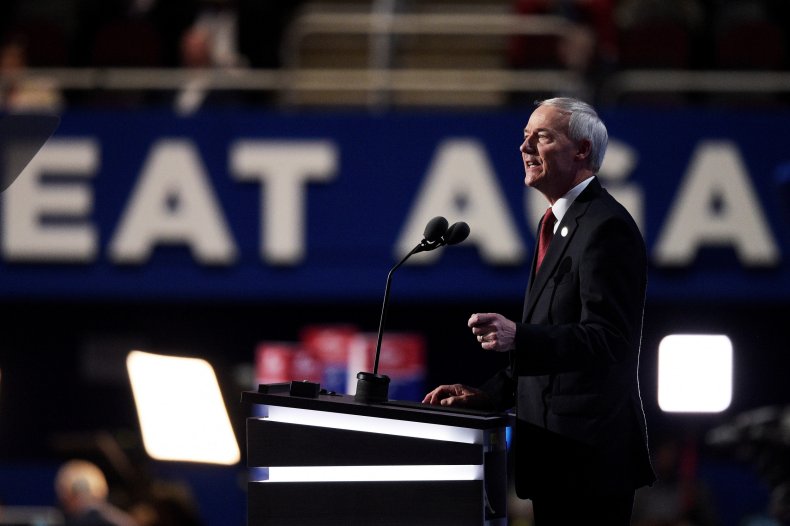 Hutchinson attributed these rather bizarre responses to the propagation of "false information" and "myths" about the COVID-19 vaccine and vaccines in general, particularly among right-wing communities.
The governor was also recently seen in a video taken at one of these town hall meetings getting a venomous reaction for correcting misinformation about COVID-19 vaccines. The response in question was to the assertion that the vaccine might cause infertility. In the clip, shared by Raw Story, Hutchinson gestures to Dr. Jennifer Dillaha, the Arkansas Department of Health medical director for immunizations, to debunk the idea.
"So at this point in time, there is no evidence the COVID vaccine," Dillaha is heard saying before being interrupted by members of the audience.
One person at the meeting was heard shouting, "This is ridiculous," after Dillaha was cut off, while another was heard shouting, "Liar." Dillaha was eventually able to complete her statement, to which one audience member responded by accusing the government of "covering [accurate information] up."
While COVID-19 cases are on the upswing in every state, Arkansas has been particularly hard hit. According to data from the Centers for Disease Control and Prevention (CDC), Arkansas had the fifth-highest number of new cases in the past week. Arkansas and Florida also hold the distinction of being the only states in which every county is classified as having "high" rates of community transmission of the virus.
Other Republicans have also begun publicly voicing their support for vaccines and encouraging their constituents to get vaccinated, including Florida Governor Ron DeSantis and U.S. House Representative Steve Scalise of Louisiana.