Army Criminal Investigators Look Into Deadly Double Helicopter Crash
A collision of two UH-60 Black Hawk helicopters that killed a U.S. Army medical officer at a Georgia airfield last week is now under criminal investigation.
Captain James Bellew, 26, died on March 30 around 2 a.m. in an "incident" at Wright Army Airfield, an airport that serves both Fort Stewart and the city of Hinesville near the Georgia coast. It is not clear at this time what happened leading up to the crash or Bellew's exact involvement. While details about the crash are scarce, Army Times reported that posts to private social media groups claimed both helicopters were intentionally destroyed. The publication could not verify that information, however.
Lieutenant Colonel Lindsey Elder, a spokesman for the 3rd Infantry Division, told Newsweek in an email that the service's Criminal Investigation Division has opened an ongoing investigation into the crash. Currently, the Army considers the crash an "incident," not an "accident," because the determinations behind the crash are still being determined, he said.
Bellew was on medical evacuation duty the night of the crash and was required to sleep on-site to be able to respond to emergencies, according to Elder. So far, investigators say that all other crewmembers were also asleep during the incident, he added.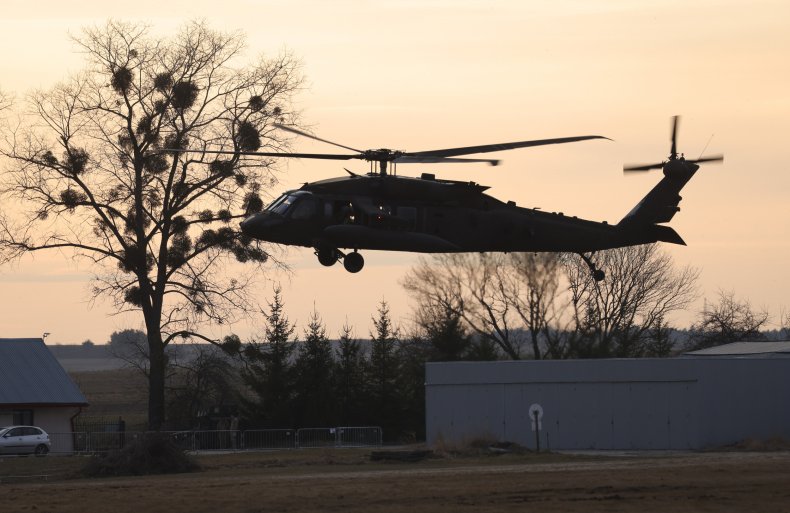 The Criminal Investigation Division investigation is a sign that criminal activity is suspected in the crash, Army Times reported, citing Army accident investigation regulations.
Due to the ongoing investigation, the Army is releasing few details about the crash to the public at this time.
"Capt. Bellew was the only crewmember involved in the incident and he was the
only one injured or killed in the incident," said Elder. "At this point, we cannot address the manner of the damage to the two aircraft, timeline of events, or the
response from the tower and emergency services, as those details are still
considered part of the active investigation."
Elder explained that "all manners of death are considered" during investigations of noncombat-related deaths of soldiers. The Armed Forces Medical Examiner will determine the cause and manner of death, he said.
Bellew was a native of Charlottesville, Virginia. He started working in the Army in 2017 and served as a medical service officer, airlifting critically ill COVID-19 patients.
Brigade Commander Colonel Eric Vanek praised Bellew in a statement to Stars and Stripes. "The loss of James is an immeasurable tragedy to his family, friends, crew and fellow soldiers," Vanek said. "James was a part of one of the noblest professions imaginable; he dedicated his life to serving our country and did so in a role where he was constantly helping, and saving the lives of others."