Arnold Schwarzenegger Gives $250K for Homeless Vets in 'Country That Means Everything to Me'
Former California Governor Arnold Schwarzenegger has donated $250,000 to the nonprofit organization Village for Vets to purchase 25 tiny houses for homeless veterans in Los Angeles.
On the actor's Twitter Thursday, he wrote that he celebrated Christmas early with the donation.
Village for Vets' mission is to help end homelessness among veterans.
"It was fantastic to spend some time with our heroes and welcome them into their new homes," Schwarzenegger said.
"This is what Christmas is all about. All of you have the power to do something for someone else this holiday season," he wrote in another Tweet on Thursday. "It doesn't have to be big. Just give a few minutes of your time to help someone else."
In an exclusive interview with Fox News, Schwarzenegger said: "It makes me feel good I can give something back to this country that means everything to me."
The new homes spread hope among veterans including Bruce Henry Cooper, who said that "it's been a lifesaver" for him.
"He has not forgotten us. Not forgotten anybody," Cooper said of Schwarzenegger.
The former governor was joined by his son, Patrick Schwarzenegger, who was on tour as veterans were celebrating their new homes. He reportedly handed out his new nutrition bar MOSH at the BBQ event held in celebration of the vets.
"We owe everything to our veterans, they've sacrificed their lives, their family hoods for us and our freedom," Patrick Schwarzenegger said, according to FOX News.
"It's the holidays, anything we can do to make other people's week a little better and happier. It's all good," he added.
Newsweek contacted Village for Vets for comment, but didn't hear back in time for publication.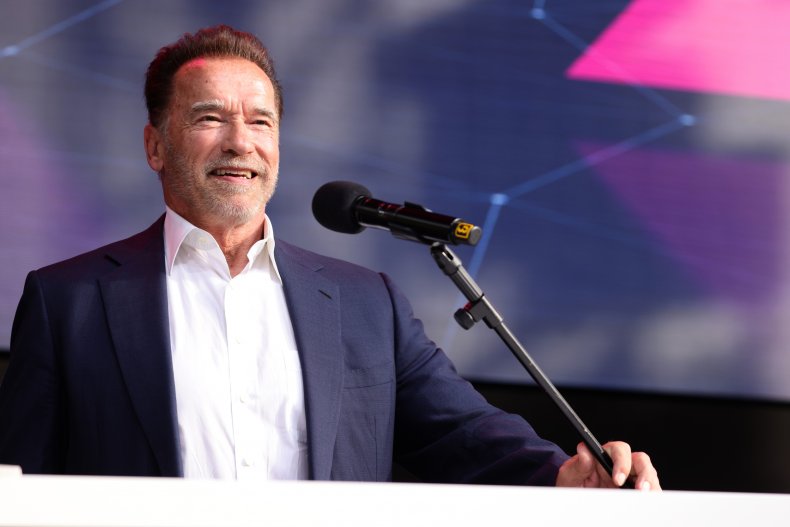 This is not the first goodwill gesture that Schwarzenegger has made during the holidays. "The Terminator" mega-star donated 500 turkeys to Hollenbeck Youth Center in East Los Angeles amid the pandemic during Thanksgiving last year, and said he donates the turkeys every year.
"Every year, I donate 500 turkeys in East LA to the Hollenbeck Center. This year I couldn't be there in person to celebrate together, but I sent the turkeys. What do you do to give back during the holidays?" he tweeted in November 2020.
Schwarzenegger also urged his followers at the time to stay at home during the holiday season to curb the spread of COVID-19. The former governor has previously expressed his firm stance about COVID-related measures.
In August, the action-film star said "screw your freedom" as he urged people to follow COVID-related guidelines including wearing face masks.
"There is a virus here. It kills people, and the only way we prevent it is get vaccinated, get masks, do social distancing, washing your hands all the time and not just to think about, 'Well, my freedom is being kind of disturbed here.' No, screw your freedom," Schwarzenegger said in a video.