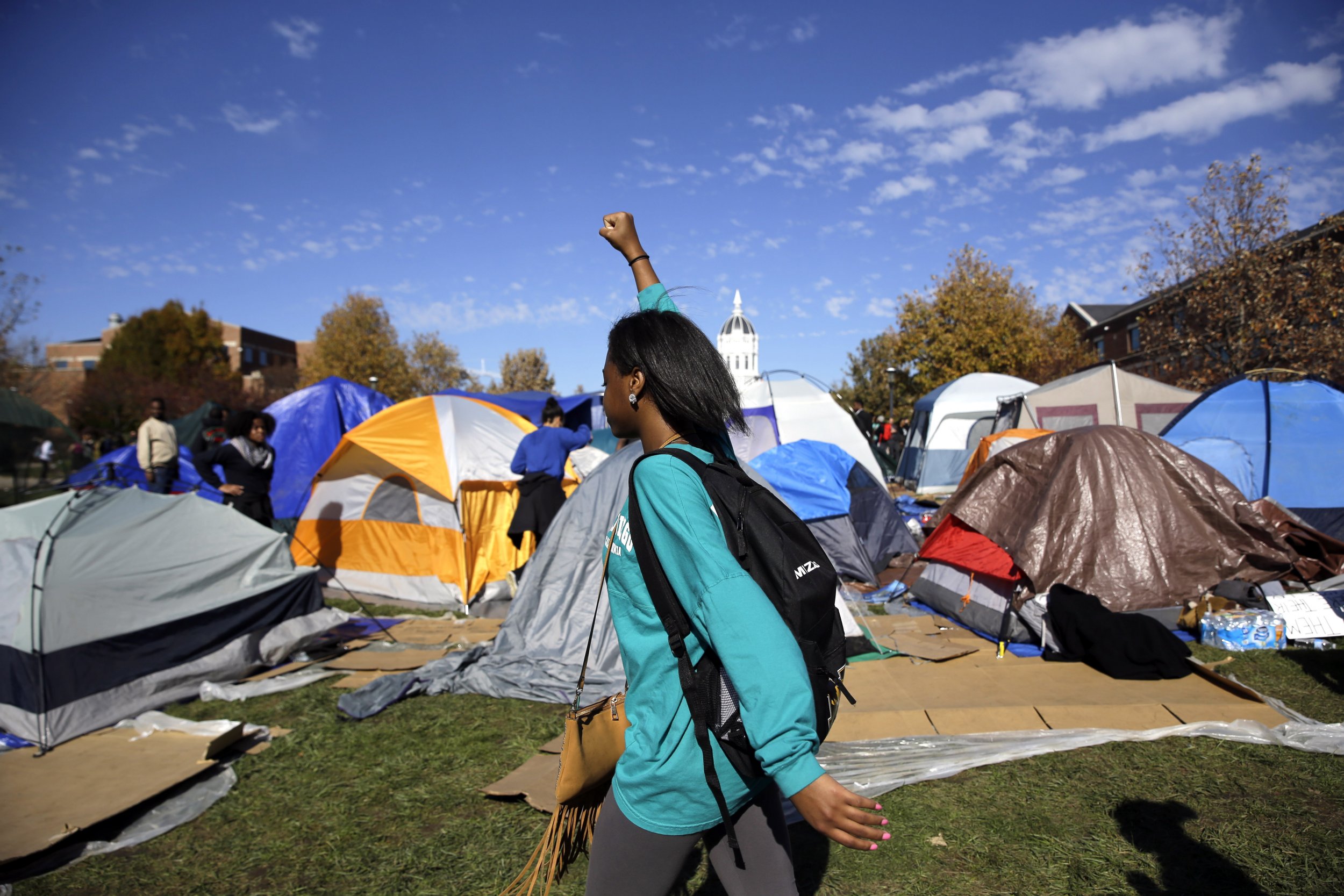 Two days after the University of Missouri president and chancellor resigned amid protests that UM was mishandling racial issues at the school, campus police arrested a suspect who allegedly posted racist threats on social media. Police named Hunter Park, 19, as the suspect and said he was a student at the Missouri University of Science and Technology, which is part of the UM system.
In a statement, police called the posts, on the app Yik Yak, "a terrorist threat."
According to screenshots, someone anonymously posted to Yik Yak on Tuesday: "I'm going to stand my ground tomorrow and shoot every black person I see." The person also apparently wrote: "Some of you are alright. Don't go to campus tomorrow," and "Well tomorrow mizzou will really make national news."
On Tuesday night, UM said it was aware of the threats and that school police had increased security. However, following reports of multiple threats against UM that day, the school seemed to diminish the reports. "There is no immediate threat to campus. Please do not spread rumors," the school said on its website.
A Twitter account for the school said, "In an actual emergency, @MUalert and alertsystems would be activated immediately. Please don't spread rumors." University Chancellor R. Bowen Loftin, who resigned on Monday, retweeted that post.
Jonathan Butler, the UM graduate student who recently went on a hunger strike to protest University President Tim Wolfe, said Tuesday on Twitter, "If you are on campus please head home for safety precautions there is an active threat on campus. Do not walk anywhere alone."
This week has been a tumultuous one for UM. Wolfe and Loftin resigned Monday following protests by students and faculty, as well as a threatened boycott of this week's game by the football team. Protesters have said they do not feel the school properly handles racial issues.
Park is now at Boone County Jail. Records say he is from the city of Lake St. Louis, Missouri. The Missouri University of Science and Technology is in Rolla, Missouri, an hour and 40 minutes south of UM's Columbia campus. He is being held in lieu of a $4,500 bond.
Students appear unhappy with the school's response to the threats. Local media said the Missouri Student Association had urged administrators to cancel Wednesday's classes. Classes were not canceled.
In addition to the comments police claim Park made, threats were apparently called in on Tuesday afternoon to the school's Gaines/Oldham Black Culture Center, ABC News said. A university spokeswoman tells Newsweek there were "no formal evacuations."
Also on Tuesday, a student said people on campus had threatened her. "Racist cult in speaker circle blue pick up truck with white guys and no license plate circling there car around us dont go to campus," the student wrote on Twitter, referring to a location on campus. "Can't stop shaking literally could've died tonight its not worth it," she added.
Those posts may have led student body president Payton Head to write on Facebook that "the KKK has been confirmed to be sighted on campus," according to a screenshot. Head later deleted the post and apologized for posting misinformation "in a state of alarm."
At least one local business closed Wednesday because of the threats. Chris Flood, owner of the Campus Bar and Grill near the school, says he decided to close for the day after speaking with his employees Tuesday night and Wednesday morning. "It's not worth it to me to try to make a few dollars when they don't feel safe at work. That's very important to me, that this be a safe space for them," he tells Newsweek.
According to social media reports, a Starbucks located in the same building as the Campus Bar and Grill also closed Wednesday. (No one answered the phone there.)
Tensions at the university have been running high over what students feel is an administration that does not properly handle issues regarding race.
The app Yik Yak has been popular among—and sometimes problematic for—college students. Last month, police arrested students at Texas A&M University, Emory University and Lee University for making threats on the social media platform, which enables users to post anonymously. In 2014, police also arrested students at the University of Central Oklahoma and Penn State University following disturbing Yik Yak posts.