Artist Removes Ukraine Mural After Backlash, Says He's Not Linked to Russia
An Australian artist has painted over his controversial mural, dubbed "offensive" because it showed Ukrainian and Russian soldiers embracing.
Peter Seaton's street art was hit with a huge backlash after he unveiled the three-storey painting on the side of a Melbourne building in Kings Way in the southeastern state of Victoria.
He said the painting advocated for a "peaceful resolution" between the two countries, which have been engaged in a bloody war since February after Russian President Vladimir Putin invaded his neighbor.
Thousands have died in the conflict and Russia has drawn widespread condemnation from the international community, with the country hit with a range of sanctions.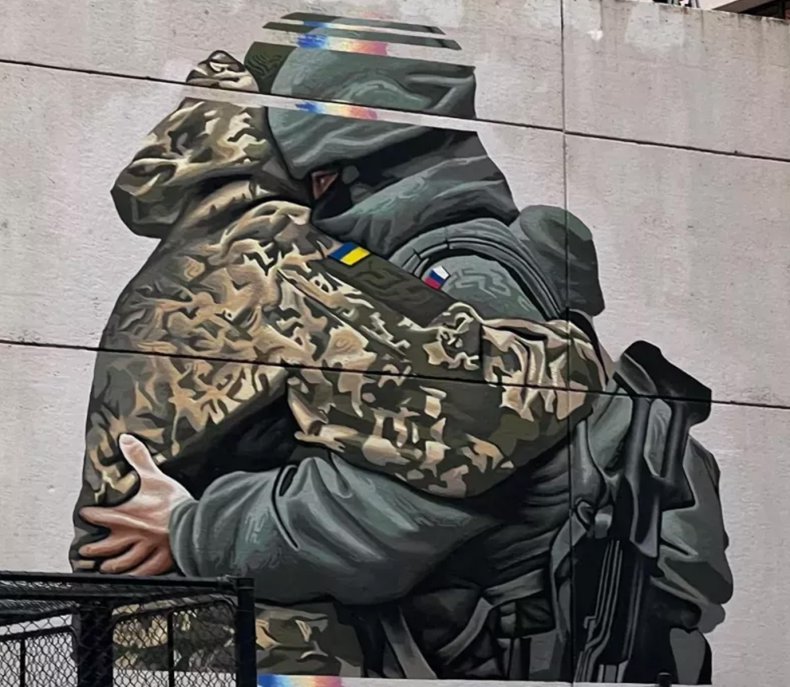 But critics of Seaton's work claimed it amounted to Russian propaganda, by showing both sides as equals in moral terms.
Stefan Romaniw, co-chair of the Australian Federation of Ukrainian Organisations, said: "What would people think if a mural featured a rapist and a victim hugging? Trying to be 'even-handed' and accepting a false narrative that 'all we need is peace' in this case supports evil."
Speaking directly to Newsweek on Saturday, he added: "What he's trying to say is, 'let's get together and, and make up.' Well, that's not going to happen while the Russians are being the aggressors."
Even Ukraine's ambassador to Australia, Vasyl Myroshnychenko, got involved, describing the artwork as "utterly offensive to all Ukrainians" in a string of tweets that called for it to be removed.
Melbourne-based artist Seaton, who works under the name CTO, has now apologized, describing his mural—which was called "Peace Before Pieces"—as "clumsy" on Monday.
He admitted he was shocked by the reaction and "didn't think it would be so badly received."
He posted a video on Instagram in which he apologized to Ukrainians and added: "I'm not affiliated with any Russian people, media, anything."
The artist said he stayed up until 3:00 a.m. on Monday painting over his work to remove all traces of it and told the Australian Broadcasting Corporation: "The mural cost me $2,000 to $3,000... I wouldn't do that, and spend 10 days doing it, if I had thought it was going to hurt people."
But he added that "a lot of people did get the message" intended by the piece, although "there's obviously a contingent of people that feel that this is going to be hurtful and maybe traumatizing and that's not what I want to create my work."
The artist said he will now sell non-fungible tokens (NFTs) of the mural (ownership of the digitalized art) and said he will donate the money to nonprofit organization World Beyond War.
After news broke on Sunday that Seaton had agreed to paint over the mural, Romaniw, posted a statement welcoming the artist's decision.
He said: "Community action brings results. [Our] call to action on Friday has now brought a favourable outcome. To Mr Seaton, thank you that you saw reason and how offensive your work is. Good to see you will be removing the mural."
He also posted a link to Newsweek's initial article about the controversy, with a statement thanking media outlets for covering the story.
Newsweek has reached out to Romaniw and artist Peter Seaton for further information.