A Texas man involved in the U.S. Capitol insurrection blamed former President Donald Trump for his actions on Monday while apologizing for urging the assassination of Rep. Alexandria Ocasio-Cortez (D-N.Y.) on Twitter.
Garret Miller could face decades behind bars for his alleged part in the violent breach of the Capitol that left five people dead, including a police officer. In a statement released on the same day that a federal judge ordered him held without bail pending trial, Miller apologized to Ocasio-Cortez and Capitol Police while maintaining that he acted at the direction of Trump, who he said convinced him that President Joe Biden had "stolen" his victory in the presidential election.
"I was in Washington, D.C. on January 6, 2021, because I believed I was following the instructions of former President Trump and he was my president and the commander-in-chief," Miller said in the statement, which was released by his defense attorney Clinton Broden. "His statements also had me believing the election was stolen from him."
"Nevertheless, I fully recognize Joe Biden is now the President of the United States and that the election is over," he continued. "Donald Trump is no longer president and I would not have any reason to continue to follow his lead."
Miller, 34, was arrested in Texas on Friday and hit with multiple federal charges after making a series of social media posts that included sharing photos of himself during the breach. He commented "just wanted to incriminate myself a little lol" while discussing one selfie he had taken inside the Capitol.
Despite his apparent willingness to take part in the violent riot and openly boast about it afterwards, Miller said that he had not been "very interested nor involved in politics" until "very recently," adding that "what Donald Trump had been saying about the election really got to me and I felt I had to support him."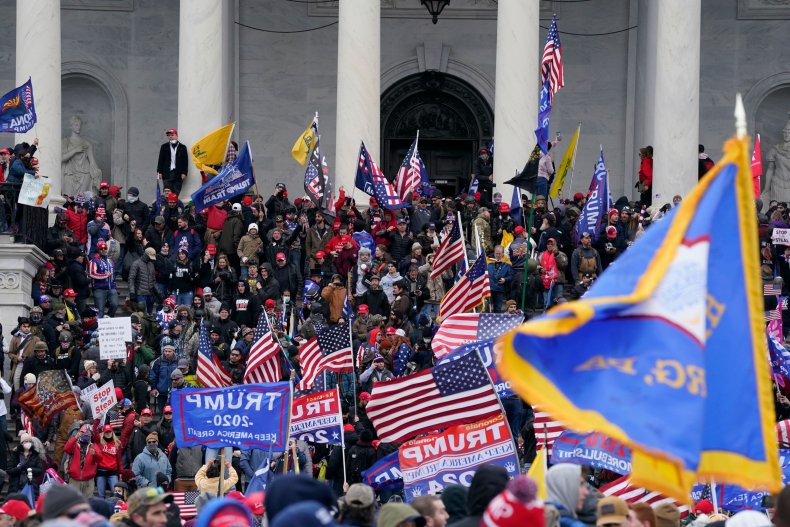 Miller tweeted "Assassinate AOC" in response to Ocasio-Cortez tweeting the word "Impeach" during the insurrection. In the same thread, he claimed that the Capitol rioters "acted with honor," "where [sic] not armed" and had been "gentle with the police."
In addition, Miller used social media to warn the Capitol Police officer who shot and killed a fellow rioter during the breach that he planned to "hug his neck with a nice rope." Miller claimed that "millions" of people agreed with his call to murder the "traitor cop" and declared that "huntin season" was open for those who wished to kill the officer.
"While I never intended to harm Congresswoman Ocasio-Cortez nor harm any members of the Capitol police force, I recognize that my social media posts were completely inappropriate," Miller said on Monday. "They were made at a time when Donald Trump had me believing that an American election was stolen."
"I want to publicly apologize to Congresswoman Ocasio-Cortez and the Capitol police officers," he added. "I have always supported law enforcement and I am ashamed by my comments."
Capitol Police officer Brian Sicknick died after a pro-Trump rioter struck him in the head with a fire extinguisher. Although Miller insisted that he was unarmed, authorities have indicated that many other rioters were armed with weapons that included guns and Molotov cocktails, while pipe bombs were also found planted in the area.
On Friday, Ocasio-Cortez commented on Miller's legal situation while sharing excerpts from his criminal complaint, including a quote of his tweet boasting that he wanted to "incriminate" himself, by responding on Twitter "well, you did!"
"On one hand you have to laugh, and on the other know that the reason they were this brazen is because they thought they were going to succeed," tweeted Ocasio-Cortez.
Newsweek reached out to the offices of Trump and Ocasio-Cortez for comment.