What Ashton Kutcher, Ex Demi Moore Have Said About Each Other
Ashton Kutcher's marriage to Demi Moore has received renewed attention this week after the actor spoke candidly about their relationship and subsequent divorce in a new interview.
It was revealed in 2004 that Kutcher, who is set to turn 45 on February 7, and Moore, 60, had embarked on a romantic relationship. The stars tied the knot in 2005 and remained together until 2011. Their divorce was finalized in 2013.
In an interview with Esquire, Jobs star Kutcher discussed a number of aspects of the relationship, including becoming stepfather to Moore's three daughters with her ex-husband Bruce Willis: Rumer, Scout, and Tallulah.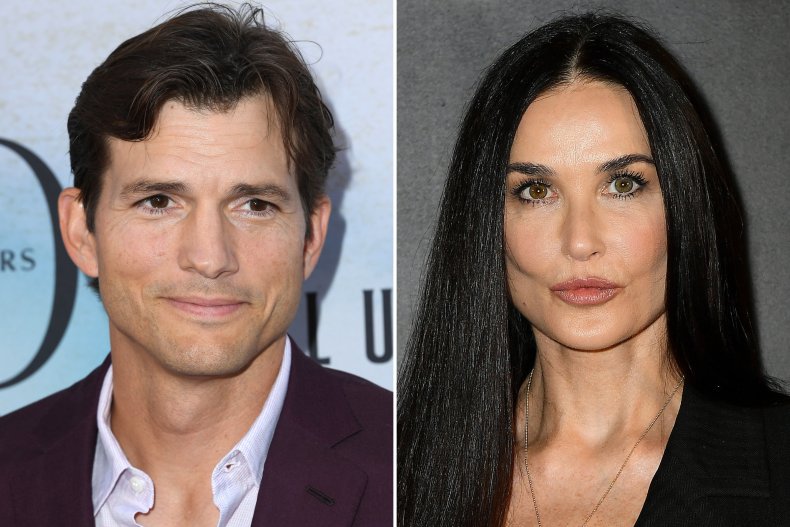 "I was 26, bearing the responsibility of an eight-year-old, a 10-year-old, and a 12-year-old," he said in the interview, adding that he still has a relationship with the trio. "That's how some teen parents must experience their twenties."
When the couple attempted to expand their family, Moore suffered a miscarriage six months in. Kutcher addressed the loss in his wide-ranging interview.
"Losing a kid that you think you're going to have, and that close to thinking you're going to have a kid, is really, really painful," he told the magazine. "Everyone deals with that in different ways."
When his marriage to Moore ended, Kutcher said he found the experience to be "humiliating" and "embarrassing."
Nothing makes you feel like a failure like divorce," he said. "Divorce feels like a wholesale f****** failure. You failed at marriage."
Kutcher, who now has two children with his That '70s Show co-star and wife Mila Kunis, said that he became incensed when Moore wrote about their relationship in her 2019 memoir Inside Out.
"I'd finally gotten to a place where the press had really laid off me and Mila, and my life and my family," he explained. "And then the next day, [the paparazzi] are at my kids' school."
While he admitted to being "pissed" at the time, Kutcher said that he has no "hard feelings" toward Ghost star Moore.
Demi Moore's Memoir
In her 2019 book, Moore addressed the onslaught of tabloid headlines that her relationship with Kutcher had caused, with their age difference being a major focus.
"I was a 40-year-old who had a big life," she wrote, per the Los Angeles Times. "And Ashton's adult life was just beginning—I didn't see all that because I was inside of it. I just felt like a 15-year-old girl hoping somebody liked me."
During promotions for the book at the time, Moore told Diane Sawyer in an ABC News interview that she felt "safe" in her relationship with Kutcher.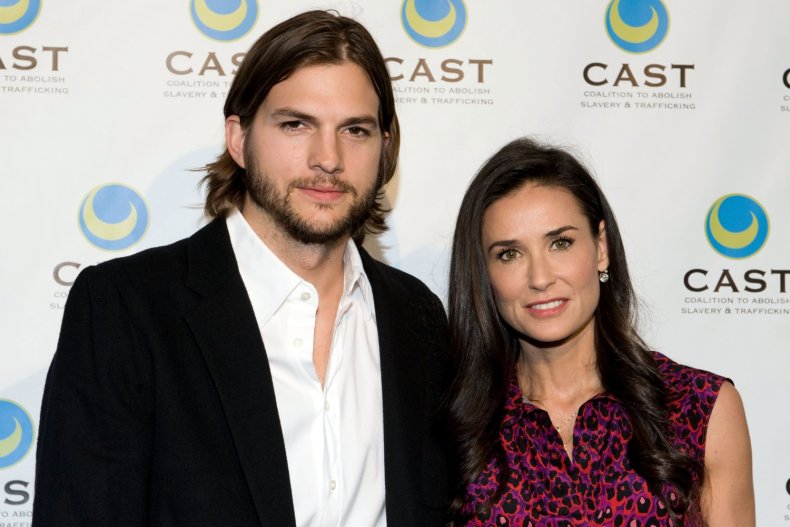 "I think that I had been responsible for so much of my life, and all of a sudden this window opened up where I was safe," she said. "I had money. He loved my children. It wasn't something he feared. He seemed to be comfortable with the enormity of the ex-husband. I mean, you know, I felt like I was not coming with baggage. I had trunks."
However, the words were less glowing in Moore's book, where she accused Kutcher of encouraging the couple to engage in threesomes and break her sobriety. It was also alleged that Kutcher was unfaithful during their marriage.
"Because we had brought a third party into our relationship, Ashton said, that blurred the lines and, to some extent, justified what he'd done," Moore wrote.
Ashton Kutcher's Interview
Back in 2018, Kutcher spoke about how he got over his divorce during an appearance on Punk'd co-star Dax Shepard's Armchair Expert podcast.
"Right after I got divorced, I went to the mountains for a week by myself," he said. "I did no food, no drink—just water and tea. I took all my computers away, my phone, my everything. I was there by myself, so there was no talking. I just had a notepad, a pen and water and tea—for a week."
The actor also practiced Tai Chi, which he said helped stave off the hallucinations that he started to experience early in his seven-day getaway to Big Sky, Montana.
After going on the trip, which he described as "really spiritual and kind of awesome," Kutcher said that he wrote letters to every person with whom he had previously been in a relationship.
"I wrote down every single relationship that I had where I felt like there was some grudge or some anything, regret, anything. And I wrote letters to every single person, and on day seven, I typed them all out and then sent them," he recalled.
Kutcher has been married to Ukrainian-born Kunis since 2015. Moore was romantically linked to New York City restaurateur Daniel Humm last year. People reported in November that Moore and Humm had split after less than a year of dating.