Asian Comedian Calls Out Tony Hinchcliffe For Using Racial Slur in Stand-Up
Footage of a popular white comedian shouting racial slurs and using derogatory language against Asian comics and stand-up audience members has gone viral online, with many "canceling" him for his actions.
Tony Hinchcliffe, best known for his work on Joe Rogan's podcast, was filmed by an audience member at a stand-up comedy event at the Vulcan Gas Company in Austin, Texas on May 6. In the first moments of his routine, he uses racist and insensitive language referring to Asian comedians and comedy patrons.
The video was posted on Monday to Twitter by Peng Dang, who introduced Hinchcliffe to the stage after wrapping a stand-up routine of his own. The 37-second clip has been viewed nearly 1 million times and liked by over 9,000 on the platform.
"Last week in Austin, I got to bring up Tony Hinchcliffe. This is what he said," Dang captioned the post. "Happy Asian (AAPI) Heritage Month!"
"Give it up for the one and only Tony Hinchcliffe!" Dang says at the beginning of the video. Hinchcliffe takes to the stage, and as he thanks and welcomes the audience, he turns his attention back to Dang.
"How about one more time, for the filthy little f*****g c***k that was just up here?" Hinchcliffe says.
Members of the audience begin laughing as Hinchcliffe continues: "All you race traitors are hooping and hollering. I was back there watching you puking in a f*****g bucket."
Hinchcliffe then continues, now speaking in an exaggerated stereotypical Asian accent. "Oh, we make gunpowder! Oh, you want extra soy sauce! Oh, you borrow money from us!" he says.
He then drops the accent and the clip ends with him addressing the audience, "You guys are just eating it up you f*****g p*****s."
Dang told Newsweek that the two had worked together in a professional capacity before, but hearing this stand-up routine was "very, very shocking" — especially given the context of Dang's own routine just moments before.
"Prior to his comment, I was doing a set on stage talking about 'Stop Asian Hate,' he told Newsweek. "What's very ironic is I got offstage, and then the exact type of racism I was talking about just happened right in front of me."
Dang also noted that in the years he has lived in America, this was the first time he heard someone speaking of him in a derogatory manner like this.
"I've been in this country for almost 11 years, I've lived in Alabama, Georgia and Texas. I had never heard anybody call me that word, and all of a sudden somebody from Hollywood was saying that to me," he told Newsweek. "And that was very, very shocking to me.
Dang said that after hearing Hinchcliffe, he exited the venue with his colleagues also offended by his words.
"I understand comedians are supposed to be for freedom of speech, but I think racial slurs are off-limits," he told Newsweek. "Especially around this time when Asians and the Asian community are under attack."
"Had it been an African American person bringing him up, I guarantee he wouldn't say the n-word towards that person. So why is there a double standard?" Dang noted.
Although Dang said he has not watched the rest of his stand-up routine, additional footage of the routine was posted in the comments by an anonymous user by the name "A_Moonlight_flit." A text card claims "he spent the next 2 minutes bashing Chinese people."
It cuts back to Hinchcliffe reflecting on a separate comedy event in which he made jokes at the expense of Asians and Asian Americans.
"Anyways, this f*****g Chinese guy is standing right there. I'm going, 'What's the problem, dude?' You know, these tables are all packed," he explains. "He's like, 'You make fun of Chinese people [and] I'm gonna beat you up.'"
"So I do 12 more minutes of Chinese jokes right in this guy's face," Hinchcliffe remarks. "Chinese jokes I never even had before!"
He also insinuates that COVID-19 was connected to Chinese citizens. "You gotta go back to your seat dude, this is how that f*****g virus started," he says. "It's people like you breaking the rules."
Twitter lit up with anger at Hinchcliffe for his insensitive remarks, with several using the hashtag #CancelTonyHinchcliffe.
"Tony Hinchliffe [was] never funny. He got a Netflix special, which was removed because it was so bad, only he is friends with Joe Rogan. Not surprised he would [stoop] to [racism] for laughs," one viewer remarked.
"This shouldn't have happened under any circumstances. It added nothing to the show and is literally punching down," another added.
Dang also told Newsweek that he feels it is important for comedians to be thoughtful in their performances and routines. As Asian hate crimes are statistically on the rise in America, he has begun to incorporate conversations about what the Asian American community is going through in his work.
"As an Asian comedian, I try to be funny first, but I also have this sense of responsibility that I should not put down my community," he said. "I should always lift up my community, and there's a responsibility within me, because when I have the mic, people are listening to me and I have to speak the truth."
In March, one week after the Atlanta spa shooting that killed six Asian women, Dang said he spoke on the matter and later posted the footage on social media to keep his own grandparents in the loop.
"My grandma asked me to show her some of my stand-up performances. They're in China, so I put in Chinese subtitles and I posted it onto Chinese social media," he explained to Newsweek. "That video went viral in China and had about 9 million views. So, in that moment, I realized what I did onstage had an impact on my own community."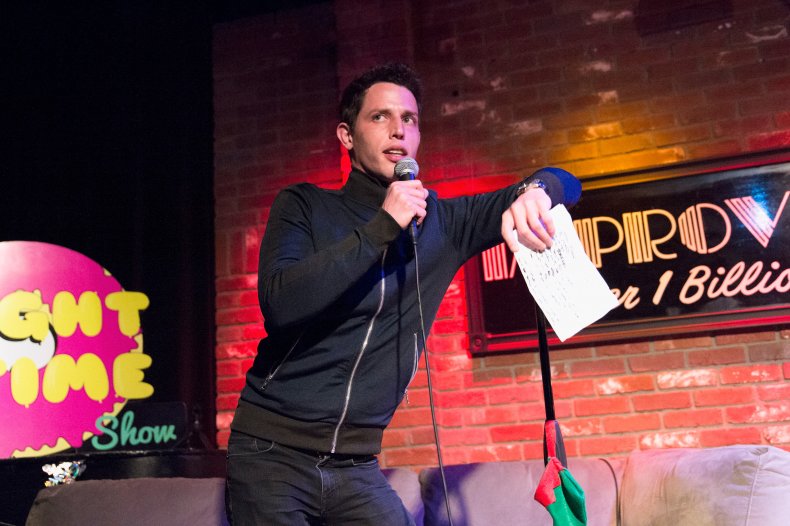 Newsweek also reached out to Hinchcliffe regarding the situation, but he did not immediately respond to requests for comment. He also has not issued any formal statement on the matter on his social media accounts at the time of publication.
Dang did note that at the end of the day, he wants this moment to be a teaching experience for people like Hinchcliffe who regularly engage with this type of hate speech.
"For Tony, I don't want to 'cancel' him, I don't want to end his career. I hope he learns from this incident and acts better going forward," he told Newsweek. "I hope people that are watching this happening that follow this incident understood how that kind of rhetoric is not acceptable."