Asian Man Punched in Random New York Attack as Police Hunt Suspect
New York police are hunting for a man involved in a suspected hate crime incident after an Asian man was attacked on a Manhattan street.
The New York Police Department (NYPD) said a 48-year-old Asian man was punched in the head in a random attack on May 22 at around 4:20 p.m. near Broadway and 26th Street.
Police alleged the suspect had made an anti-Asian statement before leaving the scene. "I don't mix with your kind," he allegedly said, according to CBS New York.
The victim declined medical treatment and the NYPD Hate Crimes Task Force is investigating.
Police described the suspect as: "Male, black, long blue braids/dreadlocks, last seen wearing a light-colored sleeveless t-shirt, neon yellow pants, and backpack."
Members of the public are being urged to call the police with any information and a $3,500 reward is being offered.
"WANTED for an Assault in the vicinity of 26 Street & Broadway #flatiron #manhattan On 5/22/21 @ 4:20 PM," the NYPD Crime Stoppers unit tweeted. "Reward up to $3500 Seen him? Know who he is? Call 1-800-577-TIPS or DM us! Calls are CONFIDENTIAL! #yourcityyourcall"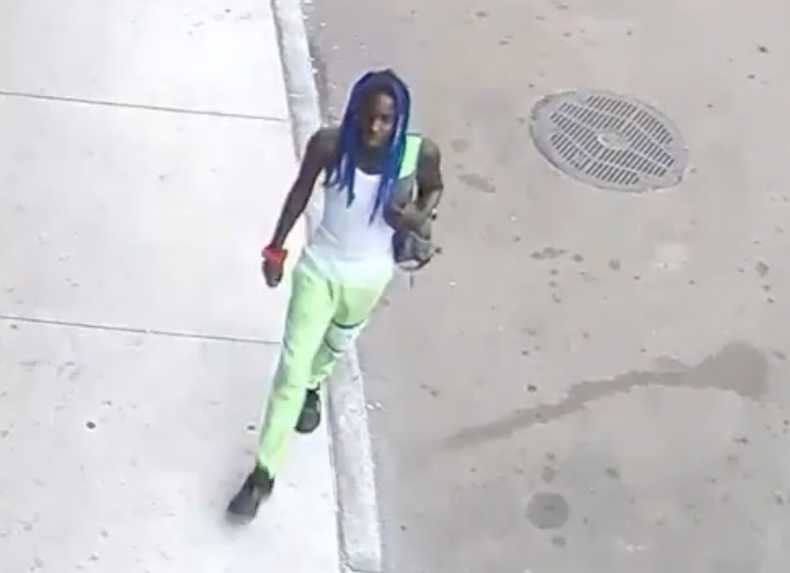 The attack comes amid a surge in crimes against Asian Americans in New York City and across the country.
Last month an Asian woman was beaten with a cane by an attacker after exiting the subway in the city.
A spokesperson for the NYPD said the incident occurred on May 12 at around 6:45 a.m. in the station at Broadway and West 116 Street.
According to police, the 23-year-old woman exited the northbound 1 train and passed an "unknown individual." While she was passing the man he swung his cane at her, striking her several times on the head and hip.
The man then fled the scene on the northbound 1 train.
New York state Assemblywoman Yuh-Line Niou posted a video of a separate incident showing an Asian woman being attacked in Chinatown.
"This was just sent to me from my constituent. This just happened in my district in Chinatown. He has been arrested and our precinct is investigating," Yuh-Line Niou wrote in a tweet with the video of the incident.
In the video, the 55-year-old woman can be seen walking near a restaurant's outdoor dining area when a man walks up and punches her in the face.
According to the New York Post, the woman was transported to New York-Presbyterian Lower Manhattan Hospital in a stable condition.
NBC News reported that the suspect was identified as 48-year-old Alexander Wright of Manhattan. He was charged with one count of assault as a hate crime, assault and criminal possession of a controlled substance in connection with the "unprovoked" attack, according to NBC News.