Asked About 'Terrible' Donald Trump Call, Macron Says You Don't Really Want to Know
French President Emmanuel Macron has weighed in on his reportedly "terrible" call with President Donald Trump, telling journalists the less they know about it, the better.
Their vastly different policies on climate change, Iran and trade have prevented a political, as well as a personal coalescence, so after Trump's decision to impose tariffs on France and other European allies last week, Macron publicly condemned the decision and had a "terrible" phone call with Trump, according to CNN.
Asked to confirm the details of his last conversation with the U.S. president, Macron was tight-lipped but uncomplimentary.
"I never recount what happens behind the scenes," Macron told the Ouest-France newspaper, during a press conference with Israeli Prime Minister, Benjamin Netanyahu. The report from CNN cited two sources familiar with the call, but speaking on the condition of anonymity, one said the talk was "just bad. It was terrible."
Related: Trump's tariffs on Europe "make no sense" and undermine his China stance, senators warn
The source claimed Macron thought that "based on the relationship" between him and Trump, he could openly criticize the impending tariffs. But the U.S. leader "can't handle being criticized like that."
Asked to confirm such details, Macron suggested that the minutiae of his relationship with Trump could include off-putting chapters, but he would refrain from divulging specifics, instead choosing to cite a renowned Machiavellian in European history, Otto von Bismarck.
"As Bismarck said, if we explained to people the recipe for sausages, it's unlikely they'd keep eating them," he said. "So I like it when people see the finished meal, but I'm not convinced the kitchen commentary helps with delivering the meal or eating it."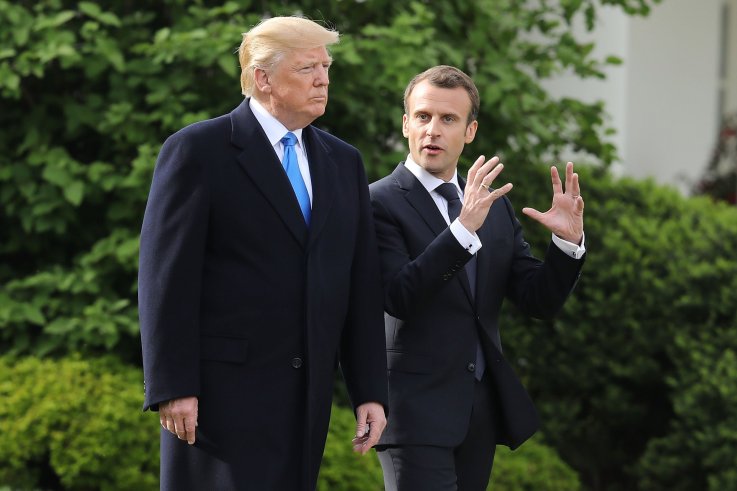 Macron also ensured that nobody from his team leaked details of the phone call, outside the very brief readouts released by both presidential administrations, which only stated the subject of the remarks but not how either leader received them. Instead, Macron urged that those interested in more details could ask elsewhere.
"Here, in Paris, we don't make comments on how it went, or how hot, cold, warm or terrible things are," he insisted. "We just act and move forward."
The comments touched on a sore spot for the Trump administration, where officials have repeatedly derided a large number of leaks from within the White House, since the start of the presidency. The reports have sometimes included profanity used by the U.S. president or his relationship with Russia.
Macron's relationship with the press in his country has also become more distant since the days of his campaign. French journalists have criticized his aloofness, compared to predecessors. Macron notably moved the press room of the presidential administration out of the historic Élysée Palace, citing the need for a bigger office, and he abandoned other more personal aspects of the conventional relationship of the French president with reporters.
"We very rarely see Macron," Elizabeth Martichoux, political editor at French public broadcaster RTL, told Al Jazeera in February. "Macron does not host luncheons with journalists like his predecessor, Francois Hollande, used to. He stopped doing all that. There is never an 'off-the-record' moment. He is a president who is always 'on the record.'"
Macron is very active on social media to address the public. He has faced criticism at home for sometimes preferring foreign media with less interest in domestic issues ahead of top French broadcasters.
Asked About 'Terrible' Donald Trump Call, Macron Says You Don't Really Want to Know | World