Assad Family Feud's Latest Twist Pulls in France, Decades of Intel Ties
A cousin of Syrian dictator Bashar al-Assad has accused the French government of wielding the national judiciary to force long-time exile Rifaat al-Assad—the brother of Bashar's father Hafez al-Assad—to return to Syria as a favor to the regime in Damascus.
Ribal al-Assad, Rifaat's son, told Newsweek he believes a long-running embezzlement case against his father was facilitated by questionable witnesses.
His father's ability to leave France despite the guilty verdict, Ribal also claimed, suggests Paris wanted him to return to Syria. "He didn't have a choice," Ribal said four months after his father returned. "I genuinely believe that they wanted him to go back."
The French Foreign Ministry and a key figure in the case have both dismissed Ribal's allegation, the latter rejecting the assertion as a conspiracy theory.
Rifaat's surprise return is the latest chapter in the Assad family drama playing out against a backdrop of devastating war and the brutalization of an entire region.
While the powerful Assad clan jockey and feud, Syria remains desperately poor, divided by warring parties, and plagued by violence.
Rifaat left Syria in 1984 after a failed coup attempt against brother Hafez, who ruled until 2000 and was succeeded by his son Bashar.
He was already infamous by the time he fled his home country, known as "The Butcher of Hama" for his alleged role in suppressing an anti-government revolt in central Syria in 1982. Rifaat has always denied responsibility for the massacre.
Rifaat spent his decades in exile amassing a real estate empire with properties in France, the U.K., and Spain.
The exiled Assad was close with former President François Mitterrand—the French leader even awarding Rifaat the Legion of Honor in 1986—and formed close ties with the French intelligence apparatus. Rifaat also remained close to Saudi Arabia throughout his time in France, the kingdom paying him tens of millions of dollars over the years.
But his grip on the French elite proved tenuous and dependent on the tumultuous relationship between Paris and Damascus.
After Mitterrand, President Jacques Chirac oversaw a thaw in bilateral ties that threatened Rifaat's privileged position. This detente ended suddenly in 2005 with the assassination of Lebanese President Rafic Hariri which some blamed on Syrian intelligence.
Then came President Nicolas Sarkozy, who again sought to mend ties with Damascus and even hosted Bashar al-Assad at the Élysée Palace in 2010.
"We were always paying for France's internal politics," Ribal said. "He really was protected. Suddenly, nobody remembers that he was given the Legion of Honor."
In 2013, that price rose higher than ever, with French NGOs Sherpa and Transparency International France lodging financial crime complaints against Rifaat as conflict raged in his home country.
President Francois Hollande was in power then, bent on removing Bashar al-Assad from office along with Paris' American and European allies after the dictator began using chemical weapons against both opposition fighters and civilians.
According to Ribal, it was President Barack Obama's 2013 failure to defend his "red line" on chemical weapons that shifted the Élysée Palace and put his father back on the road to Damascus.
"It's politically motivated," Ribal told Newsweek. "It didn't start right away in 2011."
"It was September 2013 when the Obama administration was supposed to attack the Syrian government for the alleged use of chemical weapons," he continued. "And they didn't. President Hollande was ready to take part in those strikes."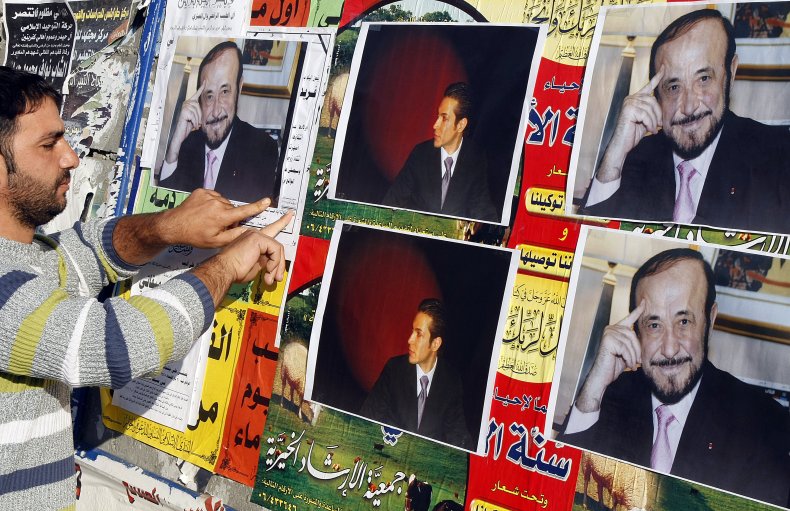 Ribal said the French government "felt like they were left out" and "started scrambling," driven by the need to track the hundreds of French citizens who traveled to the region to wage jihad and the belief that Assad would likely emerge victorious.
He believes Paris decided to "open back-end channels with the Syrian regime just that month," alleging that Interpol's recent decision to reintegrate Syria back into its information exchange network, announced the same month as Rifaat's return, was part of the same effort.
"It's mainly to exchange information with the Syrian regime," he said of the move.
The French investigation began in 2014, probing allegations that Rifaat misappropriated hundreds of millions of dollars in Syrian government funds before he fled into exile. Rifaat was eventually found guilty of embezzlement and tax fraud offenses dating from 1984 to 2016.
A French court upheld the verdict late last year, just before Rifaat returned to Damascus.
His French real estate assets worth some $106 million will be confiscated. Properties worth $790 million in Spain and $29 million in the U.K. have already been seized by authorities.
Ribal and his father's legal team have disputed the validity of the trial. Central to their complaints are three key witnesses, two of whom—both former Bashar al-Assad loyalists—have since died so cannot be questioned again.
Mustapha Tlass—a former defense minister for Hafez who was among the powerful military figures that handed power to his son Bashar in 2000—told the court that Rifaat looted "whole pallets" of cash from the Syrian Central Bank. Investigators later admitted in court that Tlass' theory was only a "hypothesis."
Tlass—who died in Paris in 2017—has also been accused of high-level involvement in the Hama massacre, alongside broader long-term repression. He told Der Spiegel in 2005 that while defense minister in the 1980s, around 150 death sentences were carried out each week in Damascus alone.
Abdul Halim Khaddam—who served as interim president between Hafez and Bashar, securing the familial succession along with Tlass and others—claimed that Hafez gave $300 million in Syrian public money to Rifaat. Ribal noted that Khaddam initially claimed a figure of $500 million, but later reduced the amount in line with the prosecution's number.
Khaddam described Rifaat as the "most corrupt man in Syrian history." Khaddam died in Paris in 2020.
"It's really, really strange the people they brought against us as witnesses," Ribal said. Tlass, he said, "used to brag about how he brought Bashar to power and how he stood against my father, 'the pro-American pro-Western agent.' He wrote a book about it."
"They lacked credibility, these two extremely corrupt people, and they stayed with the regime until just recently," Ribal added.
Ribal also accused a third witness—French academic Fabrice Balanche—of ties to Bashar's government.
The geographer visited Damascus in 2016 and has several times named Bashar as the only realistic alternative to chaos in the war-torn nation—a view adopted by some Western observers as the conflict dragged on and the opposition became increasingly radicalized.
Balanche dismissed Ribal's remarks as "conspiracy allegations" in an email to Newsweek, adding that he had worked for three years at the Washington Institute for Near East Policy and Hoover Institution: "Do you think it is possible to work with these institutions if I am a Bashar al-Assad supporter?"
The academic described his Damascus visit as "an opportunity to see Syria" as part of a varied delegation of some 30 people. Balanche said he saw Bashar along with the rest of the delegation, but did not speak to him.
Balanche said his visit lasted 13 days. He spent three days with the delegation and 10 alone between Damascus, Homs, Tartus, and Latakia "trying to understand the political situation in Syria."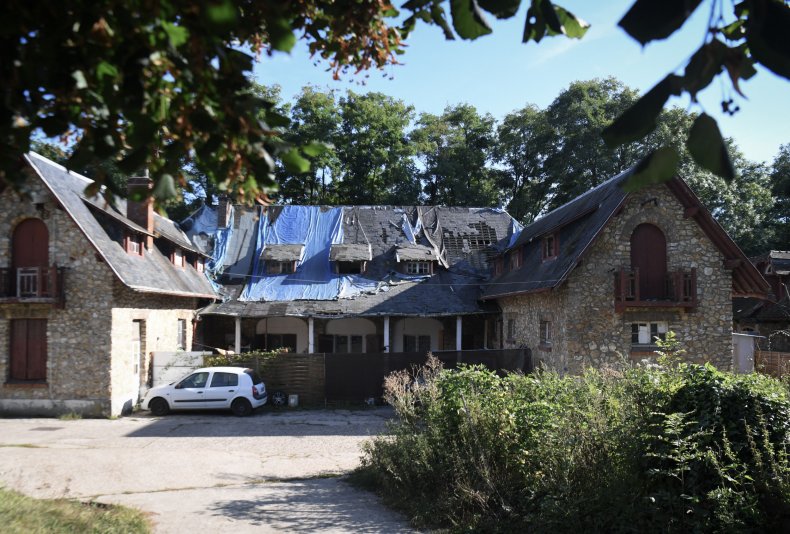 The day before Rifaat's appeal hearing, Balanche told France24: "After a lavish exile and dreams of ruling Syria in place of his brother and then his nephew, Rifaat's last struggles are playing out in European courts—a far cry from both his Parisian palaces and his dreams of national leadership."
Ribal disputed the charge that his father stole hundreds of millions of dollars from the Syrian government as he went into exile. He argued that any missing money—Ribal disputed there was any—could be explained by the disbanding of Rifaat's Defense Companies after his banishment, their troops, equipment, and budget being absorbed by other units.
Another explanation, Ribal said, could be Syria's purchase of Soviet anti-aircraft weapons to replace those destroyed by Israel in its 1982 war with Lebanon. "There are many theories," Ribal contended.
Rifaat's son also complained that the U.S.based Syrian Step News Agency cited "judicial sources" to report that their appeal would fail, before the trial began. The leak, he claimed, was intended to pressure the judges.
The French Foreign Ministry told Newsweek it would not comment on the case given it is still pending before the Court of Cassation; France's highest legal body.
"Rifaat al-Assad is still under a judicial process and, if confirmed, his alleged departure is his own decision and does not result from any decision from the French authorities," the ministry said in a statement.
"France interrupted its relations with the Syrian regime in 2012 and decided to close its embassy in Damascus the same year as a result of the Syrian regime's repressive response to the Syrian revolution.
"Since then, we have not maintained any relations with the Syrian regime.
"Our position remains unchanged: a credible, viable and inclusive political solution is the only way to put an end to the Syrian crisis. Moreover, France fully supports the fight against impunity at both national and international levels."
The French Justice Ministry did not respond to Newsweek's request for comment.
Despite official denials, there have been several reports of unofficial bilateral contact since 2012. Le Figaro reported in 2015 that a French intelligence delegation traveled to Damascus and met with General Ali Mamlouk, a trusted Bashar aide and security chief.
Bashar himself said in 2015 that French intelligence officials had tried to establish contact with their Syrian counterparts but had been rebuffed. "How can we establish dialogue with a country that supports terrorism in our country?" the dictator asked, referring to France.
Ribal remains convinced that his branch of the Assad family has fallen victim to realpolitik.
"Throughout the whole investigation he was not allowed to leave the country, only to go to London for his medical treatment," Ribal said. This changed after his conviction and sentencing, something Ribal also framed as suspicious.
"You're 84 years old and if you're guilty, you're going to prison for four years. But you can travel now? ... That doesn't make sense."
According to journalist Georges Malbrunot, who has long reported on the Assad family, Rifaat was allowed to leave France thanks to his previous work with French intelligence.
Malbrunot wrote in Le Figaro in October that Rifaat "played a significant role" in exposing the network of infamous Palestinian militant Abu Nidal after it carried out bombings in France.
Alain Chouet, formerly the head of France's DGSE intelligence service, has said that Rifaat "put an end to violent maneuvers by the Syrian secret services against French interests on national territory and in the Levant."
"Given the eminent services he had rendered, president Francois Mitterrand particularly maintained that he be given the best welcome," Chouet testified, per a Middle East Eye report on the trial.
The former spy chief also noted that Assad and his family received "important financial assistance" from Saudi Arabia's King Abdullah.
Rifaat's flight prompted fury in France and abroad. Anti-corruption campaign group Sherpa said the development was a "dramatic blow" to France's work against international corruption and an "alarming signal" about Paris' priorities.
Former French ambassador to Syria Michel Duclos said Rifaat al-Assad's escape from justice is the latest sign of France's "longstanding complacency towards former dignitaries of the Assad regime."
Supporters and detractors of Rifaat agree that his return to Syria was suspect.
Rifaat's return means one less critical voice abroad for his nephew. The prodigal uncle is safe in Syria, Ribal said, but is not allowed to engage in any political or social work. The most significant Assad rebel has been brought back into the fold, perhaps further shoring up Bashar's power base.
"If you're looking for an alternative from within the regime, there is no alternative," Ribal said, adding that he too is on Damascus' radar due to his criticism of his dictator cousin and his pro-democratic advocacy.
"They're trying to pressure me," Ribal said, though declined to go into specifics on who was doing so or their methods. "I've said it repeatedly I will not stop."
One of Rifaat's lawyers sent Newsweek a statement on his behalf, claiming it was Rifaat's own decision to return to Syria and rejecting all of Ribal's assertions.
Rifaat, the statement said, "has previously officially clarified that none of his children speak on his behalf, and none can claim to represent him."
Ribal told Newsweek the lawyers previously described the case as "political instrumentalization of French criminal justice," the "sole purpose" of which was "to remove Rifaat al-Assad from live Syrian politics, when he had enjoined Bashar al-Assad to leave power to end the crisis, and was presented as an alternative to his nephew."
"It is very obvious that this is part of the pressure I have spoken about," Ribal said. He dismissed the lawyer's statement. "What they said is correct that it was his decision as they didn't carry him by force, but what led him to take that decision?" Ribal asked. "I am not speaking on his behalf. I am speaking my own opinion based on what I know."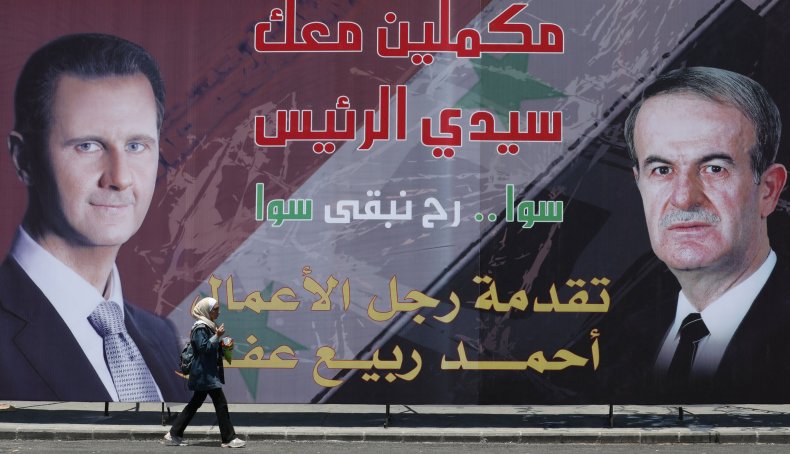 02/18/22 8:00 a.m. ET: This article has been updated to clarify details of Rifaat al-Assad's case and the allegations against him.
03/17/22 4:30 a.m. ET: This article has been updated to include a statement from Rifaat al-Assad and a response from Ribal al-Assad.