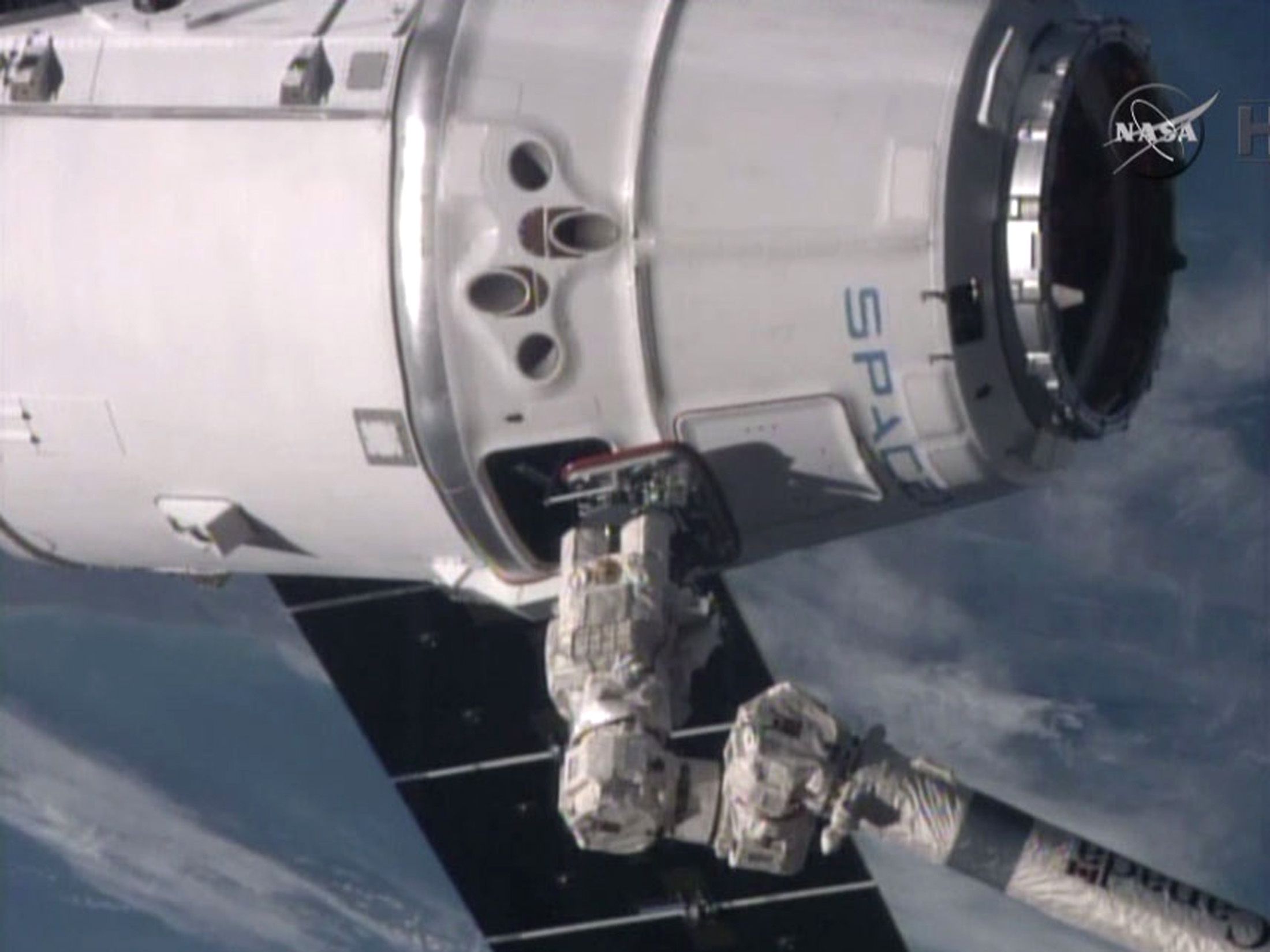 A cargo capsule containing more than 5,000 pounds of groceries, gifts and other supplies reached the International Space Station (ISS) Monday morning, the first successful U.S. resupply run since October.
SpaceX, a private spaceflight company headed by Elon Musk that has a $1.6 billion contract with NASA for 12 supply missions, launched the capsule using a Falcon 9 rocket on Saturday morning. Its first attempt last Tuesday was cancelled just one minute before takeoff due to a problem with the "thrust vector control actuator," or in layman's terms, rocket trouble.
Rocket parts are usually discarded or destroyed after use, but Musk had hoped this mission would see the first soft landing--in this case, on a platform in the middle of the Atlantic Ocean--so the rocket could be refurbished and reused in future missions. While the rocket crashed and sustained some damage, its proximity to the target 300-by-100 foot platform at the time of impact bolstered the company's confidence that its goal was achievable.
After two days in orbit, astronauts in the ISS plucked the capsule from space using a robotic crane. The capsule contains supplies ranging from groceries and research materials to replacement parts for the Space Station's toilet and belated holiday gifts from astronauts' friends and family.
The supplies were much needed as the last resupply mission was in October.
"We're excited to have it on board," station commander Barry Wilmore from the U.S. radioed to Mission Control."We'll be digging in soon."
There are currently six people at the ISS. Aside from Wilmore, Elena Serova and Alexander Samokutyaev of Russia have both been in space for 109 days. Terry Virts of the U.S., Samantha Cristoforetti of Italy and Anton Shkaplerov of Russia have each been in space for 50 days. Thanks to recent and prolific social media use by ISS astronauts, people on Earth have been able to get a birds eye view of the planet and unprecedented insights into life in space.
The capsule will remain attached to the station for about a month. In that time, the astronauts will unpack its contents and repack it with cargo before it flies back to Earth.
SpaceX will make another attempt at an ocean landing on its next mission, slated for Jan. 29. This time, the rocket will be equipped with 50 percent more hydraulic fluid for better odds at a safe landing.