Atlanta Mayor Rejects Governor's Mask Mandate Ban, Says They 'Save Lives'
Atlanta's mask mandate will stay in place despite Georgia's governor suspending such measures enacted by cities and counties in the state, according to its mayor's office.
Democratic mayor Keisha Lance Bottoms previously issued an order insisting face coverings be worn in public spaces, "in response to the rising number of COVID-19 infections."
Gov. Brian Kemp, a Republican, subsequently issued an order prohibiting areas from issuing requirements for personal protective equipment such as masks to be worn in public.
There have been local orders in at least 15 Georgian cities and other localities in regards to the use of face masks.
This suspension was enacted Wednesday, along with provisions such as extending measures limiting gatherings and enforcing health guidelines for restaurants until the end of the month.
Following this, a press secretary for the Atlanta Mayor's office told Newsweek on Thursday that Bottoms' order remains in place.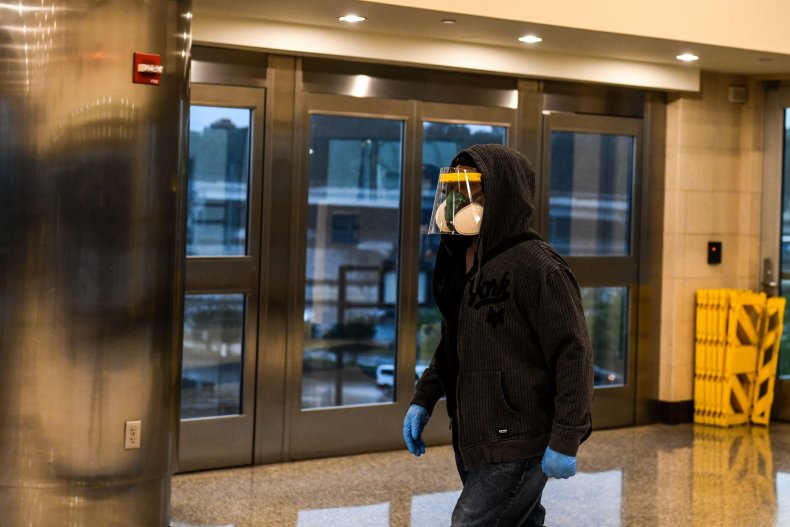 "The Mayor's Order remains in effect, as science and data will continue to drive the City's decisions. Masks save lives," they said.
Newsweek has asked for further information on the plans to continue the enforcement from the mayor's office and asked Kemp for comment.
Bottoms, when issuing her order earlier this month, said: "We will continue to take active measures to help slow the spread of COVID-19 infections in Atlanta. Public health experts overwhelmingly agree that wearing a face covering helps slow the spread of this sometimes deadly virus."
She has also previously rolled back measures in terms of reopening in the city, stating Georgia lifted its lockdown in "a reckless manner" and that "the people of our city and state are suffering the consequences."
Kemp has encouraged that face masks be worn, though has previously suggested that mandating them is "a bridge too far."
The Centers for Disease Control and Prevention encourages the use of cloth face coverings in public settings and particularly areas where social distancing is difficult to maintain, as they help to reduce the risk of passing on coronavirus.
The governor has faced criticism following his order to bar mandates.
Savannah Mayor Van Johnson, who was the first official to issue a mask order in the state, tweeted: "It is officially official. Governor Kemp does not give a damn about us. Every man and woman for himself/herself. Ignore the science and survive the best you can."
The dispute comes as states across the United States experience a surge in coronavirus cases after moving to lift lockdown measures.
Georgia saw 3,871 new COVID-19 cases confirmed on Wednesday. There have been 127,834 confirmed cases in the state over the course of the pandemic so far, according to the Georgia Department of Public Health. Fulton County, of which Atlanta is the capital, has been one of the worst hit counties there, with more than 11,000 cases.
The graphic below, from Statista, shows states that are stalling or reversing reopening plans amid spikes.