Atlanta Suspect Robert Aaron Long Planned Attack on Florida Porn Industry, Police Say
The suspect in the Atlanta massage parlor shootings was arrested while he was on his way to Florida to target "some type of porn industry," officials have said.
Eight people died in the violence at three massage parlors in and near the city early Tuesday evening.
Police arrested Robert Aaron Long in connection with the shootings at about 8.30 p.m. in Crisp County, which is about 150 miles south of Atlanta.
In a press conference, Atlanta mayor Keisha Lance Bottoms revealed that the suspect had been travelling to Florida to potentially carry out more shootings when he was arrested.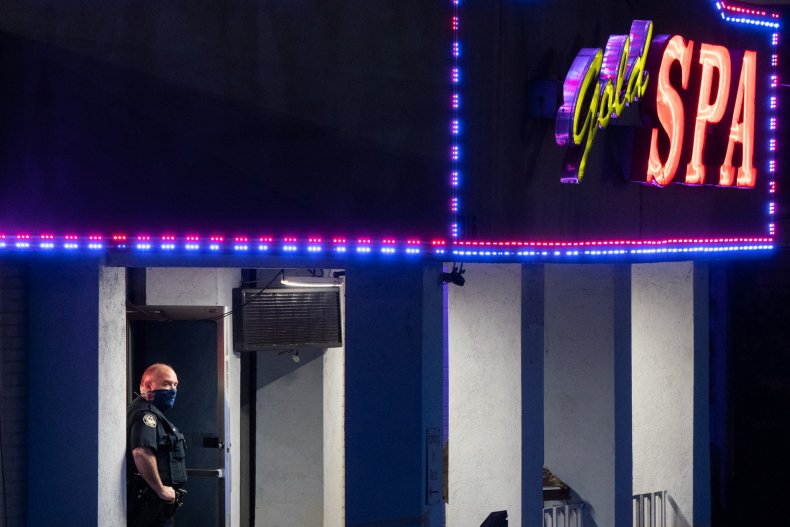 She told reporters: "This could have been significantly worse."
The targets of the attack were businesses whose employees are mainly Asian, which has sparked speculation that the crimes were racially motivated and prompted calls on social media to "Stop Asian Hate".
However, Cherokee County Sheriff Jay Baker said, while they weren't ruling out the possibility of a hate crime, the suspect has taken responsibility for the shootings and claims they were not racially motivated.
Baker added that the suspect has indicated he has "a sex addition" and saw these places as a "temptation" he wanted to "eliminate".
On being asked about potential targets in Florida, Baker said that the suspect indicated he was planning to carry out a similar attack on "some type of porn industry" in the state.
Atlanta police chief Rodney Bryant also told reports that the 21-year-old had indicated in police interviews that he may have a "sexual addiction". He added: "We believe that he frequented these places in the past" and that he "may have been lashing out."
The Cherokee County Sheriff's Office have identified the victims of the first shooting as Delaina Ashley Yaun, 33, Paul Andre Michels, 54, Xiaojie Yan, 49, and Daoyou Feng, 44. The injured person is 30-year-old Elcias R Hernandez-Ortiz.
The shootings also come amid a spike in anti-Asian hate crimes across the U.S that many people have blamed on former president Donald Trump's anti-China rhetoric during the pandemic.
Researchers at the Center for the Study of Hate and Extremism at California State University found a 149 percent increase in such crimes compared to 2019, VOA reported.
White House press secretary Jen Psaki said President Joe Biden has been briefed on the "horrific shootings".
Meanwhile, former president Barack Obama tweeted: "Even as we've battled the pandemic, we've continued to neglect the longer-lasting epidemic of gun violence in America."
He said that while the motive is not known, "the identity of the victims underscores an alarming rise in anti-Asian violence that must end".