The remains of a lost village in central Germany, referred to locally as the "Atlantis of Lake Eder," were revealed following a sustained drought in the country, The Associated Press reported.
The settlement, known as Berich, was abandoned more than a century ago when a large dam and reservoir were constructed, which flooded the site.
But a recent dry spell has prompted authorities in the state of Hesse to drain the reservoir—the country's third biggest—to ensure that water levels on the Weser River are sufficiently high for shipping to continue.
As a result, sections of a stone bridge and foundations of the village—which lie on the Eder River—have emerged from the water, German news agency DPA reported.
Germany, like many European countries, has been experiencing unusually dry, hot weather this summer—particularly in the north and east. Temperature records have been broken and river waters have fallen to their lowest levels in years.
The conditions have severely affected farmers, according to Deutsche Welle, with drought-related damages totaling around $3.4 billion already reported by eight German states. On Wednesday, the government is expected to decide on whether to provide farmers with compensation for failed harvests.
Berich—which has appeared previously during low water levels at the reservoir—was originally built around a 12th-century Benedictine convent that had been dissolved following the Reformation. It was a small farming community that was home to fewer than 200 people before the completion of the reservoir in 1914.
The village is not the only hidden archaeological site to have been uncovered by Europe's hot summer. In Britain and Ireland, for example, the "imprints" of numerous ancient constructions buried beneath crop fields—ranging from neolithic monuments to Tudor halls—have become visible.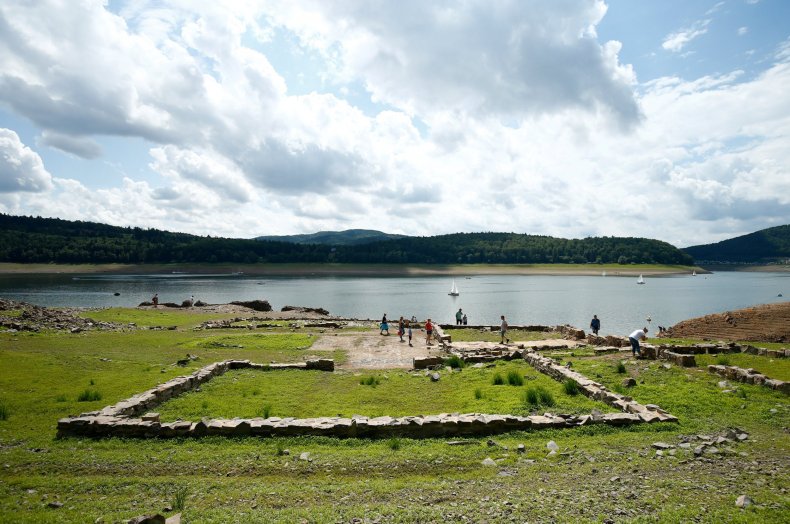 "What happens in a drought is that whatever residual trace amounts of water are left on the soil lodge themselves to a greater extent in the archaeological features [which have rotted away over time] than the surrounding soil," Anthony Murphy, an author and photographer who uncovered the outline of a large 5,000-year-old "henge" in Ireland, previously told Newsweek. "Therefore, the crop that is growing out of the archaeological features has a slightly better water supply as a result."
Because of this, the crop directly above the remnants of the ancient structure is slightly greener and healthier looking than the adjacent crop. This contrast produces an "image" of the long-vanished monument, which can be seen from above (often with the help of drones).