We're in the thick of it now. The final season of Attack on Titan is chugging along as the third episode has just premiered and fans are onto the fourth.
After learning about Reiner's childhood and how Ymir received her Titan powers, fans will learn more about another Titan's origins. Annie, the Female Titan from Season 1 will finally get some time to shine in this episode titled, "From One Hand to Another."
Here's the synopsis of the fourth episode of Attack on Titan and read on to find out when and where you watch the latest installment online.
"Following a close encounter between Annie Leonhart and an elusive MP, the Warriors decided to breach Wall Rose after their Training Corps graduation to make new progress. Recalling his past, Reiner Braun nearly takes his own life, but decides otherwise after remembering the importance of his role in the new Warrior candidates' lives. Falco Grice is worried that he will not inherit the Armor, but a wounded soldier named Mister Kruger assures him that it is best for him to live a long life.
After the unexpected arrival of the Tyburs,Theo Magath speaks with Willy Tybur, head of the Tybur family, and learns of the Tyburs' role as the true leaders of Marley. Worried about the fate of Marley and Eldia, Willy plans to reveal the truth to the world at the coming festival. Meanwhile, Falco delivers a letter from Mister Kruger."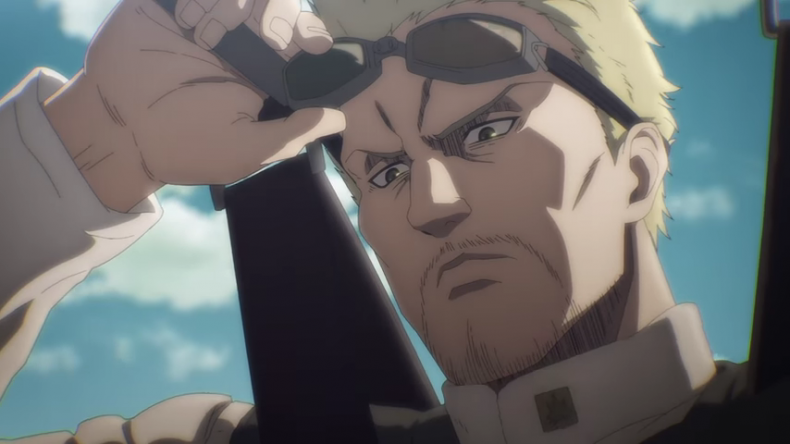 WHEN DOES ATTACK ON TITAN SEASON 4 EPISODE 4 AIR?
The fourth episode of Attack on Titan Season 4 will debut on Sunday, December 27. As for timing, fans can expect the episode to air around 3:45 p.m. EDT on the below streaming services.
CRUNCHYROLL
Crunchyroll will carry the simulcast of every episode of Attack on Titan Season 4.
Crunchyroll is offering a 14-day free trial of its premium service. Like other streaming services, you must sign up for an account and provide payment details. There is also a free version of Crunchyroll that includes ads.
The Crunchyroll app is also available on PlayStation 4, PlayStation 5, Xbox One, and Xbox Series X/S as well as iOS and Android devices.
FUNIMATION
Funimation will also stream the complete episodes of Attack on Titan Season 4 with subtitles. A date for the English dubs has yet to be announced, but we will update as soon as we learn more.
To watch all of these episodes online, you can sign up for FunimationNow, which currently offers a free trial. You'll need to register a form of payment, but the first 14 days will be free.
FunimationNOW is available on iOS and Android devices, as well as the PlayStation and Microsoft stores. The app is also now available on the Nintendo Switch so you can watch the final episodes of Attack on Titan anywhere.
HULU
Hulu will also host the third episode of Attack on Titan Season 4 on its streaming service. The streaming service is offering a free trial for new subscribers.
The Hulu app is available on iOS and Android devices, as well as gaming consoles in the PlayStation and Microsoft stores and in the Nintendo eShop. Hulu can also be downloaded on Roku and Amazon devices.
Certain Smart TVs also have the Hulu app, but we recommend checking in your Smart TV's particular app store. Here's a list of supported devices that carry Hulu.
Are you excited for the fourth episode of Attack on Titan? Let us know your thoughts in the comments section.