Attorney for Series of Jan. 6 Rioters Compares Their Fight to Jesus
An attorney who has represented several people accused of participating in the riot at the U.S. Capitol in Washington, D.C. on January 6, 2021, has compared their plight to Jesus Christ.
Joseph D. McBride made the comment in posts on Truth Social and on Twitter on Friday, and also accused the FBI of unfairly targeting members of the Roman Catholic faith.
"Jan-Sixers are being fed to the lions for sport in DC & the FBI is targeting practicing Catholics, labeling us—extremists," McBride wrote. "Evil has never been bolder, & good people, never more afraid to stand. Stand we must, nonetheless. Never forget, Jesus was killed for being an 'extremist.'"
McBride's post from Truth Social, which was the same that was posted to Twitter, was highlighted by Ron Filipkowski, an attorney and former Republican.
"Attorney for many J6ers says they are all being persecuted just like Jesus," Filipkowski tweeted Friday.
In a pinned tweet from last April, McBride describes himself as "an attorney who is representing many of the J6 Gulag defendants who are being denied constitutional rights."
"If you think what is happening to your fellow Americans is disgraceful, please Retweet this & follow my account," he added.
One of McBride's most high profile clients is Richard Barnett, who was famously pictured with his boot on then-House Speaker Nancy Pelosi's desk while the riot unfolded.
Last month, Barnett was convicted by a federal jury on eight counts arising from the breach at the Capitol, including disorderly conduct in a Capitol building. Barnett plans to appeal the ruling.
A spokesperson for the U.S. Attorney's Office for the District of Columbia said that Barnett faces up to 47 years in prison. He is due to be sentenced on May 3.
"He loves God," McBride said in an interview last month following the conviction. "He loves his country. He understands he did something wrong. He doesn't think his life should end because he put his feet up on somebody's desk."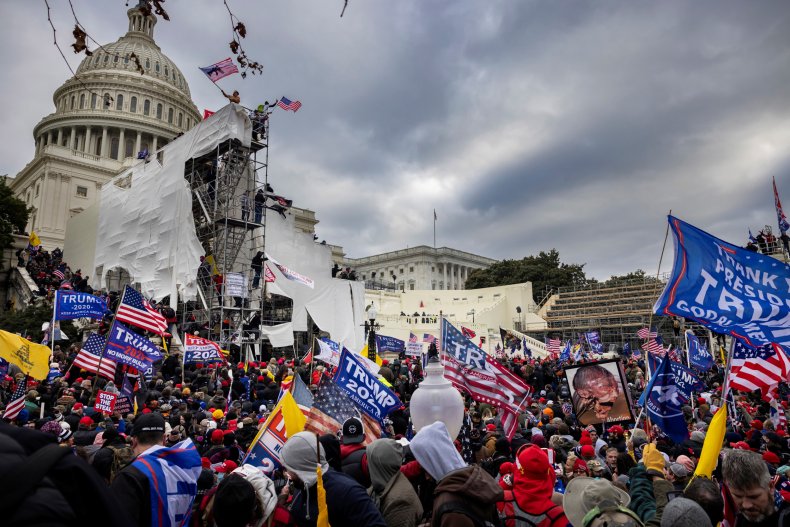 McBride's reference to the FBI and Catholics in his Friday social media postings appear to refer to a recently leaked internal memo that was written last month from the FBI's Richmond Field Office that linked "'racially or ethnically motivated violent extremists" with a "radical-traditionalist Catholic' ideology."
Cardinal Timothy Dolan, chairman of the United States Conference of Catholic Bishops (USCCB)'s Committee for Religious Liberty issued a statement about the memo on Thursday where he agreed with another Catholic bishop that the memo was "troubling and offensive" including "in its religious profiling and reliance on dubious sourcing."
"We encourage federal law enforcement authorities to take appropriate measures to ensure the problematic aspects of the memo do not recur in any of their agencies' work going forward," Dolan said, who added that he was glad that the document had already been rescinded.
Meanwhile, the FBI issued a statement on February 9, saying: "Upon learning of the document, FBI Headquarters quickly began taking action to remove the document from FBI systems and conduct a review of the basis for the document."
"The FBI is committed to sound analytic tradecraft and to investigating and preventing acts of violence and other crimes while upholding the constitutional rights of all Americans and will never conduct investigative activities or open an investigation based solely on First Amendment protected activity," the bureau added.
Newsweek has asked the Department of Justice (DOJ) for comment.