Marjorie Taylor Greene Recalls Jan 6 Disbelief: 'Those Aren't Our People'
Georgia congresswoman Marjorie Taylor Greene has described how she originally refused to believe that the January 6 attack on the Capitol was not being carried out by far-left antifa protesters.
Speaking on Donald Trump Jr.'s Triggered podcast, Greene appears to accept that supporters of former President Donald Trump were responsible for the Capitol riot and that the conspiracy theory that it was a false flag orchestrated by antifa is untrue.
In the wake of the January 6 attack, a number of Republican figures attempted to shift the blame onto left-wing activists, claiming they infiltrated the crowd of protesters to encourage them to storm the Capitol, or even disguised themselves as MAGA supporters while committing the violence.
Speaking to Trump Jr., Greene described how she was sworn into congress on January 3, 2021, just days before the riot occurred, soon after her father had been diagnosed with cancer.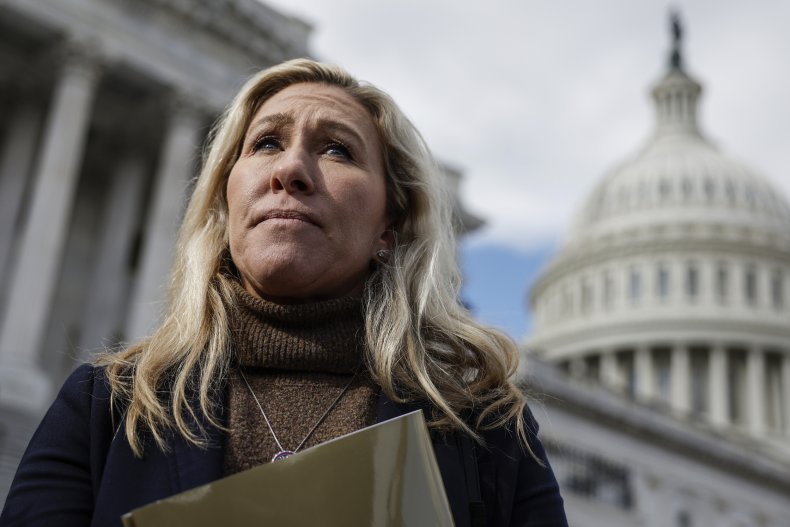 "And then January 6 happened, it shocked me. I had no idea, I just couldn't imagine," Greene said.
"As a matter of fact, I was arguing with [Florida GOP congresswoman] Kat Cammack, one of my colleagues, and we were fighting. I said, 'Those aren't our people, that's antifa, those are the same rioters that we saw in 2020.' I just couldn't believe it.
"And she was like, 'They are our people,' I said, 'No, they're not,' and she's like 'They have on red hats.' So I said, 'I don't care.'
"So we're having a full argument, but I was blown away by it. And then next thing you know, we're all to blame," Greene added. "The media is blaming you [Trump Jr.], they're blaming President Trump, they're blaming me, they're blaming ... any Republican that objected. It's all our fault and we didn't even know it was going to happen."
Greene appearing to accept that antifa was not involved in the January 6 attacks contradicts statements she made just a few months ago.
In an interview with MyPillow CEO and 2020 election denier Mike Lindell last August, Greene again said she originally thought the violence at the Capitol was being carried out by antifa and "no one can convince me it was so-called Trump supporters."
"And we know there's a lot wrong there, and I can't wait for investigations, real investigations," Greene added.
Elsewhere during her appearance on Triggered, Greene defended her so-called "Jewish space laser" 2018 Facebook post which she is frequently mocked for.
While never using the words "Jewish space laser" herself, Greene suggested in a lengthy Facebook post that 2018 California wildfires may have been caused by "lasers or blue beams" controlled by the Rothschilds, a Jewish banking family that has been the target of antisemitic conspiracy theories for the past two centuries.
Greene said she was unaware that the Rothschilds were a Jewish family, or of the antisemitic connotations in linking them to conspiracy theories.
"I talked about a few other people that I didn't know anything about their religion or anything like that, I was just making a post," Greene said.
Greene has been contacted for comment.