Greene Says 'No One Can Convince' Her Trump Supporters Behind Jan. 6 Riot
Representative Marjorie Taylor Greene, a Georgia Republican, said that "no one can convince" her that "so-called Trump supporters" were behind the January 6, 2021, attack targeting the U.S. Capitol.
Some GOP lawmakers and right-wing pundits suggested within hours of the assault against the federal legislative branch of government that it was carried out by Antifa activists or potentially a false-flag operation conducted by federal law enforcement agencies. No evidence has emerged corroborating those allegations and many rioters arrested for their alleged actions that day have readily admitted to the media and in court that they were supporters of former President Donald Trump.
Greene, who remains staunchly loyal to Trump, has repeatedly expressed skepticism about what happened on January 6 and has routinely touted conspiracy theories and misinformation about the 2020 election. She reiterated her views during a Saturday interview on Lindell TV, which is part of My Pillow CEO Mike Lindell's far-right Frank Speech online platform.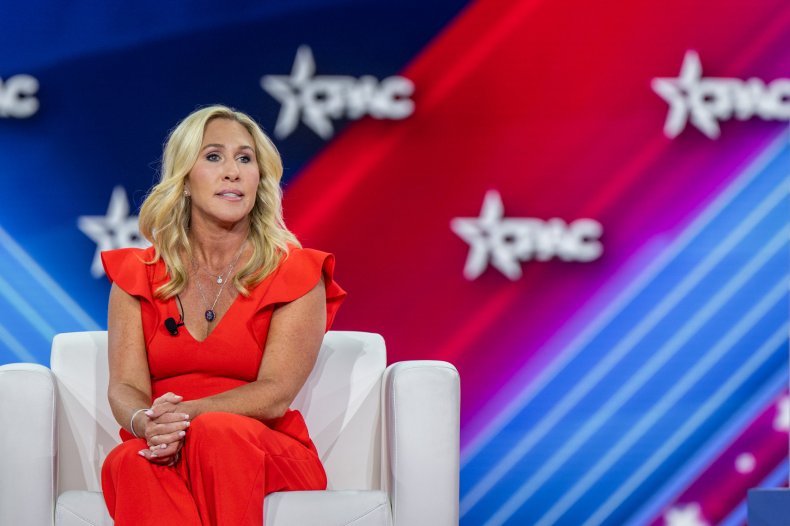 "I was very upset. I never expected anything like that. And when it happened, I thought, this is Antifa. And no one can convince me it was so-called Trump supporters," the Republican congresswoman said, making air quotes with her fingers and rolling her eyes.
"And we know there's a lot wrong there, and I can't wait for investigations, real investigations," she added.
The congresswoman then went on to raise concerns about the treatment of individuals arrested and currently jailed for their alleged actions on January 6. More than 800 alleged rioters have been arrested in the Justice Department's sweeping investigation into the attack, but the vast majority of them were released pending trial. About 40 deemed to be too dangerous to be released have remain jailed prior to their day in court, The Independent reported in June.
Although Greene said she does not believe Trump supporters carried out the attack, she has repeatedly defended the alleged rioters that are currently jailed. The lawmaker has previously visited them in the Washington, D.C. where they are detained.
"They got charged for things they shouldn't have done. They deserve their day in court. They deserve their due process rights," she said in the Lindell TV interview, who then said that they were being treated poorly in jail, describing it as "so heartbreaking."
Newsweek reached out to Greene's press secretary for comment.
A week after the violence of January 6, House Minority Leader Kevin McCarthy, a California Republican, urged GOP lawmakers and fellow conservatives to stop claiming or suggesting Antifa was behind the attack. "Some say the riots were caused by Antifa," he said in a House floor speech. "There is absolutely no evidence of that, and conservatives should be the first to say so."
"The president bears responsibility for [last week's] attack on Congress by mob rioters," the top House Republican stated at the time. "He should have immediately denounced the mob when he saw what was unfolding. These facts require immediate action by President Trump, accept his share of responsibility, quell the brewing unrest and ensure that President-elect [Joe Biden] is able to successfully begin his term."
Ahead of the riot, Trump urged thousands of his supporters at a rally near the White House to walk to the Capitol and "fight like hell." Multiple former Trump administration officials testified before the House select committee investigating the riot that he wanted to go to the Capitol with his supporters, but was prevented from doing so by the Secret Service and his aides.
A number of the alleged rioters have testified in court that they went to the Capitol believing they were doing so on Trump's orders. Some have said that they left hours after the attack began when the former president released a video on Twitter urging them to go home.
The FBI has said that there is no evidence that Antifa or left-wing groups were involved in the riot. The federal agency is currently led by director Christopher Wray, a Republican who was appointed to the role by Trump in 2017.