Kevin McCarthy 'Is a Liar and a Traitor': Elizabeth Warren on Leaked Audio
Senator Elizabeth Warren called House Minority Leader Kevin McCarthy a "liar and a traitor" Sunday after an audio recording of him speaking with GOP lawmakers following the Capitol riot last year was leaked.
"McCarthy is a liar and a traitor. This is outrageous. And that is really the illness that pervades the Republican leadership right now," Warren, a Democrat from Massachusetts, said during a TV appearance on CNN's State of the Union, adding that Republicans "say one thing to the American public and something else in private."
Her remarks came as a reaction to McCarthy's changed stance concerning the Capitol riot on January 6, 2021, after an audio of a call between him and other GOP lawmakers, dating back to January 10, 2021, was obtained and reported on by The New York Times this week.
"The only discussion I would have with him [Trump] is that I think this will pass, and it would be my recommendation you should resign," McCarthy said in the audio reported by the Times. His remarks came in the wake of the Capitol riot when former President Donald Trump's supporters attempted to overturn the 2020 election results.
In another audio from January 11, 2021 that was also reported by the Times, McCarthy said of Trump: "He told me he does have responsibility for what happened. And he needs to acknowledge that."
The Washington Post and Fox News reported Friday that the House minority leader spoke with the former president after the audio was leaked and that they remain on good terms.
In a statement posted Thursday to Twitter, McCarthy said that the Times reporting "is totally false and wrong."
"The past year and a half have proven that our country was better off when [former] president Trump was in the White House and rather than address the real issues facing Americans, the corporate media is more concerned with profiting from manufactured political intrigue from politically-motivated sources," he said.
On Sunday, Warren said that the events on January 6, 2021 were an "attempt to overthrow our government and that the Republicans instead want to continue to try to figure out how to make 2020 election different instead of spending their energy on how it is that we go forward in order to build an economy, in order to make this country work better."
"Shame on Kevin McCarthy," she concluded.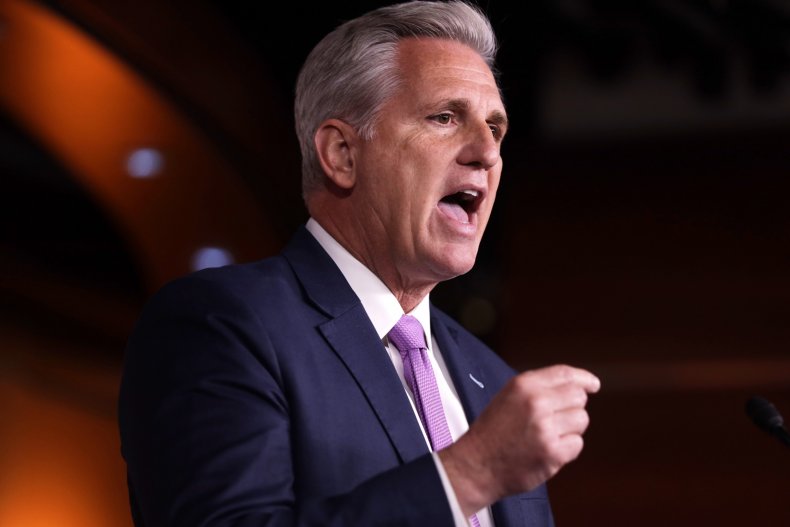 Meanwhile, after the recordings of the House minority leader were leaked, multiple Trump supporters, including those who have long criticized his leadership, suggested that GOP Representative Jim Jordan of Ohio should replace him as the party's leader with the possibility that he could become House speaker if Republicans regain control of the legislative chamber after the midterm elections.
"Jim Jordan would make a fantastic Speaker of the House!" Nick Adams, a conservative commentator tweeted Friday.
"If elected, I can guarantee I won't be voting for @GOPLeader [McCarthy]. Unlike others, I won't backslide on that position. My vote would be for @Jim_Jordan as speaker if he ran," New Hampshire GOP congressional candidate Julian Acciard also wrote on Twitter.
Newsweek reached out to McCarthy's media representative and Senator Warren's office for comments.