Aurora Victim's Parents Offer Support to Families in Uvalde Mass Shooting
Sandy and Lonnie Phillips relived the worst day of their lives after hearing of a shooting at a Texas elementary school. They're now headed for the Lone Star State as part of their mission to offer comfort and resources to other survivors of gun violence.
The couple founded the organization Survivors Empowered after their daughter, Jessica Redfield Ghawi, was killed in the 2012 shooting at a movie theater in Aurora, Colorado. The organization seeks to connect families affected by mass shootings with a network of other survivors, while providing tools the Phillipses say they wish they had earlier.
An 18-year-old gunman on Tuesday killed 19 children and two teachers at Robb Elementary School in Uvalde, Texas.
"Our hearts—and any help we can give—are with you," the couple said in a statement as they made plans to head for Uvalde to "hold the hands and broken hearts of the families who expected to wake their children this morning but will never be able to do so again."
The Texas shooting came on the heels of another mass shooting, at a supermarket in Buffalo, New York, earlier this month where a gunman killed 10 people in an incident authorities have called "racially motivated violent extremism."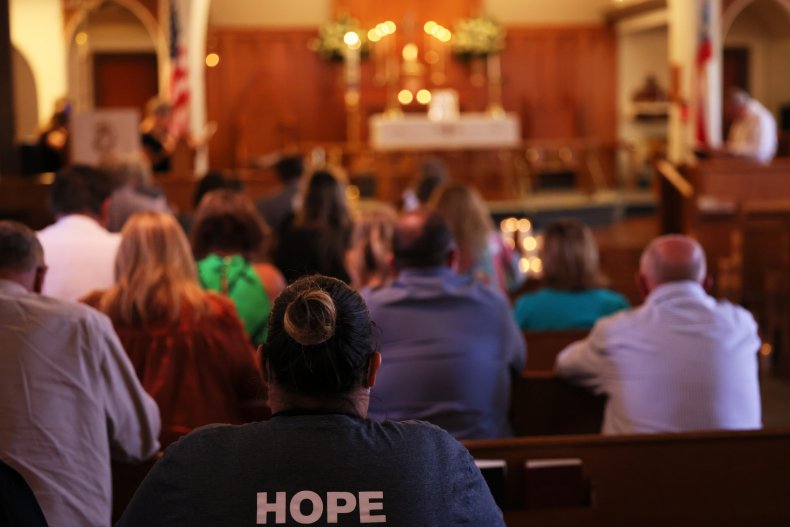 Following the shooting, the Phillipses were in Buffalo to offer understanding to victims and help them navigate the life-altering event. Survivors Empowered reaches out with its toolkit, developed with former Representative Gabby Giffords who survived being shot by a gunman at a constituent meeting in Tucson, Arizona, in 2011.
The toolkit offers advice on how to cope with the range of emotions following a shooting. It also offers tips for survivors on handling the sudden and intrusive attention from media and strangers, as well as unexpected legal issues around fundraisers and harassment from conspiracy theorists.
"We try to prepare them for the fact that they're going to lose friends and loved ones over this, because you are now a new person, and they are not going to know what to do with you," Sandy Phillips told Buffalo's WGRZ 2.
She added that with Survivors Empowered, those directly affected by mass shootings will "have a whole army around them of other survivors that will be there for them from this day forward."
Sandy Phillips told Politico on Wednesday her organization was leaving Buffalo when reports of the shooting in Uvalde came in. She said she hadn't slept in 24 hours as she was prepared to fly to Uvalde on Friday, the 20th shooting she and her husband will have responded to in the 10 years since their daughter's death.
Uvalde holds special significance for the couple. Their daughter Jessica grew up in nearby San Antonio and their son works as a first responder in the area and showed up on scene following the shooting, reports Denver's CBS affiliate KCNC-TV.
As their organization grew, the Phillipses quit their jobs and rented out their home so they could travel more easily, according to a 2019 interview with 60 Minutes. The couple said they do the work out of compassion but also because it's therapeutic for them to interact with others who share their experience.
"It's a club that nobody wants to belong to but once you're a part of it, you can't resign," Sandy Phillips told Buffalo's WGRZ 2. "So, you might as well become friends with one another and become another type of family."
Newsweek has reached out to the Phillipses for comment.